Coronavirus in South Asia, April 2, 2020: Crowds in India and Pakistan Thwart Social Distancing
Density and crowds thwart health measures in India and Pakistan; mass unemployment looms in Bangladesh and across the region.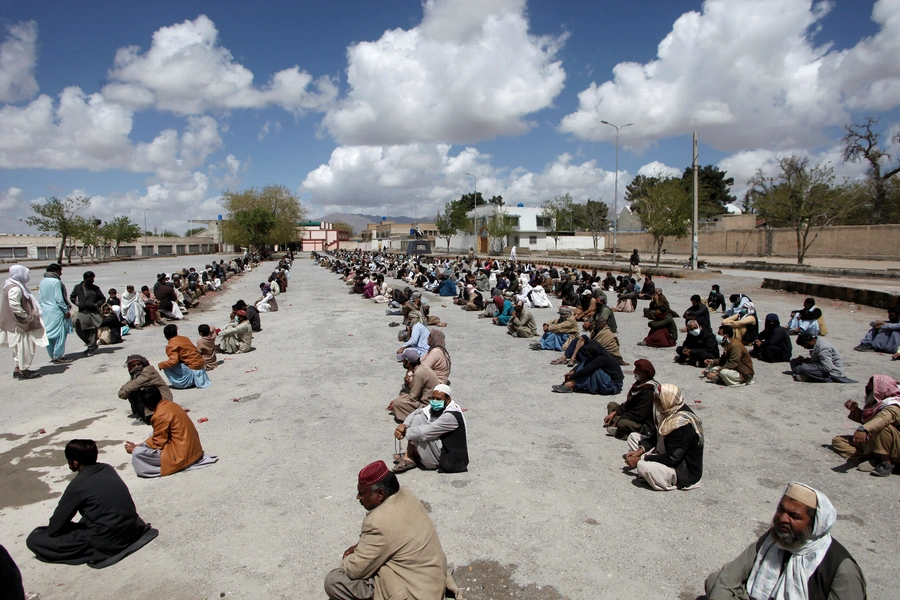 India's impossible policy dilemma: India is in the midst of a three-week national lockdown to slow the coronavirus pandemic, but strict measures have unleashed cascading economic woes. From March 24 onward, the government ordered the public to remain home except when buying medicine, food, and essential household items. Flights were canceled, Indian Railways canceled passenger trains through March 31, and interstate buses stopped servicing routes. The result: tens of millions of migrant laborers were stranded in cities without work, and hundreds of thousands began long treks home on foot. On March 29, the prime minister offered a public apology for the hardships, but noted that fighting coronavirus was a matter of "life and death." On March 31, the Supreme Court ordered the government to provide food, shelter, and medicine for migrant workers and to set up an online information portal to combat health misinformation. Individual states have responded to central government directives by arranging shelters, food distribution points, and a limited number of buses for transporting migrants.
With businesses closed, the lockdown puts great pressure on an economy when growth is already at an 11-year low. Whether the government's $22.5 billion unemployment relief package will quickly reach enough workers in the large informal sector remains to be seen.
As of April 2 at 1:00 a.m. local time, India has 1,860 active cases and fifty-three deaths. In a country of 1.3 billion people, around forty-eight thousand had been tested. Indian medical institutions have placed a priority on rapidly scaling up tests, including through partnerships with private labs. Authorities hospitalized over four hundred symptomatic people who attended a religious conference at an Islamic center in New Delhi, and quarantined 1,800 more. Health workers face a shortage of personal protective equipment, testing kits, and ventilators. Indian Railways' medical professionals are converting at least five thousand inactive train cars into isolation wards to potentially hold hundreds of thousands of COVID-19 patients.
Religious gatherings undermine lockdown in Pakistan: Pakistan has the highest number of COVID-19 cases in South Asia. After Prime Minister Imran Khan initially rejected calls for stronger social-distancing measures, citing economic concerns, Pakistan's powerful military leaders enforced a lockdown on March 22. Since then, Khan's government set up an operations command center and approved a $7.5 billion economic package that includes unemployment assistance, direct cash transfers to over ten million households, tax refunds for exporters, and mechanisms to lower food, fuel, and utility prices.
Concerns about how Pakistan's health-care system will cope with a rapid increase in patients are mounting, since health care and governance are insufficient at the best of times. The largest city, Karachi, has just six hundred beds in intensive care units. As of April 1, Pakistan's caseload is 2,291, with thirty-one dead, likely a severe underestimate due to insufficient testing.
Many clerics refuse to adhere to public health guidelines and allow crowds to pack into mosques during Friday prayers. Earlier in March, over 150,000 clerics from around the world descended outside Lahore for a religious gathering organized by Tablighi Jamaat, the same group that organized the conference in New Delhi and earlier in Malaysia. By the time it was canceled, thousands of participants had already arrived. The international conference appears to have been the point of infection for cases emerging within and outside of Pakistan, including the first in Gaza. Police have quarantined the religious center's neighborhood.
A national volunteer effort, led in part by the government, is also underway. Concerned citizens have organized food drives, protective gear donations, and even a quarantine ward at a public hospital. On March 27, Khan announced the creation of a donation fund for poor laborers, a new bank program aimed at boosting currency reserves by increasing voluntary remittances from Pakistanis abroad, and a youth volunteer force for food deliveries.
Layoffs in Bangladesh's garment industry threaten livelihoods: Global brands and retailers have canceled or postponed $2.8 billion in garment orders from factories in Bangladesh; in some cases, refusing to pay for goods already en route. Most factories have closed due to low demand. Employers laid off or furloughed over one million garment workers as of March 27, mostly without pay. The industry's collapse directly threatens the employment of millions more, a majority of whom are women. The ready-made garments industry accounts for more than 80 percent of all Bangladesh's exports and has pulled many Bangladeshis out of poverty. Prime Minister Sheikh Hasina announced on March 25 a $590 million relief program to replace factory workers' lost wages, and ordered her administration to create a list of vulnerable workers to eventually distribute food and services.
On March 31, Hasina extended Bangladesh's national shutdown by five days until April 9. Compared to India, the shutdown in Bangladesh is less restrictive, and enforcement more lax. Non-essential workplaces are supposed to be closed, although garment factories are allowed to operate and many shops are still open. Authorities requested, but did not force, people to stay at home. As in India, however, the declaration of the public holiday spurred many to flee urban areas.
As of March 31, Bangladesh's restrictive guidelines had limited testing to just 1,602 symptomatic patients. Fifty-six have tested positive and six died. Like many wealthier countries, Bangladesh's official response has been hindered by a deficiency of testing kits. Last week, in a country of 165 million, just twenty people were working as sample collectors at a single laboratory, the Daily Star reports. Health authorities announced in a sign of progress that the country now has ninety-two thousand kits and they expect eight testing labs to be active by next week.
Cases rise in South Asia's smaller countries: In Afghanistan, where there are 239 cases and four deaths as of April 2, the Ministry of Hajj and Islamic Affairs issued an official religious decree to pray from home in travel-restricted regions. Sri Lanka has 150 confirmed cases and will extend a curfew in the western province until April 10. Nepal (six cases) and India have agreed to provide food and shelter to each other's citizens stranded on the wrong side of the border, numbering in the hundreds. Bhutan has five cases and extended its official quarantine period to three weeks. The Maldives has nineteen cases and placed two more resorts under monitoring, but so far it seems to have avoided community transmission of the virus from Maldivian to Maldivian.
Commerce ministry officials representing all eight member countries of the South Asian Association for Regional Cooperation (SAARC) will meet virtually in early April to discuss next steps for a unified coronavirus action plan. Follow-up actions could include expanding the group's online platform to share research, emergency response personnel training, and disease surveillance software.
Editor's note: This post has been updated to reflect that several Indian states have arranged buses for migrant laborers.