Coronavirus in South Asia, July 2020: No End in Sight for India
Experts continue to be concerned about low levels of COVID-19 testing across South Asia.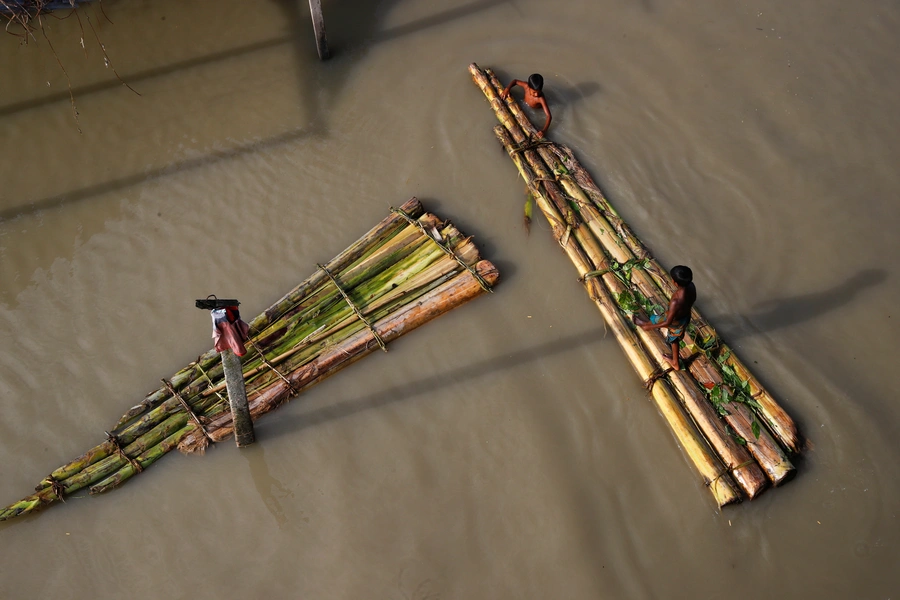 Erik Fliegauf is a research associate and Priyanka Sethy is an intern for India, Pakistan, and South Asia at the Council on Foreign Relations.
Adding to the health and economic devastation of COVID-19, July has brought monsoon floods to parts of Bangladesh, Bhutan, India, and Nepal. Over nine million people in the affected region witnessed the rising waters destroy their homes and crops. At least five hundred have died.
Experts continue to be concerned about low levels of COVID-19 testing across South Asia. The good news is that cases have dipped from peak levels in every country except India. Porous borders in a densely populated region mean that no country will be safe until India, too, succeeds in getting the coronavirus under control.
Which prompts the question—what happened to SAARC? Early on in the pandemic, India spearheaded an effort to empower the South Asian Association for Regional Cooperation to coordinate a regional response and pool funds. The SAARC disaster management center set up a COVID-19 portal to provide daily updates on regional developments and case numbers. However, India and Pakistan's rivalry has obstructed SAARC's mission since its creation, and their current disagreement over disbursement procedures has delayed Nepal's request for laboratory and medical equipment funding for months. A Nepali official told the Kathmandu Post, "Due to their rivalry, the fund has been useless."
At the millionth-case mark, Indians have questions: India crossed the threshold of one million cases on July 17 and is now reporting around fifty thousand new cases daily, the second-highest rate in the world. A recent antibody survey done in Delhi suggests that nearly one in every four residents may have been infected. Despite the steady uptick in caseload, and reports from some cities about health-care systems reaching capacity, the Narendra Modi government has emphasized statistics such as cases per capita (837 cases per million) and the case fatality rate (2.4 percent) on which India seems to perform relatively well.
State governments have returned again and again to modified lockdowns to prevent the spread of the disease. States including Goa, Karnataka, and Bihar are reinstating temporary lockdowns. Madhya Pradesh, Bihar, and parts of Uttarakhand have announced recurring, two-day lockdowns per week. But the public is increasingly questioning the efficacy of these lockdowns. Without corresponding improvements in state public health capacity, the repeated and uncoordinated clampdowns on movement have made it difficult to resume normal economic activity, but have failed to halt the virus's spread. On the other hand, the first national lockdown had disastrous consequences for India's poor and migrant laborers.
The Modi government has attracted criticism in recent weeks. Human rights organizations have noted arrests, despite the pandemic lockdown, of activists who had protested the Citizenship Amendment Act. Human rights organizations have expressed concern about  arbitrary and biased arrests, as well as difficulties gaining access to legal counsel due to the lockdown. This criticism comes against the backdrop of reports of tightening press freedom, with journalists being arrested for reporting on COVID-19. Another criticism concerns the opaque usage and lack of public oversight of the $1 billion PM Cares fund, which is funded by private donations. Furthermore, the Indian Council of Medical Research, a government organization, was criticized by scientists in India and abroad for suggesting that a domestically produced vaccine could be ready for use by August 15.
Pakistan slowly returns to normal life: In Pakistan, where total cases stand at just above 275,000, there is cautious optimism that the pandemic's devastation may have peaked. However, officials have cited this decline as a reason to reduce testing by over 30 percent since June. This leaves some lack of clarity as to whether the reduction in cases may in fact be driven by reduced testing. With the festival of Eid al-Adha days away, Pakistan is bracing for a spike in cases.
Unlike India, Pakistan did away with lockdowns earlier on in the pandemic. Instead, Pakistan adopted "standard operating procedures," including mandatory mask use and distancing guidelines, as its main strategy. Following these procedures, the country has finally been able to resume its polio immunization program, which had been disrupted by the pandemic. Pakistan and Afghanistan are the only two countries where polio remains endemic.
Since the beginning of the pandemic, China has deepened its long-standing friendship with Pakistan through preferential supplies and gifts of medical equipment, an example of COVID-19 diplomacy that it has practiced around the world. The two countries have signed a flurry of infrastructure deals this summer worth $11 billion.
Mistrust in Bangladesh's health-care system: A hospital owner made international headlines this month for selling over ten thousand fraudulent certificates for negative COVID-19 test results, embarrassing Bangladesh's government and prompting a senior health official to resign. After Italy banned flights from Bangladesh, Bangladesh's civil aviation authority was compelled to issue a new rule mandating proof of a negative test result for anyone leaving the country by air. Maintaining a flow of migrant labor is an economic priority for Bangladesh and its regional neighbors. The World Bank expects remittances to Bangladesh to decline by 22 percent this year, on par with the rest of South Asia.
The certificate scandal has only made the public more skeptical of the quality of health care at affordable public hospitals. Many Bangladeshis are too afraid to go to hospitals for treatment. As of July 13, over half of Dhaka's approximately 6,300 beds reserved for COVID-19 patients were empty. And travel restrictions prevent Bangladeshis from seeking care in India or Singapore, as hundreds of thousands would do in a typical year.
New cases per day have fallen by roughly a quarter since the beginning of July. Bangladesh has had 229,000 cases. Last month, the government unveiled a system in which movement outside the home would be forbidden in hard-hit "red zones." However, the strictest containment measures have been implemented in only a few of these zones in Dhaka, after officials expressed concern about the impact on livelihoods.
Millions of urban residents depend on ready-made garment manufacturers for jobs. Although factories are open, companies canceled over $3 billion in orders this spring, and Foreign Minister AK Abdul Momen recently urged ambassadors in Europe to identify new markets.
Afghanistan prepares for "catastrophe": New daily cases in South Asia's poorest country are far lower than they were in early June. However, the country's high test-positivity rate (44 percent) and low rate of testing (just a few hundred per day) strongly suggest that the official caseload, around 36,400, is a severe undercount of the true disease burden. Gravediggers in Kabul report far higher increases in deaths—from around seven burials per day to twenty—than the government data would attest to. Kabul's director of public health estimates that his province alone could have one million cases.
The pandemic has wrought havoc on war-weary Afghanistan's already overwhelmed healthcare system. There is widespread dissatisfaction with the government response and state capacity. Citizens have lost trust in public health authorities and openly flout travel restrictions and other rules. In hospitals, family members of patients are stepping in to provide care, in some cases protecting oxygen tanks from theft by other patients. The Afghanistan Islamic Medical Association warns of an imminent public health catastrophe.
After protests, Nepal lifts lockdown; prepares for tourism: On July 21, Nepal lifted its four month-long lockdown that had halved the number of cars on the roads and limited business hours. Shops were previously allowed to reopen in June. The country of twenty-nine million people has reported only forty-nine deaths, and the number of active cases has declined since the beginning of July.
The lockdown was lifted partly in response to public pressure. Protests by students and youth activists, pressing for better government management, test accuracy, quarantine conditions, and financial transparency, began in early June. As the protests coalesced into targeted hunger strikes, the government was forced to accede to some of the protesters' demands. Strikes continued as the agreement's implementation was delayed.
A second reason for lifting the lockdown is the country's dependence on tourism. Autumn is traditionally the tourist season in Nepal, and the industry has been pushing for reopening the country. So far, the lockdown has cost the tourism industry around $300 million in revenue, and rendered over 350,000 people jobless. International flights will resume in mid-August.
Politics of COVID-19 in Sri Lanka: Sri Lanka appears to have brought the virus under control due to its relatively strong health surveillance system, said WHO's Sri Lanka representative. Just two cases were identified on July 28. The Gotabaya Rajapaksa government has been criticized for mounting a highly militarized public health response and for curbing religious freedoms, and an opposition leader has accused the government of covering up real case numbers. Success on the COVID-19 front could help Rajapaksa's party alliance make further gains in parliamentary elections, which will take place on August 5 after several pandemic-related delays.
Bhutan embraces a strong government response: Just ninety-nine cases of coronavirus have been identified in total in Bhutan, the only South Asian country with no deaths. Two men who did not quarantine when they entered Bhutan from India were arrested. Although trust in authorities is high, Bhutan's successful lockdown has come at a cost, and the government expects to spend over $400 million total on an unemployment benefits program, support for businesses, and other measures.
An uptick in the Maldives' cases: The number of active cases in the Maldives rose nearly three-fold over the past three weeks to nearly eight hundred, after falling throughout much of June. The discouraging numbers come on the back of businesses reopening on July 1 and commercial international flights resuming on July 15. According to the health ministry, tourists do not need to get tests or quarantine upon arrival. These lenient guidelines underscore the Maldives' dependency on tourism, which accounts for two-thirds of its GDP. Before the latest guidelines, China and the Maldives had already agreed to a "fast lane," no-quarantine-required exemption for Chinese tourists. China's actions in the strategically positioned Indian Ocean country frequently draw the attention from competitors such as India.