Coronavirus in South Asia, March 24, 2020: Outbreak in Pakistan and India on Lockdown
No country in South Asia has been fully spared by the coronavirus pandemic. This week Pakistan's confirmed cases of COVID-19 ticked up dramatically, and India moved into a near-complete lockdown. With a handful of cases but sandwiched between the virus's epicenter to the north and locked-down India to the south, Nepal and Bhutan chose to proactively close their borders. Bangladesh has been reluctant to compel social distancing while Sri Lanka has imposed curfews, with violators facing arrest.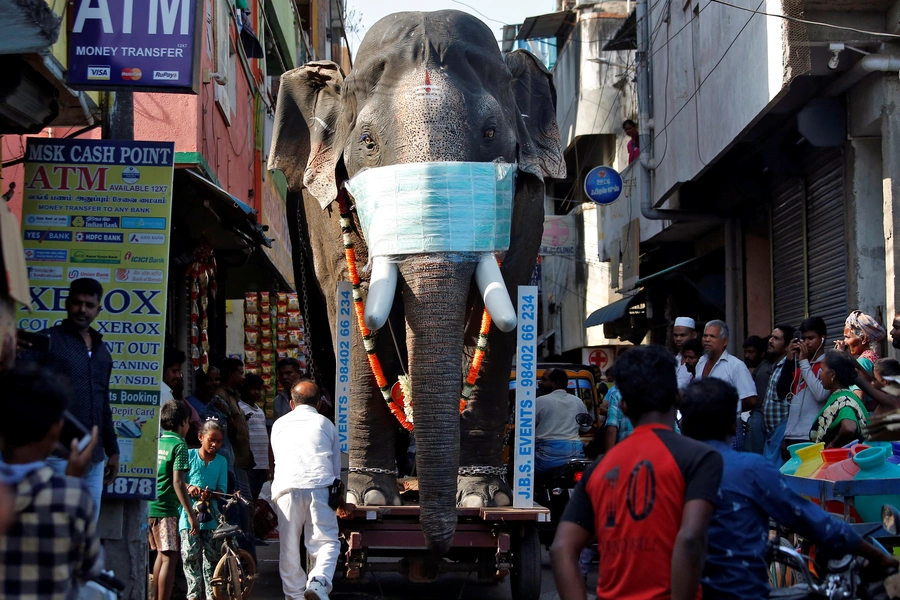 Read the latest here: "Coronavirus in South Asia, April 30, 2020: India, Pakistan, and Bangladesh Begin Easing Restrictions."
Together, the eight members of the South Asian Association for Regional Cooperation (SAARC) (with the exception of Pakistan) have contributed $18.3 million to an emergency fund. Leaders will meet for the second time over a videoconference on March 26 to discuss creating an integrated surveillance portal and coordination of research. The multilateral institution has set up a website to track developments and official case numbers (1,456 so far) across the entire region.
Public health experts note concerns about a deficit of testing, detection, and reporting in the region, where access to medical and sanitation systems is inadequate and populations are dense. In India as of March 24, fewer than twenty thousand of 1.3 billion people have been tested for COVID-19. Moreover, economic disruption in a region of largely informal employment could leave millions without income or savings to weather the storm.
India in complete shutdown: On Tuesday, March 24, Prime Minister Narendra Modi announced a national lockdown beginning at midnight, March 25, to last for 21 days. The national shutdown builds on state-level lockdowns announced earlier by thirty states and union territories. India's health ministry announced 469 active cases and ten deaths as of 8:15 p.m. on March 24. The health ministry has denied any evidence of community transmission, although lessons from other countries suggest this could quickly change. Active cases are most numerous in the states of Kerala (ninety-one cases) and Maharashtra (eighty-seven). Fearing a worst-case scenario, India has taken strong measures to stave off disaster, including setting up labs across the country and upending daily life with restrictions on business and movement.
Lockdowns and closures in Pakistan's provinces: Pakistan is on the cusp of a major outbreak, at 916 confirmed cases as of March 24. More than four hundred are in Sindh province alone. Pakistan banned international flights for two weeks beginning on March 21. In Sindh and in Pakistan-administered Azad Jammu and Kashmir, residents cannot go outside for any unnecessary reason for two and three weeks respectively. All non-essential businesses in the province of Punjab are closed, and Pakistan's government officially summoned the nation's military to enforce these restrictions. On March 22, Prime Minister Imran Khan swore off implementing a nationwide lockdown but urged citizens to stay inside and refrain from hoarding food.
Reports suggest Pakistanis returning from the Middle East were not tested and quarantined, and the cash-strapped government does not have the resources, facilities, or testing labs necessary to adequately confront the epidemic. New York Times reports that Pakistan in some cases has quarantined entire communities but some people who fear ostracism or hospitals themselves have "gone underground." Doctors demand more equipment and protective gear from the government: Pakistan has just 2,300 ventilators, and a doctor is one of the country's seven COVID-19 deaths.
Momentum slowly builds in Bangladesh: Authorities in Bangladesh have moved slowly when urgent action is needed, some experts believe. While health authorities claim there is no community transmission in the country—only thirty-nine cases are confirmed with four deaths—just a few hundred tests have been conducted. Only one national lab in Dhaka is testing cases. The dense country of 160 million has also been slow to implement social distancing measures. But starting March 26, the government ordered all offices to close for one week, and asked citizens to stay at home unless necessary. The military will be deployed to enforce social distancing measures in towns and deliver medical equipment to hospitals. Doctors expressed skepticism about claims by Zahid Maleque, health and family welfare minister, that the country has enough testing kits and protective equipment.
Afghan government between rock, hard place, and Taliban: In-fighting has broken out within the Afghan government. The Ministry of Public Health accused the government of neglecting to provide resources to combat the coronavirus. The ministry has called for a lockdown of Herat province, the center of Afghanistan's outbreak where Afghans have returned from Iran in the thousands. But the government refused, citing "other aspects," likely referring to both the economic costs on an impoverished population, and the diversion of resources and attention to delicate intra-Afghan videoconference negotiations with the Taliban. Afghanistan has at least forty-two cases of coronavirus, and one death.
An abundance of caution: Although Nepal has just two cases, on March 23 authorities preemptively sealed borders with China and India to human passage, although goods will continue to move across. A one-week country-wide lockdown began March 24. Many government services will be closed. Non-essential movement outside the house, including by car, will be prohibited. The country's police force is converting and reserving its own hospital for future coronavirus cases. A government minister said Nepal was "studying the Chinese model" and requesting tens of thousands of test kits, masks, and other equipment from China and India.
Arrests for violating curfew in Sri Lanka: Sri Lanka has ninety-seven cases of coronavirus and no deaths, according to the country's health bureau. The Rajapaksa administration signed relief measures meant to bolster the country's economy and established a 100-million-rupee fund for public health efforts. Sri Lanka instituted a stay-at-home curfew in eight districts from March 23 to 27, including the capital, Colombo. The curfew is heavily enforced—police arrested 1,600 people for violating the curfew on its first day. A confirmed case of a Sri Lankan pastor who had recently arrived from Switzerland and had contact with 150 people in the Northern Province informed the government's decision to shut down the major highway connecting the province to the rest of the island. International flight arrivals are still suspended.
Bhutan isolates from outside world: In a speech reminding the people of Bhutan to stay united and informed, the king of Bhutan announced the closure of his nation's land borders with India and China on March 23, as Nepal announced similar measures. Bhutanese returning to the country will be quarantined. Prime Minister Lotay Tshering said that economic measures are being drafted within the government, and instructed the nation's famed gross national happiness commission to rework the budget. Bhutan has had two confirmed cases, including the partner of an American tourist with coronavirus who was repatriated last week.
Steady case number in Maldives: Same as last week, the Maldives has thirteen confirmed cases. Authorities have steadily expanded the no-entry list of foreign travelers, adding the United States, United Kingdom, Sri Lanka, and Malaysia in the last week.