Cyber Week in Review: October 14, 2022
Germany's cybersecurity chief faces dismissal; Ukraine experiences internet disruptions; GCHQ head warns of China threat; Biden to launch new cybersecurity program; Semiconductor firms begin to pull out of China.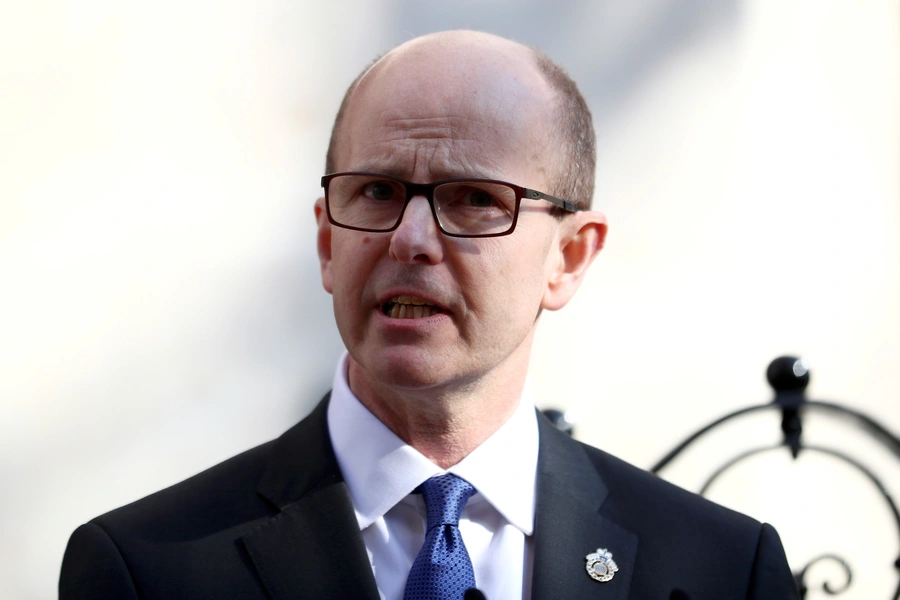 UK security chief warns of Chinese threat 
Jeremy Fleming, director of the UK's main signals intelligence agency, the Government Communications Headquarters (GCHQ), made a rare public appearance on Tuesday to emphasize the threat of China's expanding use of technology for intelligence and control purposes. Fleming highlighted the PRC's development of anti-satellite technologies as well as its promotion of digital currency (CBDC). Fleming also emphasized that British intelligence agencies are "seeing plenty of activity" from their Chinese counterparts. The United Kingdom has adopted an increasingly hawkish stance toward China in the past two years, and the recent election of Prime Minister Liz Truss does not appear to have changed that trajectory. 
Semiconductor firms begin to cease operations in China 
Semiconductor manufacturers have begun to halt manufacturing and remove non-Chinese employees from their factories in China following the Biden administration's decision last week to tighten controls on semiconductor manufacturer equipment and U.S. persons working for Chinese firms. The decision led several firms, including Lam Research and KLA Corporation, to suspend their cooperation with Yangtze Memory Technologies Company (YMTC), which will likely force YMTC to stop production of its most advanced microchips. Experts have also estimated that China's other large chipmaker, Semiconductor Manufacturing Company (SMIC), will see its growth halved by the restrictions in 2023. Dutch company ASML, which supplies the advanced lithography machines essential to producing certain kinds of microchips, has also told all of its U.S. employees to stop working with Chinese customers while it assesses the impact of the order. Samsung, Nvidia, Taiwan Semiconductor Company (TSMC) and several other manufacturers received waivers which allow them to continue manufacturing in China until September 2023. 
Germany's cybersecurity chief faces dismissal 
President of the German Federal Office for Information Security Arne Schoenbohm faces dismissal over allegations that a group he cofounded had contacts with the Russian secret service. German media reported that one of the members of a cybersecurity advisory group, the Cyber Security Council Germany (CSCG), that Schoenbohm co-founded a decade ago was a company founded by a former Russian intelligence agent. ZDF, the German public broadcaster which originally reported the story, also said that the CSCG is prone to espionage by Russian firms and intelligence agencies. Schoenbohm called the reports "absurd." This action follows growing concerns of Russia targeting the country's infrastructure after a recent cyberattack forced German rail company Deutsche Bahn to halt passenger and cargo trains across the country for three hours. 
Ukraine experiences internet disruptions and cyberattacks following recent Russian missile strikes 
Ukraine experienced internet and mobile communications disruptions on Monday and Tuesday of this week after a series of Russian missile strikes caused widespread power outages. Internet connectivity levels dropped 35 percent below normal activity on Monday evening according to Cloudflare. Ukraine's State Emergency Service reported that four regions were temporarily without electricity, with several other areas also experiencing disruptions. Power was returned to most regions in Ukraine by the next day. The Ukrainian military also experienced difficulties with internet access in recent weeks, as Starlink reportedly experienced outages in newly recaptured territory. Some have speculated that this was a sign of Starlink's capitulation to Russian pressure, others that the Ukrainian forces advanced so quickly that they overshot the geo-fencing of Starlink's services from Russian held territories.  
Biden administration set to launch cybersecurity labeling program  
The Biden administration released a fact sheet on Tuesday on an effort to create a consumer-facing cybersecurity rating system for internet-enabled devices, also known as the Internet of Things (IoT). Nearly fifty representatives from consumer product associations, manufacturing companies and technology think tanks will convene at the White House on October 19th for a workshop on the initiative. The administration is working with the European Union to align standards for the cybersecurity labels to ensure these products can be sold globally. President Biden first issued an executive order in 2021 calling for the National Institute of Standards and Technology to initiate this labeling program. Similar efforts have recently been undertaken by other nations including Singapore's Cybersecurity Labelling Scheme and Germany's IT security labels.