The Dangers of Excluding Taiwan from International Organizations
The exclusion of Taiwan from international organizations hinders the world's ability to develop comprehensive and effective solutions to a growing set of transnational issues.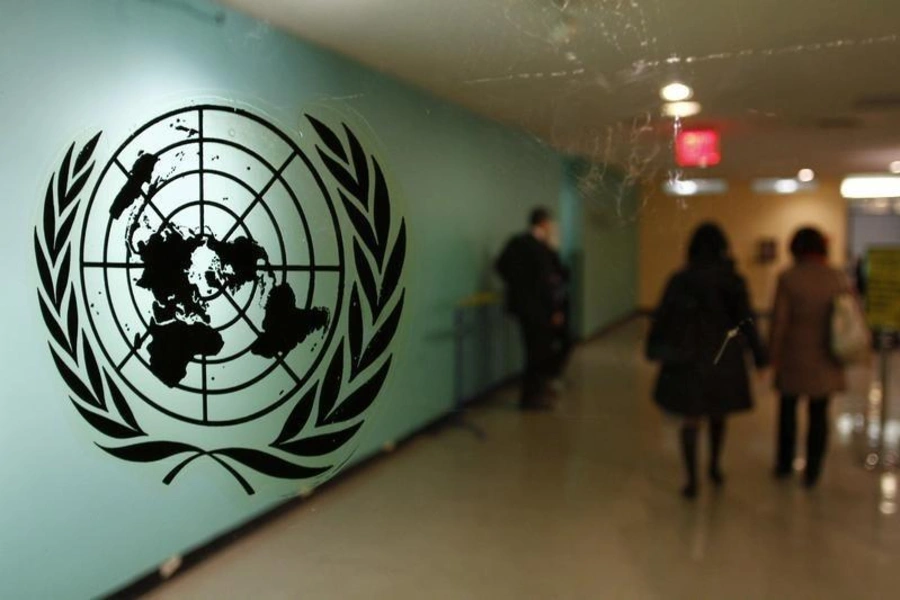 The Taipei Economic and Cultural Office in New York, Taiwan's de facto consulate in the city, recently launched a new campaign advocating for Taiwan's inclusion in the United Nations. Called the "Taiwan Peace Truck," it is a food truck that gives out free boba to participants who answer a series of questions: "Which country did boba originate from?" "What country is the freest in Asia?" And perhaps most crucially, "Do you support Taiwan's participation in the UN?" 
Similar campaigns seem to occur every year during the UN General Assembly, which kicked off this week. This year, however, there seems to be more public support for Taiwan's inclusion in the UN. Last week, when asked about Taiwan's exclusion from the UN's work on sustainable development, Deputy UN Chief Amina Mohammed surprisingly voiced support for Taiwan's inclusion, stating that "states have to find a way to make sure that we are not in that position where we're excluding people." 
As the world grapples with escalating challenges such as climate change, pandemics, and transnational crime, the absence of Taiwan's expertise within international institutions represents a missed opportunity to make the world a safer place. The UN General Assembly presents an opportune moment for world leaders to confront the implications of Taiwan's exclusion from UN bodies, namely the World Health Organization (WHO), the International Civil Aviation Organization (ICAO), and Interpol.  
In 2003, Taiwan experienced the third-highest death toll worldwide from the SARS outbreak, which may have been exacerbated by its exclusion from the WHO due to pressure from China. Without access to the WHO's knowledge-sharing networks, Taiwan had to rely solely on its independent healthcare capabilities to combat the devastating outbreak. Similarly, early reports of what would later be known as COVID-19 made by Taiwan to the WHO's International Health Regulations mechanism were ignored due to its non-membership status in the organization.  
Had Taiwan been a full member of the WHO, its concerns could have triggered a more timely, robust, and coordinated global response, potentially leading to earlier actions in addressing the COVID-19 pandemic. But as the virus spread, Taiwan was ready— applying lessons it learned from its experience with SARS to employ innovative methods including big data analytics, proactive testing, and border and quarantine controls to contain it. These methods allowed Taiwan to prevent large outbreaks and lower its patients' fatality rates. Through membership in the WHO, Taiwan would have been given a platform to share these methods and better prepare the world for the next global health crisis. 
Taiwan's exclusion from ICAO, the UN's body for principles and techniques of air navigation, has similar implications for global flight safety. Despite having the world's seventh-busiest airport by freight revenue, Taiwan is not a member of ICAO and must instead depend on its partners to inform it of any alterations in ICAO's policies. 
Without Taiwan's participation in ICAO, the Taiwan Strait will grow increasingly dangerous. In August 2022, as an attempt to punish Taiwan for hosting a visit by U.S. Speaker of the House Nancy Pelosi, China unilaterally launched military exercises in the waters and airspace around Taiwan with little notice. Because Taiwan does not have communications with ICAO, the Taiwanese Civil Aeronautics Administration had to quickly reach out to the Japanese and Philippine Flight Information Regions (FIRs) and ask them to direct flights to safety when the military exercises began. Had Taiwan been able to communicate directly with ICAO, the organization could have issued an alert to all nearby FIRs, decreasing the risk of aerial encounters.  
Taiwan's exclusion from Interpol also creates loopholes for international criminals and threatens Taiwan's citizens abroad. For instance, Christopher Taylor, an American wanted for burglary, managed to evade justice for 13 years in Taiwan. After U.S. intervention in his case, Taylor was arrested for his crimes in Taiwan and was finally deported. Numerous cases like this exist because of the lack of information sharing between Taiwan and Interpol. Hundreds of Taiwanese have also been trafficked to other countries or extradited to China, yet without Interpol coordination or bilateral extradition treaties, Taiwan is left in the dark.  
Because China has the ability to ensure Taiwan remains excluded from all UN activities, the United States and like-minded countries should consider creating alternative forums to accommodate Taiwan's predicament. As recommended in the recent CFR-sponsored independent Task Force report on Taiwan, creating additional forums that focus on Taiwan's capabilities can be an effective way to work around the political sensitivity China imposes on international organizations.  
For instance, the Global Cooperation and Training Framework (GCTF), a bilateral U.S.-Taiwan initiative created in 2015, has gained traction as a platform to showcase Taiwan's expertise in public health, technology, law enforcement, and other areas. Japan and Australia joined as full partners in the framework in 2019 and 2021, respectively. Government officials, experts, and civil society representatives from 126 countries have participated in these workshops, while additional partners like Sweden, Guatemala, the Netherlands, the United Kingdom, Canada, Israel, the EU, and Slovakia have cohosted GCTF workshops. Bilateral agreements have also proven to be a viable alternatives to international agencies, while extradition agreements can help countries deal with alleged criminals who flee to Taiwan and provide accountability for Taiwanese criminals operating abroad.  
The absence of Taiwan in international organizations hinders the world's ability to develop comprehensive and effective solutions to growing transnational issues. As world leaders gather in New York, they should deliberate the impact of Taiwan's exclusion from these bodies and search for new ways to bring Taiwan to the table, even if it happens outside of the UN.  
Claire Tiunn is a student at Pomona College and a former intern for the Independent Task Force Program at the Council on Foreign Relations.