Diplomacy and the Fight for Race Equality: a Fireside Chat With U.S. Special Representative Desirée Cormier Smith
As U.S. foreign policy evolves, how can the State Department truly help America lead not merely by the example of its power, but the power of its example?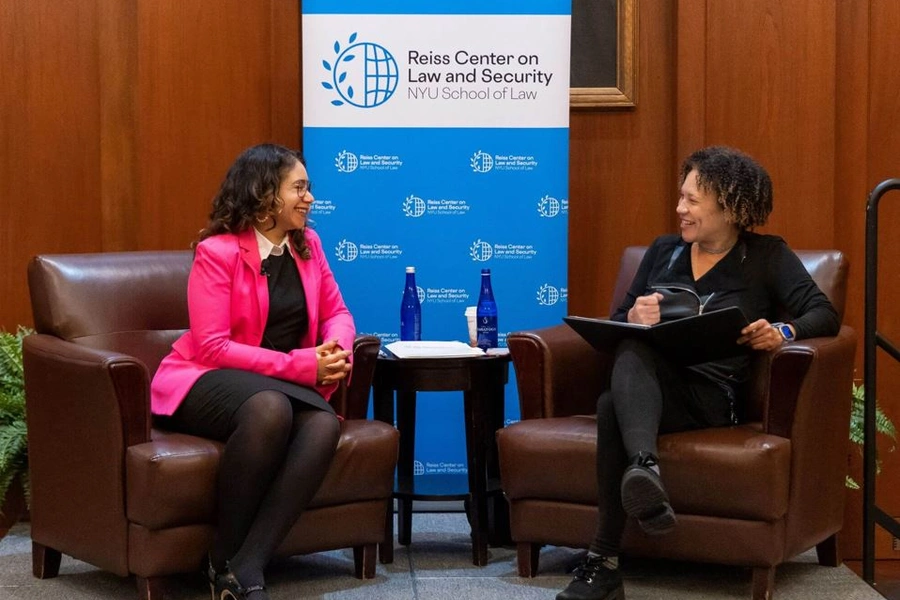 While preparing to moderate a fireside chat at NYU Law School with the U.S. Special Representative for Racial Equity and Justice, Desirée Cormier Smith, I noticed she is fond of repeating one of President Biden's lines: "We will lead not merely by the example of our power but by the power of our example." It's a phrase that has endured through several presidential administrations, originating in the Clinton era; reintroduced under the Obama administration; and now repeated by Biden (and Cormier Smith). It has become a cornerstone of his administration's foreign policy rhetoric, but the sentiment has deep roots in several activist movements which have sought to build a more values-based, rights oriented, domestic and foreign policy.
In light of recent recollections on former President Jimmy Carter's legacy, my conversation with Cormier Smith prompted reflections on the evolution of U.S. foreign policy and its most prominent arm, the State Department. Beginning perhaps most significantly under President Carter, the State Department has over time paved new ways of thinking about diplomacy, starting with its regional focus for framing national security, then topics (human rights, nuclear, etc.), then thematic concerns (cyber bureau), and now issue specific matters (women's rights, racial equity, war crimes).
As the first person to hold the newly established Special Representative position in the State Department, Desirée Cormier Smith, holds a portfolio that embodies so many of the questions that have characterized U.S. foreign policy work for decades. How does the United States promote democracy and equality around the world and reinforce its importance for global stability, security, and prosperity? How much of a role should human rights play in U.S. foreign policy? How does a country do this all while grappling with its own human rights and democratic failings? These questions are evergreen, which is why it was a pleasure to discuss them, and this new role in the State Department, with the Special Representative Desirée Cormier Smith herself last month.
We first discussed her position's mandate. In her own words, her role is to "ensure that U.S. foreign policy advances the human rights of members of marginalized racial, ethnic, and Indigenous communities, and that our government is working to counter systemic racism, discrimination, and xenophobia globally." Cormier Smith takes care to point out that this role does not engage in "naming and shaming," which she argues would only hinder her efforts; nor is it meant to reflect that the United States has solved these issues.
On the contrary, the position was born out of the racial reckoning following the murder of George Floyd; but is the product of decades of activism for the State Department to advocate on a broader level for the rights of historically marginalized individuals. It joins the ranks of several other issue-oriented Special Representative (S/R) positions established in the department in recent years, including the Ambassador for Global Women's Issues, Ambassador-at-Large for International Religious Freedom, Special Advisor on International Disability Rights, Special Envoy to Monitor and Combat Antisemitism, and Special Envoy to Advance the Human Rights of LGBTQI+ Persons. Previous roles such as these had mainly focused on country or regional conflicts, rather than historically disadvantaged people.
Externally, she sees her role as one that can leverage the wide reach of U.S. foreign policy to coordinate a global response to the issue of racial, ethnic, and Indigenous marginalization. And, as Cormier Smith points out, "there is not a single issue today that does not hurt racial or ethnic minorities disproportionately." Throughout the world, she only has three official "counterparts," Brazil's Minister of Racial Equality (Brazil's minister is the oldest, but had to be renewed under President Lula), Canada's Anti-Racism Secretariat, and the EU Coordinator for Combatting Racism. With all being relatively new positions in their respective governments, they exchange best practices, collaborate on global efforts, and support each other in times of struggle. In a recent example, following the murder of Tyree Nichols, Brazil's Minister for Racial Equality shared condolences, but also informed Cormier Smith that in Brazil a Black person is killed every twenty-three minutes by police, without nearly the same attention as in the United States.
Internally, Cormier Smith's office is tasked with taking a "critical look" at all of the State Department's diplomatic work to ensure that U.S. assistance or partnerships do not potentially reinforce or even exacerbate inequities or marginalization in other countries. Some of this internal work includes bureaucratic changes, such as adding a "Programs Racial, Ethnic, Indigenous Issues" tag that can be used to mark diplomatic cables that address these matters within the department, thereby adding visibility to these concerns. Though seemingly trivial, Cormier Smith emphasized the importance of structural changes like this for incorporating this position's mandate throughout the State Department.
The state of racism and marginalization in the United States certainly complicates the role, and she recognizes that she must approach her engagements with "humility." While there is not a domestic component to her position, Cormier Smith says she remains briefed on the United States' domestic policies and efforts to combat racism, both to share best practices, and to help defend her work from more cynical attacks.
While this new kind of foreign policy leadership is exciting for some, Cormier Smith also has to deal with her fair share of critics. She's been nicknamed the "woke czar" by critics on the right, and accused of offering credence to adversaries who wish to undermine the United States on the global stage. Though she has suffered from brutal, personal attacks, she "does not accept that this work is controversial."
She also works extensively at the inter-agency level, particularly with her fellow special envoys, whose issues, such as advancing the human rights of LGBTQI+ persons, are often linked to ethnic or racial identity. The work is deeply tied to the democracy promotion efforts undertaken in the Biden administration, and the importance of connecting the threat of racial, ethnic, and Indigenous marginalization to democracy, national security, and economic prosperity. She argues, "democracy is always weaker when there are groups that do not have full access to their rights," and that "illicit groups, drug traffickers, and terrorist organizations are ripe for areas where populations face discrimination."
More broadly, while this position must still grapple with some of the age-old questions of foreign policy, it also represents an opportunity for evolution. Cormier Smith herself describes her office as akin to a "startup" in that she did not have a playbook for how to create her new office from scratch. Diplomacy used to be constrained by state-level relations, and in many cases, still is. But Cormier Smith's role calls for engagement with constituencies on the ground—in the United States and abroad—many of whom have "never met a U.S. government official." Several audience questions emphasized the opportunity for this role to address some of our greatest global issues, the rise of authoritarianism, climate change, mis/disinformation, even how to reform the international order to become more inclusive, as evidenced by the lack of African representation on the UN Security Council, or the clear disparities in vaccine distribution during COVID-19.
While her staff and resources are modest, she says her team is "small, but mighty." Her agenda is ambitious, but with her dynamism and smarts, she has already accomplished plenty and will surely make additional significant strides. If you missed our fireside chat, you can watch the video of it and read highlights on this NYU's Reiss Center Twitter thread.
In addition to being an adjunct senior fellow, Catherine Powell is a Non-Resident Senior Fellow at the Reiss Center on Law and Security at NYU School of Law. This fireside chat was co-sponsored by the Reiss Center and NYU Law's Center on Race, Inequality, and the Law.
Alexandra Dent, research associate at the Council on Foreign Relations, contributed to the development of this blog post.