Domestic Dimensions of South Korea's Foreign Policy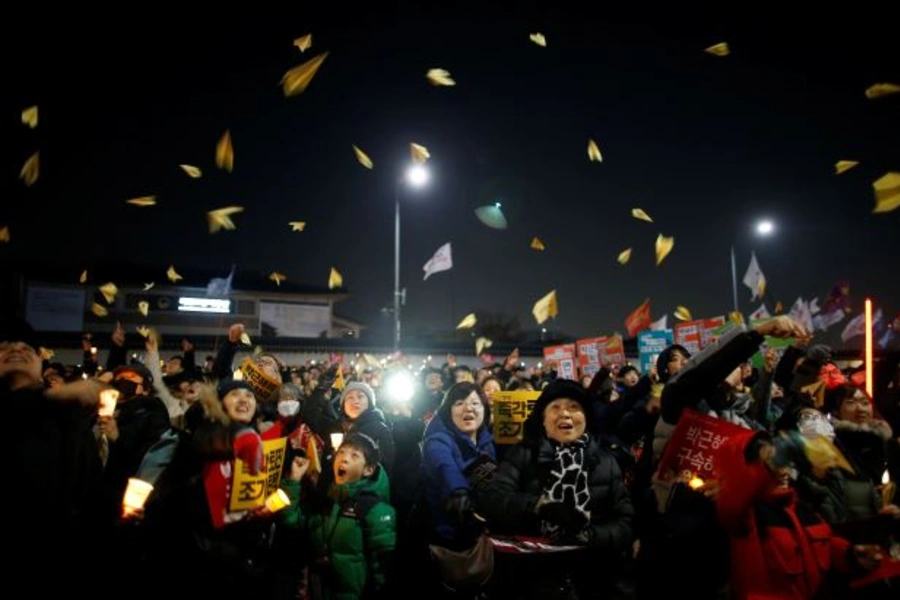 This post is co-authored by Sungtae "Jacky" Park, research associate for Korea Studies at the Council on Foreign Relations. 
Despite becoming influential on the world scene, South Korea remains a relatively weak country surrounded by larger, more powerful neighbors. South Korea's relative weakness puts a premium on its ability to achieve the internal political unity necessary to maximize its influence in foreign policy. In a new CFR eBook, Domestic Constraints on South Korean Foreign Policy, Scott A. Snyder, senior fellow for Korea studies and director of the U.S.-Korea Policy program at CFR, Geun Lee, professor at the Graduate School of International Studies and dean of the Office of International Affairs at Seoul National University, Young Ho Kim, professor of international relations at Korea National Defense University, and Jiyoon Kim, research fellow in the Public Opinion Studies Program in the Center for Public Opinion and Quantitative Research at the Asan Institute for Policy Studies, provide in-depth examinations of the South Korean national assembly, public opinion, bureaucratic politics, and constitution as possible impediments to South Korea's ability to achieve its foreign policy objectives.
Geun Lee examines the executive-legislative relationship, finding that, though the National Assembly provides some foreign policy oversight in hearings with foreign ministry officials and occasionally serves as a megaphone for hot-button national issues, its role in shaping foreign policy is secondary. The National Assembly conducts its own diplomatic exchanges with counterpart legislative bodies in a way that promotes networking and information exchange, but—with the exception of occasional backdoor diplomacy with Japanese parliamentarians—it does not exert extensive influence over foreign policy formation or conduct.
Jiyoon Kim analyzes recent trends in South Korean public opinion toward Japan, arguably the most sensitive foreign policy topic among the public, and draws some surprising conclusions. Kim argues that the president and elites have a tremendous capacity to shape public opinion on controversial issues, especially among the president's core political constituencies. However, the capacity of the president to use that influence depends in part on his or her approval rating and the timing of the decision in question. This conclusion underscores the role of presidential leadership as a primary factor both in setting South Korean foreign policy and in mobilizing public support for those policies.
Young Ho Kim examines the ways in which institutional bureaucratic interests have influenced foreign policy formation under five presidential administrations, illustrating both the evolution of South Korea's decision-making structures and the foreign policy consequences of the president's personal style and preferences. Kim concludes that presidential leadership matters tremendously and that policy toward North Korea is the issue most susceptible to bureaucratic politics. Kim attributes the influence of bureaucratic politics to the opposing interests of the Ministry of Unification (which promotes inter-Korean relations and pursues unification) and the Ministry of National Defense and the National Intelligence Service (which take a defensive and adversarial stance toward North Korea).
In the final essay, Scott A. Snyder examines South Korea's debates over constitutional revision from the perspective of how various proposed reforms would influence the country's foreign policy. He maintains that the removal of the presidential single-term limit would promote greater foreign policy continuity and avoid the need to start from scratch in policy and personnel every five years. Snyder also advocates for strengthening the National Assembly's oversight role to enhance public accountability and for standardizing South Korea's election schedule to generate greater predictability in the domestic political cycle that would enhance stability and continuity in foreign policy.
These essays support the argument that strong and effective presidential leadership is the most important prerequisite for South Korea to sustain and project an effective foreign policy abroad. That leadership should be attentive to the need for public consensus and should operate within established legislative mechanisms that ensure public accountability. The underlying structures sustaining South Korea's foreign policy formation are generally sound; the bigger challenge is to manage domestic politics in ways that promote public confidence about the direction and accountability of presidential leadership in foreign policy.
This post is a summary of the eBook, Domestic Constraints on South Korean Foreign Policy.