Ending Polio in Nigeria Once and for All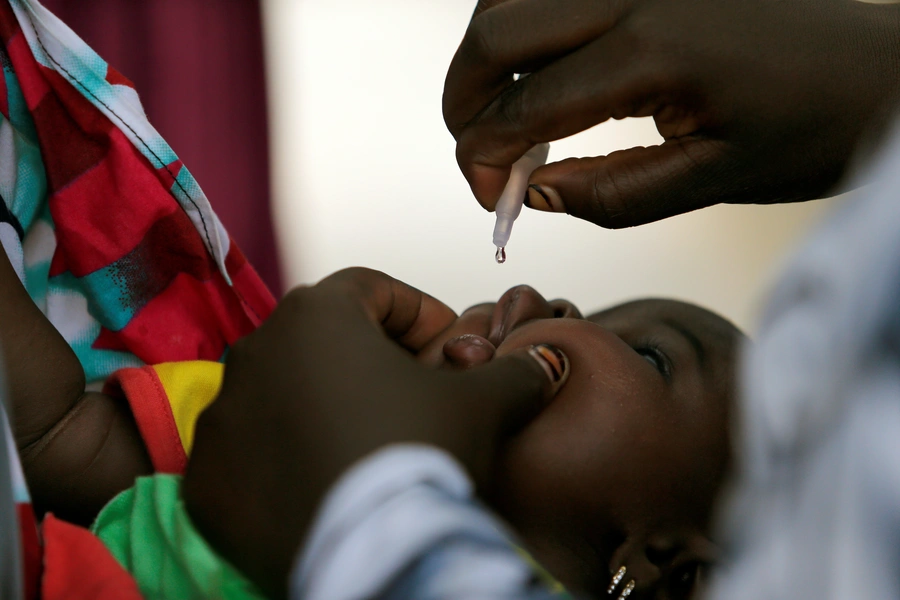 Toyin Saraki is the founder and president of Africa's premier maternal and children's health charity, the Wellbeing Foundation Africa, and a long-standing advocate for universal immunization in her native Nigeria.
Polio, a vicious disease that primarily affects children and leaves them severely disabled, reared its ugly head once again in Nigeria last year, two years since it was last detected in the region. Up to this point, global polio eradication efforts had managed to defeat polio in all but two countries—Afghanistan and Pakistan. Its reemergence speaks volumes to Nigeria's inability to continue to deliver the most basic health care, begging the question: why does universal immunization remain unfulfilled? 
This Tuesday was World Polio Day, and it is worth reflecting on the mistakes made and the challenges ahead in tackling this disease. Eradication is finally within our grasp, and we would be remiss to let this opportunity slip through our hands.
To understand polio's reemergence, it is important to understand the landscape in which it occurred, my native Nigeria. In 2016, four new cases of polio were reported, three of which were in Borno state, at the heart of Nigeria's conflict ridden northeast. The reappearance of polio in this region is no coincidence—Boko Haram has wrought immense destruction to the Lake Chad basin, destroying an estimated 75 percent of basic infrastructure in northeastern Nigeria. Vaccines typically require cool conditions in order to maintain their potency. In the hot, dry, and remote northeast, this is near impossible with the destruction of so much infrastructure and frequent power outages. As a result, swathes of Nigeria's most vulnerable children have been denied access to this cheap and simple preventative measure. 
 
Another hurdle to universal immunization is the inadequate monitoring systems that track which immunizations people have received and ensure that a patient's vaccinations are up-to-date. Nigeria suffers a severe lack of personal health records, rendering health statistics a product of mere guess work. In the absence of effective recordkeeping, it is nearly impossible to hold people that need vaccines accountable. In this sense, polio's return to Nigeria is merely a symptom of a much larger failure in Nigeria's public health system. Personal health records would serve to ensure access and delivery of vaccines. They would also put everyone in the system, and create impetus for improvement in healthcare as a response to accurate monitoring of health outcomes.
 
In 1990, polio coverage in Nigeria was 55 percent. By 1999, it had plummeted to 19 percent. Although polio coverage rebounded and was almost universal at the time of last year's outbreak—polio coverage reached 90 percent in high-risk states—this remains suboptimal, and alludes to a striking lack of government commitment to the cause.
  
One solution to the problems facing polio immunization, as well as that of other preventable diseases, is the implementation of universal primary healthcare. Primary healthcare forms the cornerstone of basic health provision and, when present, is typically the area of healthcare responsible for immunizing local populations. What's more, in many remote regions in Nigeria, which have the lowest immunization levels nationally, primary health is commonly the only form of healthcare access. It must therefore be prioritized, to give all people access to basic healthcare provisions, including crucial vaccinations.
 
For universal primary healthcare to be implemented in Nigeria, more needs to be given towards Nigeria's failing healthcare system. In 2001, all members of the African Union pledged 15 percent of national spending to healthcare in the Abuja Declaration. Ironically, Abuja has not met this commitment, only spending a third of the pledged 15 percent on health care. 
Fortunately, since the new polio cases were reported in 2016, there has been a renewed immunization drive. The international community and Nigerian government is set to vaccinate as many as 30 million children against polio. This drive must be sustained, and there is no room for complacency.
 
Investment in health infrastructure and reliable electricity are vital for remote areas, followed by the implementation of universal primary healthcare and adequate record-keeping. Yet none of this will be possible in the absence of greater commitment to the cause.
 
We know how to prevent polio, but children in my native Nigeria continue to be denied access to this basic but necessary vaccination. The reemergence of polio is tragic, but we should use it as an impetus to address the shortcomings of Nigerian healthcare. Greater government commitment to the sector is critical to preventing future outbreaks of illnesses like polio, protecting Nigerians of today and of the future.