Expanding U.S.-India Trade Cooperation Is More Important Than Narrow Dialogues
While a strategic dialogue on trade is important, the United States and India need to bring a wider set of trade issues to the discussion to ensure a resilient partnership.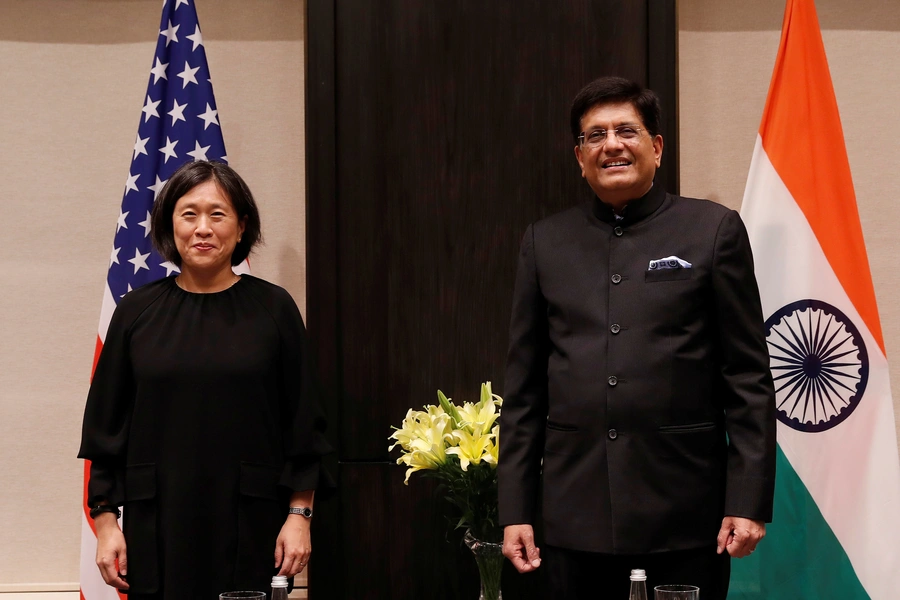 There is a newfound buzz around strategic cooperation between the United States and India as senior national security and commerce officials meet this weekend in Washington to hold their first Strategic Trade Dialogue. The dialogue will discuss implementing the outcomes of the initiative on Critical and Emerging Technology (iCET).  This initiative aims to strengthen and expand strategic technological coordination and defense industrial cooperation between the two countries, providing an opportunity for the United States to secure a more predictable and economically advantageous relationship with India. But the dialogue's narrow focus on a limited set of trade issues tightly wound up in security concerns may prove naïve in assuring a resilient economic partnership. 
The iCET includes several bilateral initiatives covering a range of issues for strategic economic and defense cooperation. These initiatives aim to improve links between innovation ecosystems in high-tech industries; grow the semiconductor industry in India; and develop educational partnerships, defense innovation, and space cooperation.  
Both sides have a strong interest in the success of iCET. For the United States, iCET is a major component of its friendshoring strategy and goals to diversify high tech investments outside of China. For India, it provides potential access to U.S. technology that can aid its own ambitions to become a global technological hub and economic powerhouse. With China at its doorstep, India also has an incentive to shore up its defense base.  
To date, these meetings have not focused on improving the U.S.-India trade relationship writ large. Rather, bread and butter trade issues, such as regulatory transparency, tariff reductions, and coordination on multilateral negotiations, have been discussed on a separate track through the Trade Policy Forum, whose results have been lackluster at best. But this division of labor prevents a broader discussion of the trade-security nexus and fails to see the benefits to security from having an open and rules-based trading relationship. Instead, the Strategic Trade Dialogue aims to expand limited trade links deemed to be of strategic importance while leaving other important trade issues unexplored.  
However, improving trade ties across the board should be a central feature of the U.S.-India partnership. It provides the best opportunity to solidify economic ties and offer sustained institutional pathways for future cooperation. The Bush and Obama administrations wooed India through strategic dialogues, but those efforts failed to deliver concrete results because they too were not able to tackle longstanding trade irritants or make progress on a bilateral trade pact. While dialogue is important, the ad hoc nature of the current U.S. approach to India could squander an opportunity to deepen our economic and security relationship. What is sorely needed is India's participation in binding trade agreements with strong commitments that ensure India is a predictable and stable place to do business.  
To that end, the United States should seek stronger commitments from India to open its markets to foreign competition and ease regulatory barriers to doing business in India. This will do more to boost supply chain resilience and long-term trade resilience than a series of ad hoc initiatives with little institutional structure or a means to enforce commitments. For instance, the United States should push India to join the World Trade Organization's (WTO) negotiations on Investment Facilitation for Development, which currently involve 110 of its 164 members. India remains opposed to these talks even though their aim—to improve the environment for investment in developing countries—is squarely in line with India's own goal of attracting foreign investment. Similarly, it would be in both countries' interest for India to join the Government Procurement Agreement that provides fair and transparent access to procurement markets. Government procurement accounts for almost 30 percent of India's GDP, but it is heavily restricted. Opening this market could not only help India achieve its infrastructure goals, but also support its transition to net-zero greenhouse gas emissions by attracting the most cost-effective and technologically advanced firms.   
The United States should also follow the lead of the European Union, which has begun talks on a free trade agreement with India. Australia concluded a trade agreement with India last year, securing tariff-free treatment for 85 percent of Australian goods exports and providing duty-free treatment to 96 percent of Indian imports. Meanwhile, India has opted out of the trade pillar of the United States' signature trade initiative, the Indo-Pacific Economic Framework. India is generally skittish about plurilateral agreements, so the carrot of bilateral talks may prove worthwhile. 
Simultaneously, the United States must be clear-eyed in its approach to India and recognize that their interests are not always aligned. On the economic front, India has consistently been at odds with U.S. foreign economic policy. India remains strongly opposed to e-commerce negotiations at the WTO and poses the largest threat to the moratorium on duties for electronic transmissions, which was renewed last year only after a fight with India and other governments. On the security front, India has not condemned Russia for its invasion of Ukraine. Furthermore, while U.S. officials have placed emphasis on cooperation with like-minded countries, particularly democracies, the erosion of India's democratic norms cannot be easily ignored.  
The stakes are high if the United States and India fail to deepen their economic and security relationship, but there are also limits on what can be achieved when these issues are approached separately. In recent trade agreements, India has shown a willingness to open its market given the right inducements. Creating stronger trade links while at the same time offering access to strategic technology will generate the best chance for future cooperation and ensure a more robust alliance between India and the United States based on concrete rules instead of just dialogue.