The Fatah-Hamas Gaza Palestinian Unity Agreement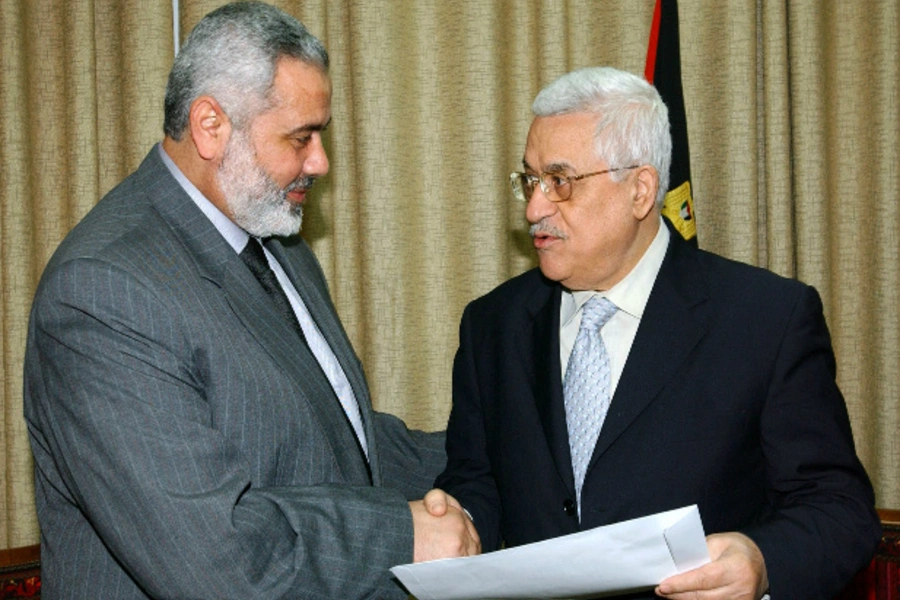 Hamas and Fatah have once again reached an agreement to overcome their split, claiming they will form a unity government within five weeks and hold general elections by December. There is little reason to believe that the unity agreement reached today in Gaza between Hamas and Fatah is any more credible, or stands any better chance of implementation, than the previous failed unity agreements between the two parties penned in Cairo and Doha. The fundamental issues that divide them remain: Hamas is interested in an Islamist agenda while Fatah opposes it. Hamas opposes a two-state peace solution to the conflict with Israel while Fatah supports it. Moreover, Hamas is loath to relinquish control of Gaza, and Fatah has no interest in sharing the West Bank with its political adversary.
Both Fatah and Hamas have an interest right now in demonstrating efforts to seek unity, even if they never implement such an agreement. The idea of unity is very popular with a Palestinian public largely disenchanted with both Hamas and Fatah. That Palestinian elections have not been held since 2006 erodes both parties' legitimacy and reinforces a popular image of Fatah and Hamas as more interested in power and its benefits than in delivering political or economic benefits to their people. For Hamas, unity efforts may give the group a political bounce at a time when the organization (and all of Gaza) is hurting from unprecedented Egyptian efforts on the ground to squeeze Hamas.
Yet with Islamist parties on the defensive throughout the Middle East right now, why would Abbas agree to share power with his arch rivals and risk alienating potential Arab patrons who seek the destruction of the Muslim Brotherhood and their offshoots such as Hamas? For Abbas, talking to Hamas about unity when it is unlikely to be implemented is tactically attractive. In addition to its popularity, focusing on domestic politics right now by talking to Hamas can help deflect attention from negotiations with Israel that are likely to collapse by the end of this month.
Abbas knows that moving forward on his stated intention to seek further international recognition for Palestine should the peace efforts fail could prove painful to him and the Palestinian people. Israel is likely to take punitive actions on the ground, and many international donors will probably withhold financial assistance as well as political support. Pursuing unity talks with Hamas can pivot Palestinian politics towards a domestic agenda away from the international one. When Hamas later fails to sign on to Abbas' terms for unity or rejects allowing the PLO to retake control of Gaza, the Palestinian president can blame Hamas for thwarting efforts and Palestinian elections.
At the same time, Abbas may also calculate that flirting with Hamas puts pressure on Israel to compromise in Secretary of State Kerry's last-ditch efforts to keep negotiations going past the April 29 expiration deadline. Abbas may think that Netanyahu will want to keep the Palestinians from moving to a rejectionist stance in the absence of peace talks.
If that is Abbas' intention, it is likely to backfire. Rather than prompting Israelis to make endgame concessions to reach a deal right now, Abbas' flirting with Hamas is more likely to provoke Netanyahu to point a finger at Abbas and say that the Palestinians are to blame for thwarting Kerry's efforts, and that Abbas is really no partner for genuine peace. Netanyahu could choose to ignore the unity talks and diminish their significance while betting on their likely failure. But that would provide further ammunition to his political critics on the right. Moreover, Palestinian unity efforts make it all the more certain that Abbas will not budge on the one issue of primacy to Israeli negotiators—that the Palestinians recognize Israel as the nation-state of the Jewish people.
It remains theoretically possible, though highly unlikely, that this time will be different, and that Hamas and Fatah will both see enough benefit in making fundamental compromises that would produce a mutually acceptable interim government leading to new elections. Failing that, the ensuing talks to cobble together a unity government will likely replace one set of fruitless talks—those between Israel and the Palestinians—with another set of negotiations with similarly poor prospects for realization.