Five Good Foreign Policy News Stories in 2022
As 2022 comes to a close, here are five positive stories on the foreign policy front that happened in the past year.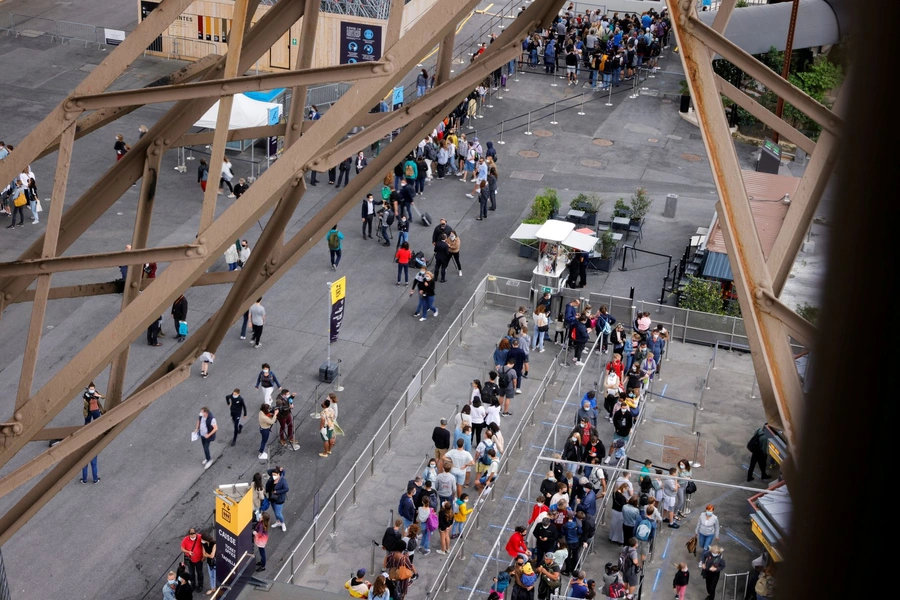 Two thousand twenty-two will go down in the books as another tough year. But recounting all the bad things that happened in 2022 makes it easy to overlook the good things that happened. And good things did happen. Here, in no particular order, are five foreign policy related good news stories. You may want to read what follows closely. Several of these stories could bring more good news in 2023 and beyond.
Democracies Delivered. The past decade was a tough one for democracy worldwide. Autocracies gained ground and confidence. Russian President Vladimir Putin declared that "the liberal idea" has become obsolete, while Xi Jinping held up China as a model for the world to follow. Two thousand twenty-two certainly added grist for those claims. Democratic backsliding continued in India. Britain went through three prime ministers in two months, with one them plunging the country into an economic crisis. And Israel elected a new government with decidedly illiberal elements. But on the whole, 2022 produced more good news than bad news among the world's democracies. A case in point was the United States. It enacted major legislation to address climate change and revitalize its scientific and technological leadership. Perhaps more important, its midterm elections went off without a hitch—losing candidates overwhelmingly accepted their results without complaint—and most 2020 election-denying candidates lost. In Brazil, Luiz Inácio Lula da Silva defeated incumbent Jair Bolsonaro, who accepted defeat rather than fight to stay in office as many Brazilians worried he would do. French President Emmanuel Macron turned back a stiff challenge from far-right candidate Marine Le Pen. Italy's snap parliamentary election produced its first far-right government since World War II, but Prime Minister Giorgia Meloni provided more continuity than change in her first months in office. Yoon Suk Yeol won a narrow victory in South Korea's bitterly contested presidential race and control of the Blue House transferred peacefully. Perhaps the liberal idea isn't obsolete after all.
Autocracies Stumbled. A theme of the past decade has been that autocracies are ascendant. If so, 2022 may be the year they hit their ceiling. Around the world, autocrats foundered. Chinese President Xi Jinping secured his third term as China's president and stocked the Chinese Politburo with acolytes. But Chinese economic growth slowed, Chinese citizens rebelled against his zero-tolerance policy on COVID, and Xi's decision to abandon lockdowns with little preparation sparked a wave of infections. Russian President Vladimir Putin had an even worse year. He launched an invasion of Ukraine that he thought would last a few days and divide the West. Instead, the Russian military fought desperately to stave off defeat, the West united, and the Russia economy was hit with a barrage of sanctions. Things went so badly for Putin on the battlefield that he had to turn to Iran for military aid. But the mullahs in Tehran had their hands full at home. The death of a young Iranian-Kurdish woman in police custody triggered the most significant challenge to the Islamic Republic in its four decades in power. Iran's eighty-three-year-old Supreme Leader Ali Khamenei is in ill-health, raising the prospect that a succession struggle could soon be added to the mix. North Korean leader Kim Jong-un ordered the launch of a flurry of ballistic missiles, but couldn't curb the spread of COVID or generate enough food for his people. None of this is to say that these or other autocrats will soon fall from power. It is to say that the conviction that strongman rule delivers is likely misplaced.
The West United. A year ago, experts were predicting the potential demise of the transatlantic relationship. The fear was that a limited Russian invasion of Ukraine would divide the West. The United States and Eastern European countries would demand a significant response, while Germany and many other Western European countries would look for every excuse to continue business as usual. President Joe Biden openly worried that a "minor incursion" might lead to a Western "fight about what to do and not do." We will never know whether that fear was justified. Putin went big in Ukraine and not small. The West's reaction was immediate, strong, and united. Within days of the invasion, Russia became the most sanctioned country in the world. Billions of dollars in Western military and financial aid flowed into Kyiv, enabling the Ukrainian military to deal the far larger Russian army setback after setback. Russia's invasion also led European capitals to rethink their military needs and energy vulnerability. German Chancellor Olaf Scholz announced a Zeitenwende—a historic pivot—committing his country to invest far more in its own defense forces. Meanwhile, Europe moved to end it dependence on Russian oil and gas, even at a great cost to its economies. Despite predictions that the newfound unity would quickly fray, the West held firm. That unity will continue to be tested by a war that could last years. The broader question, though, is whether the West will harness its unity to tackle the challenge of building a better world order that embodies not just its own interests but those of the Global South as well.
COVID Eased. After two years of lockdowns, travel restrictions, and outright fear, much of the world breathed a deep sigh of relief that the worst of COVID was in the past and began to open up once again. People thronged to restaurants and concerts, air travel rebounded from historic lows, and tourist spots filled with visitors. The success in blunting COVID was so significant that in September the head of the World Health Organization declared that the end of the world's first pandemic in a century is "in sight." The world was able to turn a corner in part because of the success of vaccines and therapeutic treatments in lowering the chances of dying from COVID. But the turn also owed to the fact that many people gained at least partial immunity from contracting the virus. The one obvious dark cloud on the horizon was China. While it initially contained COVID by imposing draconian lockdowns, by the end of year three the Chinese people had reached a breaking point. This month, as Chinese citizens rebelled against continued lockdowns, Beijing reversed course on its zero-tolerance policy. The problem was, it had neither developed its own highly effective COVID vaccine nor imported highly effective Western ones. With a population that had almost no exposure to the COVID virus, the result was both predictable and horrifying: a wave of infections that overwhelmed China's underdeveloped healthcare system. The speed of China's COVID wave left experts fearing new mutations of the virus and governments moving to restrict travel from China.
Ethiopia Made Peace. The costs of the civil war that began in Ethiopia in late 2020 after forces linked to the Tigray People's Liberation Front (TPLF) looted a federal army base in the northern part of the country were horrific. Estimates of the death toll run as high as 800,000. The exact number may never be known. The fighting generated some 5 million internally displaced people. The Ethiopian military and its associated militias, as well as the Tigrayan militias they were fighting, committed atrocities and engaged in the systematic rape of women and girls. The battle lines moved back and forth over the course of the fighting. At one point the greatly outnumbered Tigrayan forces advanced to within one hundred miles of Addis Ababa, Ethiopia's capital. Ethiopian forces eventually turned the tide, helped in part by neighboring Eritrea entering the war. After Ethiopian and Eritrean forces captured strategic towns in Tigray in October 2022, the two sides agreed to peace talks held in South Africa under the auspices of the Africa Union. On November 2, the Ethiopian government and the TPLF—though not the Eritrean government—signed a deal to end hostilities and to allow humanitarian aid to reach Tigray. Not surprisingly given where things stood on the battlefield, the terms favored the Ethiopian government. Ethiopia's Prime Minister Abiy Ahmed hailed the agreement as a "historical victory." The deal was still holding as 2022 ended, raising hopes that a true reconciliation might take place and spare a country that has seen more than its share of tragedy from experiencing even more.
Other good news stories to note in 2022: On January 27, Xiomara Castro was sworn in as the 56th president of Honduras and the first woman to occupy the office. From February 4 to 20, the world saw seventeen Olympic records broken as 2,900 athletes from some ninety countries participated at the Beijing Winter Olympics. On March 10, Google released more than 40,000 digitized pages of the Timbuktu manuscripts that date back as far as the eleventh century and that had been endangered by political violence in Mali. On April 18, the United States became the first space-faring nation to pledge to forego testing anti-satellite weapons and vowed to lobby other major powers to follow its lead. On May 13, Croatia's parliament voted overwhelming to replace the kuna with the euro as the country's official currency starting January 1, 2023. On June 2, the United Nations formally accepted the government of Turkey's request to have its name changed in the organizations' records to Türkiye. On July 22, Russia and Ukraine agreed to allow grain shipments to leave blockaded Ukrainian ports in the Black Sea, helping to ease the global food crisis. On August 17, Israel and Turkey agreed to restore full diplomatic relations that had been suspended back in 2018. On September 27, leaders of Norway, Denmark, and Poland marked the opening of the Baltic pipeline, which carries natural gas from Norwegian gas fields through Denmark to Polish customers. On October 24, Rishi Sunak became the first person of color to be named prime minister of the United Kingdom. On November 11, the Association of Southeast Asian Nations (ASEAN) granted observer status to Timor-Leste and pledged to provide the impoverished country with roadmap within the next year for becoming a full member. On December 18, Argentina defeated France on penalty kicks to win a World Cup that was marked by terrific play.  
Sinet Adous and Michelle Kurilla assisted in the preparation of this post.
Other posts in this series:
Ten Good Foreign Policy News Stories in 2021