Five Questions on Human Rights in Cambodia: Mu Sochua
Mu Sochua is the deputy leader of the Cambodian National Rescue Party (CNRP), and one of Cambodia's most prominent women in politics. This past week, a Cambodian court issued treason arrest warrants for eight leading members of the CNRP in exile, including Sochua.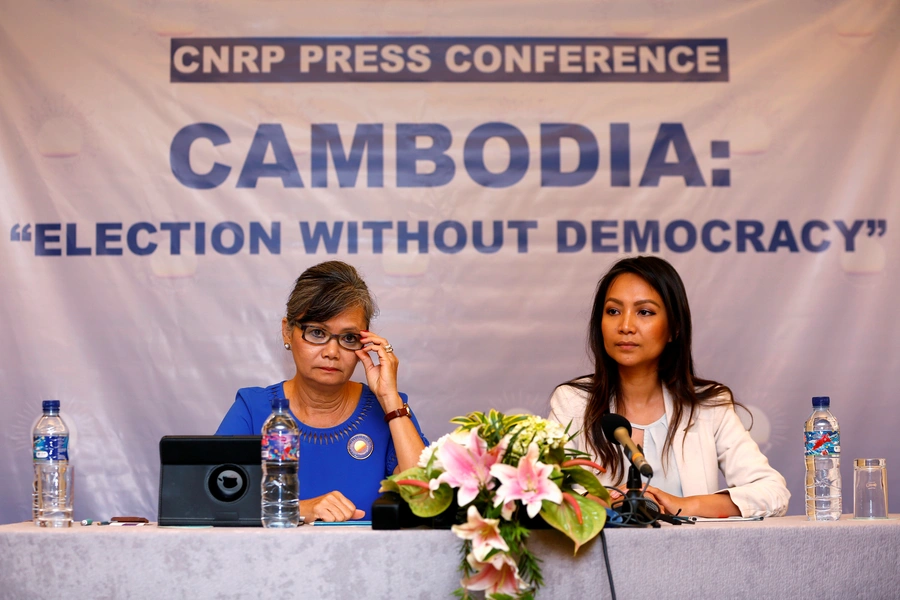 The Five Questions Series is a forum for scholars, government officials, civil society leaders, and foreign policy practitioners to provide timely analysis of new developments related to the advancement of women and girls worldwide.
This interview is with Mu Sochua, the deputy leader of the Cambodian National Rescue Party (CNRP). Sochua has dedicated her life to promoting women's rights and advancing democracy in Southeast Asia. In 2017, she was forced to flee Cambodia amidst a government crackdown on opposition leaders and civil society. Sochua has continued to fight for her country and is now planning a return to Cambodia, despite government threats.  This past week, a Cambodian court issued treason arrest warrants for eight leading members of the CNRP in exile, including Sochua.
Meighan Stone, senior fellow in the Women and Foreign Policy Program, and Rebecca Hughes, research associate with the Women and Foreign Policy program contributed to the development of this piece.
For much of your young adulthood, you lived in exile in the United States. What prompted you to return to Cambodia and enter politics?
I've always felt it was political circumstances that pushed me into making decisions for myself and my people. I went into exile in 1972, because it was either stay behind and live with the communists or go abroad and get an education. For me, returning home was not a question. It was my obligation to work and speak on behalf of my people. And I am now preparing to return home again, with the support of colleagues.
In 2017, you were forced to leave Cambodia amidst Prime Minister Hun Sen's crackdown on civil society and political opposition leaders. Nevertheless, while in exile you have continued to advocate for democratic values in Cambodia. What is the current situation in Cambodia, and how do you hope others will join you in this fight?
In stark contradiction to the increased democratic freedoms in the region, from the recent elections in Indonesia to the democratic reforms in Malaysia, Cambodia under the regime of Prime Minster Hun Sen has morphed unconstitutionally into a one-party dictatorship, where opposition leader Kem Sokha is arbitrarily detained, the opposition CNRP party banned, free media silenced, human rights violated and citizens' rights disrespected.
On what the global community can do – first, we need to keep the hope alive. Today, about half of Cambodians have access to a smart phone. So every day, I go live on social media to deliver a message to the people. Second, we need to report on what is happening on the ground. People inside Cambodia cannot always speak out about what is happening, so it is important that we follow the news and speak out on their behalf. We need the international media to report about what is happening on the ground – they shouldn't wait until there is blood on the streets to report on what is happening. Every democratic rollback in Cambodia should be in the news, otherwise the world will forget. Third, governments such as the United States should impose targeted sanctions on Cambodian government officials. Finally, Cambodians need to be very clear about what it is that we want. We want free and fair elections. We want the release of our leaders and prisoners of conscience. We want Cambodia back on track.
You have degrees in psychology and social work. Prior to entering politics, you worked as a community organizer. What did your work as an organizer teach you and how did it inform your political agenda?
Throughout my life, I have had experiences that have exposed me to other people's realities and they have shaped my understanding of the world. For instance, as student in the San Francisco Bay area I worked as an interpreter for the first waves of Cambodian refugees to come to the area. It was a twenty-four hour job, because their stories stay in your heart and mind. But I realized that they should not be treated as victims, because they aren't just refugees—they are human beings and survivors, who need a moment of peace to put their lives back together. That experience taught me about the importance of respecting people's dignity and human rights, and these values have been at the center of my political agenda. 
Throughout your career you have fought for women's rights. You were the first female minister of women's affairs in Cambodia, a position previously always held by a man! Can you speak to why women's empowerment is such a central part of your work?
I entered into politics in 1995. As a women's rights activist, I was inspired by First Lady Hillary Clinton's speech at the Beijing Fourth World Conference on Women. In her speech, Clinton called upon governments to empower women and promote women's human rights. While in government, I spoke out about the everyday lives of Cambodian women and global women's issues. In Cambodia there is a proverb that says, "Men are gold, and women are pieces of white cloth." The idea is that men, like gold, can be dirtied and cleaned, whereas women once dirtied are stained forever. As the minster of women's and veteran's affairs, I wanted to change the way Cambodians thought. So we changed the proverb to, "Men are gold, and women are precious gems." Once people started thinking about women as equally valuable, it was easier to advocate for their fundamental rights. We drafted and passed a law against domestic violence, negotiated an agreement with Thailand to curtail sex trafficking, and brought rural women into a national dialogue on women's development.
What advice do you have for women seeking to promote equality and safeguard democracy in Cambodia?
Get into politics. Throughout the world, there aren't enough women in politics. Politics must be defined by the action on the streets. I watch the #MeToo movement in the United States, and I say, 'Wow! How could we do a Cambodian #MeToo movement?' Cambodian women are always, always on the front line at every single protest—it is a tribute to their courage and to the sacrifices they have made. We need our women, especially the young ones, to get into politics and take my place.