Friday Asia Update: Five Stories From the Week of June 24, 2016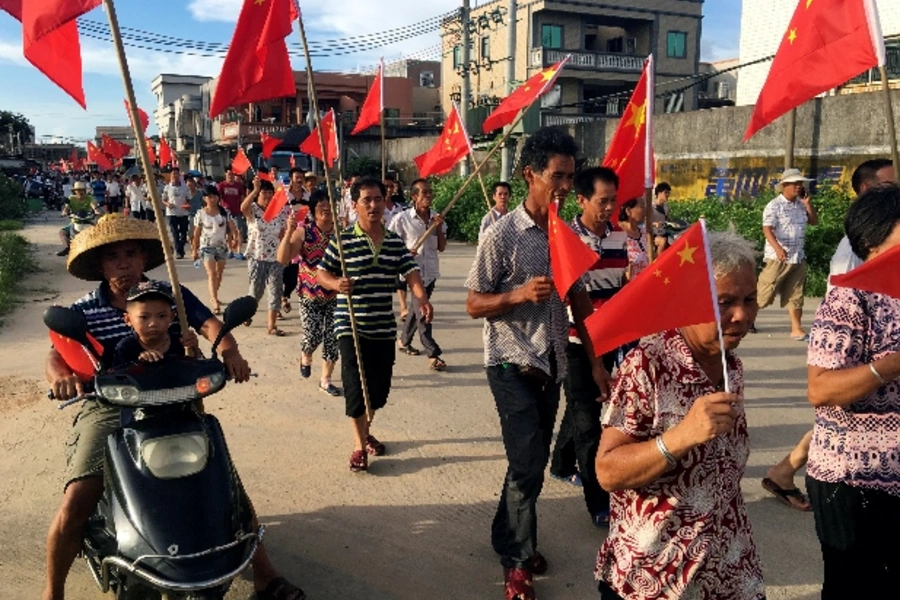 Rachel Brown, Gabriella Meltzer, and Gabriel Walker look at five stories from Asia this week.
1. Smoldering discontent rekindles protests in Wukan, China. Nearly five years ago, popular protests erupted in the small fishing village of Wukan, Guangdong province, over illegal land grabs by the local government. The "Siege of Wukan," as it was later known, set a precedent for diffusing tensions on the local level through democratic means, as villagers were allowed to elect new leaders after protesting for three months. Late last week, Wukan residents began planning a new round of protests over similar illegal land sales, partly spurred by an online letter from Lin Zuluan—the village party secretary elected after the last protests—which announced Lin's intention to mobilize residents. But this weekend, Lin was detained by police on account of accepting bribes, a charge that many believe to be spurious despite Lin's videotaped confession. Between two and four thousand villagers took to the streets early this week calling for his release. Though coverage of the ongoing protests has mostly been expurgated from the Chinese web and press, one Global Times article stated that "the disputes in Wukan may eventually be solved in accordance with the law." Unfortunately for Lin, who seems to have been denied legal counsel, Chinese authorities sometimes bend laws when fighting the flames of public discontent.
2. Duterte administration pushes population-control measures. Rodrigo Duterte, president-elect of the Philippines, plans to implement strong family-planning programs to curb poverty in the country and maximize its demographic dividends to attract further foreign investment. As of 2015, 26.3 percent of the country's population is living in poverty, and although 30 million people are between ten and twenty-four years old, 25 percent of workers ages twenty through twenty-four remain unemployed. In order to address these issues, the administration is pushing for "rapid and sustained implementation" of the Responsible Parenthood and Reproductive Act of 2012, which allows public health centers to freely distribute contraceptives and teach sex education in schools. In addition, Duterte intends to execute a three-child policy whereby families who have more than three children will be disqualified from receiving government aid through a conditional cash-transfer program that currently supports 4.4 million poor families. The influential Catholic Church (80 percent of Filipinos identify as Catholic) opposes these measures, but Duterte has controversially stated that the Church's doctrine is no longer relevant to modern Filipino society.
3. Famed Sufi singer killed in Karachi drive-by shooting. Amjad Sabri, a beloved singer of Sufi devotional song, or qawwali, was killed this Wednesday when gunmen on a motorcycle drove by and fired shots into his car. Three of his family members in the car also succumbed to their injuries. A senior Karachi police officer stated that the attack was targeted, and a faction of the Pakistani Taliban later claimed responsibility for the killing. A spokesperson for the Pakistani Taliban said that Sabri was a target because the group considered his music blasphemous—possibly referring to particular qawwali Sabri performed that mentioned religious figures. Thousands of Karachi residents paid their respects by pouring into the streets and throwing rose petals over the ambulance carrying Sabri's body. Pakistani Prime Minister Nawaz Sharif also mourned the loss of the singer, whom he called a "goodwill ambassador of Pakistan around the world," and announced a $150,000 grant for Sabri's family. To one scholar of Islam, Sabri's death represents more than just the loss of a great artist—it is a tragic affront to the kind of deep religious love that can only be expressed through music.
4. India further opens to foreign investment. This week, the Indian government put forth major plans to liberalize foreign investors' access to the Indian economy. The reforms include granting foreigners the ability to have full ownership over companies in the food, civil aviation, and defense sectors, as well as stakes of 74 percent or below in Indian pharmaceutical firms. Investments in single-brand retail will also undergo reform, which will make it easier for companies like Apple and IKEA to further establish themselves in the Indian market. The decision was seen as part of an effort to create jobs and maintain strong economic growth. It also came shortly after the resignation of Raghuram Rajan, the head of the Reserve Bank of India, whose departure raised concerns about India's future economic prospects. The Modi government issued the new rules by an executive order because Modi's party, the BJP, does not control the Upper House of Parliament, which has previously been considered a hindrance to reform.
5. Women MBAs fall behind in Asia. Business schools around Asia are paying increasing attention to the lack of opportunities for and recruitment of women. While some schools, such as Hong Kong University, have begun to develop more robust systems for supporting female students, many institutions lag behind. This may have limited the number of women who could assume leading roles in Asian finance firms, where a mere 13 percent of executives are female (compared to 21 percent in the United States). However, the gap may beginning to narrow. Women made up over 67 percent of the class of 2015–16 in business schools in Asia (excluding Turkey and India) affiliated with the Global Alliance in Management Education, and were found to be more open to international career paths and specialized programs. Outside of classrooms and c-suites, more opportunities for women in business could also have a significant financial impact. The United Nations estimates that if women in Asia "achieve their full economic potential" it could add $89 billion annually to the regional economy.
Bonus: Seoul fights "smartphone zombies" with street signs. In South Korea, the smartphone capital of the world (88 percent of the population has one), collisions between pedestrians and vehicles has skyrocketed in recent years. The reason is likely simple: more city-dwellers glued to their screens have been carelessly stepping into oncoming traffic. As a result, Seoul has taken the initiative to install its first batch of three hundred signs around the city to remind plugged-in pedestrians to walk with more care. The signs will be strategically placed in locations with large populations of young people, and mostly on sidewalks to increase the likelihood that tweeters and texters will see them while staring down at their devices. "I am always on my smartphone, and I have never seen the signs before," said one local. If these signs don't prove effective enough, maybe using a more traditional, and aggressive, reminder—like a recording of a car horn—would do the trick.