Friday Asia Update: Top Five Stories for the Week of November 20, 2015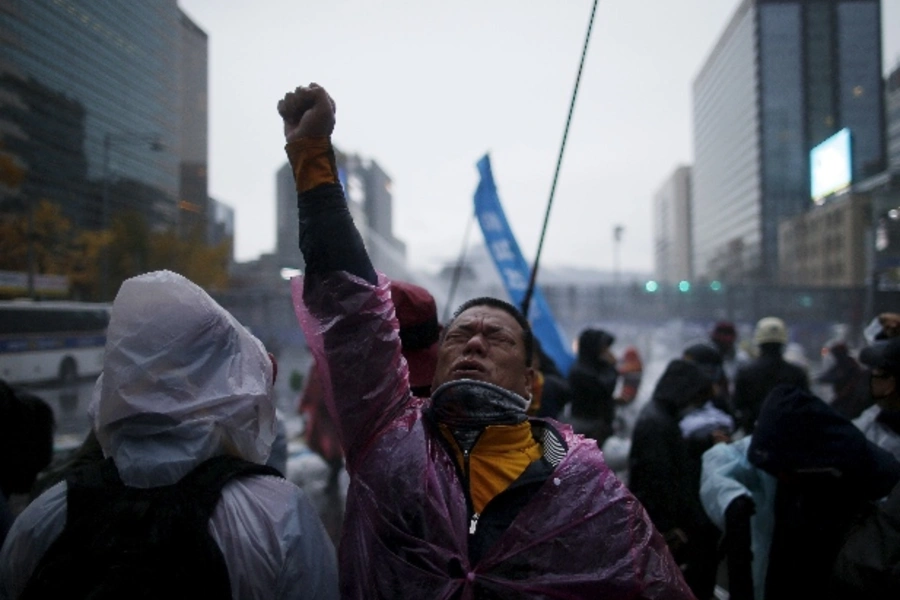 Ashlyn Anderson, Rachel Brown, Lincoln Davidson, Ariella Rotenberg, Ayumi Teraoka, and Gabriel Walker look at the top stories in Asia this week.
1. Antigovernment protests erupt in Seoul. This week, tens of thousands of people filled City Hall plaza in downtown Seoul to protest President Park Geun-hye, demanding her resignation. The protestors wore plastic raincoats to guard against the cannons of water and liquid tear gas fired at them by the police. The grievances against President Park include the replacement of history textbooks in the country with a specific government-issued one. Student protestors argue that the government textbook would whitewash the legacy of Ms. Park's father, former President Park Chung-hee. Unionized workers also protested against changing labor laws that they believe favor the chaebols, powerful family-run Korean conglomerates, making it easier for them to fire workers. The exact number of gathered protestors was somewhere between 68,000, according to the government, and 130,000, according to the protest organizers; no matter which is the more accurate number, it is unquestionably the largest protest under Ms. Park's government.
2. Thailand deports two Chinese refugees. Two Chinese dissidents, Jiang Yefei and Dong Guangping, were deported from Thailand after being arrested on October 28, 2015, for lacking valid visas. Canada had already accepted both men as refugees and they possessed "protection letters" from the United Nations. The Office of the United Nations High Commissioner for Refugees said that the exact rationale for the deportations remained unknown and that many officials from international organizations had tried to prevent it. Jiang Yefei had lived in Thailand since 2008 after being detained in China earlier that year for critiquing the government's handling of the Sichuan earthquake. Dong Guangping was detained in China between May 2014 and February 2015 following his involvement in a commemoration of the 1989 Tiananmen Square crackdown. Both men are believed to be at risk of torture in China. The deportations from Thailand to China fit into a recent pattern of behavior between the two nations: In July, the Thai government, which has not signed the 1951 Refugee Convention, deported over one hundred Uighurs back to China. Thailand's relations with China improved after the Thai military coup in May 2014, which weakened ties with Western nations and led the government to begin seeking out new partners.
3. Tourism in Japan booms thanks to Chinese visitors. The Japanese government will raise its annual target for the number of foreign visitors to Japan to thirty million, as the current target of twenty million by 2020 is likely to be attained this year, five years ahead of schedule. This is largely due to a weaker yen brought about by "Abenomics," Prime Minister Abe's economic policies, as well as his policies to encourage tourism such as the relaxation of visa requirements and welcoming low-cost airline carriers. This year, 16.3 million foreign tourists have already visited Japan, beating last year's record of 13.4 million over the entire year. The number of visitors to Japan was on a constant increase until 2008, before the trend took a hit from the financial crisis in 2009 and the Tohoku earthquake and tsunami in 2011. Abe reversed this trend again when he came back to the office in 2012, as he saw tourism as a central component to his overall economic program. The dramatic uptick in the number of Chinese visitors has played an important role in this about-face: between January and October of this year, 4,283,700 Chinese tourists visited Japan, and accounted for nearly half of the 1 trillion yen (8.1 billion USD) that foreign visitors spent in the country.
4. India sells off 10 percent more of Coal India. This Wednesday, the Indian government approved a 10 percent sell-off of Coal India, the state-owned mining company that is the biggest coal-producing enterprise in the world. The move, which should provide the government with around $3.2 billion, was part of Prime Minister Narendra Modi's broader push to privatize state-owned enterprises, and followed up a similar sale last fiscal year that netted $3.6 billion. Although some say that the Coal India divestment will play a part in easing pressure on government finances, Modi may not be able to reach his budget deficit target by the end of this fiscal year by selling other state assets. And while the company's stock has fallen about 13 percent this year, it may be in a position to benefit as the country attempts to double its coal production by 2020.
5. Come buy from me, Argentina. China and Argentina announced this week that China would provide funding for $15 billion nuclear power plant projects in Argentina. The two plants, one of which will utilize the Chinese-designed Hualong One reactor, will roughly double Argentina's nuclear power output. The loans, coupled with a nuclear plant project in the UK that China announced last month it would be funding as well, demonstrate the country's commitment to flaunting its wealth abroad, even as the economy slows back home. And as Chinese investment in Africa declines, the nuclear projects may signal further interest among the Chinese leadership in partnerships with Latin America, which already accounts for 13 percent of Chinese outward foreign direct investment.
Bonus: Mobile app enables a collective approach to clearing garbage in Delhi. Following the launch of Indian Prime Minister Narendra Modi's "Swachh Bharat" campaign to clean up India, a new app was introduced in New Delhi that allows citizens to snap photos of trash piles and send them to the Public Works Department along with corresponding GPS coordinates. All three municipal corporations involved in garbage collection have pledged support for the initiative. The launch of the app comes just in time for a focused cleanliness drive in Delhi from November 22 to 30. The app is also an example of how the Indian government's "Digital India" mission can be effective in empowering citizens to come up with solutions to societal issues.