Gender Freeze
For Nigerian women, gender equality remains a bridge too far as increased social influence fails to translate into political power.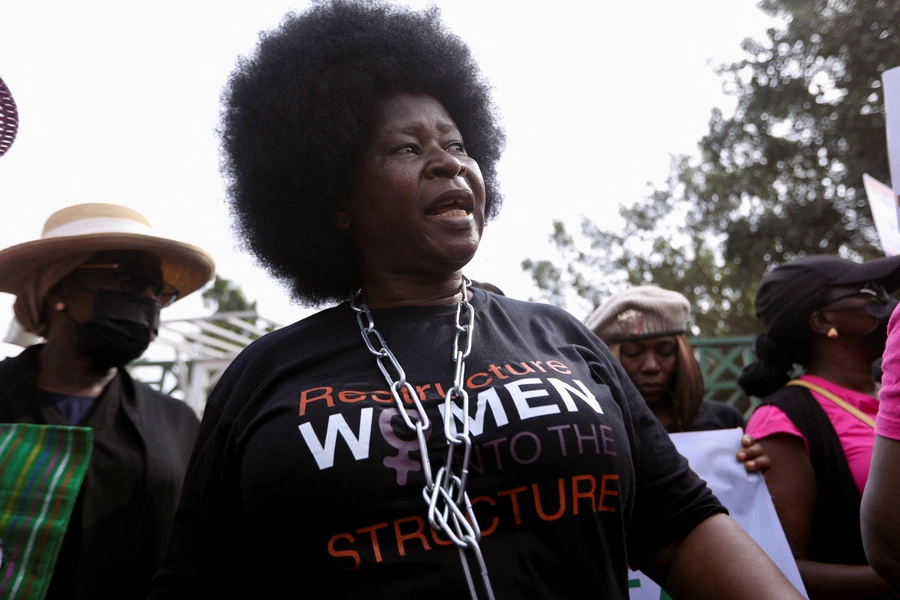 From a particular vantage, Nigerian democracy, while not in the finest of fettle, is more or less on the right track. Take elections for instance. True, they have all been contentious, and some have certainly been freer and fairer than others. But they have been on schedule, and have facilitated the transfer of political power. More important, with the concession of Goodluck Jonathan to Muhammadu Buhari in 2015, the country passed the crucial smell test of transfer of power between contending political parties. Granted, "mere" electoralism, as leading democratic theorists contend, is a mere half-way house between authoritarianism and full-blown democracy, but the predictability and certainty it signals cannot be understated. This becomes all the more important when you consider the rugged political terrain that Nigeria has had to navigate, including decades of brutal military dictatorship.
Civic engagement is another thing. While voter turnout remains a statistical crapshoot, and, according to the Independent National Electoral Commission (INEC), appears to have hovered around thirty to thirty-five percent of registered voters in the last two electoral cycles (the figures for bye-elections are even lower), it is, at best, a limited measure of civic engagement. The truth is that Nigerians have never been more passionate about the state of Nigerian democracy, and, frequently writing at the top of their voices, have never shied away from expressing their opinions on a wide range of issues. Boisterous does not begin to capture the essential character of the Nigerian public sphere, and Nigerian democracy is, all told, all the better for it.
A huge part of this newfangled vitality is due to the increased participation of women, a function in part of social media and the affordances of a new digital landscape. For instance, as the prestige of "traditional" media houses has waned, with many unable to make the transition from print to digital, many of the new generation of influencer-editor-blogger-entrepreneurs are women. Young people may have no memory of how, say, General Ibrahim Babangida was fought to a standstill for plotting a democratic steal, talk less of what Kudirat Abiola stood for. But they know very well who Linda Ikeji is, and her potpourri news website attracts more unique visitors than those of the legacy outlets combined.     
Beyond the "newsroom," Nigerian women are seizing the reins in other domains. For instance, the face of the 2020 #EndSARS protests against law enforcement impunity was appropriately female. There is no #EndSARS without the Feminist Coalition or the fearless Aisha Yesufu, not to mention Praise Tochi Ogbonna, who cooked and fed a group of protesters in Abuja, the Federal Capital Territory (FCT) for free, or Obianuju Catherine Udeh (aka DJ Switch), who bravely livestreamed the shooting of peaceful protesters in Lagos. At the more risqué end of the cultural spectrum, Nigerian women are leading the conversation on sex and intimacy, bending, if not in fact redefining, the terms of an emergent erotic economy.     
Notwithstanding, full political participation continues to elude Nigerian women, and gender equality remains largely at the level of aspiration. For instance, while the proportion of women in parliament "has doubled globally since 1995 to 26.4 percent," women's political representation in Nigeria has been on a steady decline since the inauguration of the Fourth Republic in 1999. Currently, "only five percent of Nigeria's lawmakers are women" and of the 4,223 candidates contesting for seats in the National Assembly in the forthcoming general election, only 374, i.e., 8.85 percent, are women. For comparison, the percentage of female lawmakers in the South African, Senegalese, and Ethiopian parliaments is forty-six, forty-one, and thirty-eight respectively. According to a recent report by the Abuja-based Gender Strategy Advancement International (GSAI), "Nigeria ranks 181 out of 193 countries on the Gender Equality Index for countries with low women representation in governance."
Why have women been unable to translate the aforementioned cultural power into political power, especially considering that they constituted almost half (forty-seven percent) of registered voters during the last general election in 2019? One reason is the continued capture of the political imagination by entrenched sociocultural norms. President Muhammadu Buhari's casual remarks back in 2016 that "I don't know which party my wife belongs to, but she belongs to my kitchen and my living room and the other room;" and Senator Emmanuel Bwacha's (Taraba South) warning in the same year that "Every woman that has freedom must know that such freedom has limitations. She must know that there is a man that has authority over her" encapsulate a disturbing truth about gender relations in Nigeria.
While, across the largely Islamic north, a conservative brand of Islam contextualizes and does the ideological work of patriarchy, in the south, male power is bolstered and hoisted on the dubious scaffolding of "tradition." A second reason is the lingering legacy of military rule, still underappreciated as a fusion of violence and masculinity into unaccountable state power. Male moral license, on display across various social spaces and institutions, is a specimen of this power.    
In the meantime, women continue to pay an exorbitant price for their political subordination. In the first place, sexual assault and other forms of casual violence which explicitly target women mostly go unpunished. According to the UN, "a total of 11,200 rape cases, including children who were raped to death, were reported in Nigeria in 2020." Furthermore, a male-dominated legislature has found it all too easy to suppress legislation aimed at increasing opportunity for women across board, even when such has enjoyed broad support from women's advocacy groups. The Special Seats Bill, which seeks an increase in the number of seats in the legislative houses as well as a reserved quota for women, as is already the practice in a number of African countries, including Kenya, Burundi, Ethiopia, Tanzania, Rwanda, Senegal, South Africa, and Zimbabwe, is a case in point.
Since gender equality is so vital for Nigeria's continued democratic progress, policy considerations should focus on expanding educational and economic opportunity for women. Western governments, alongside development and civil society organizations (CSOs), have a huge role to play here.   
Nigeria's future is the women's in equal measure.    
Reina Patel contributed to the research for this article.