The Great East Japan Earthquake and South Korean Support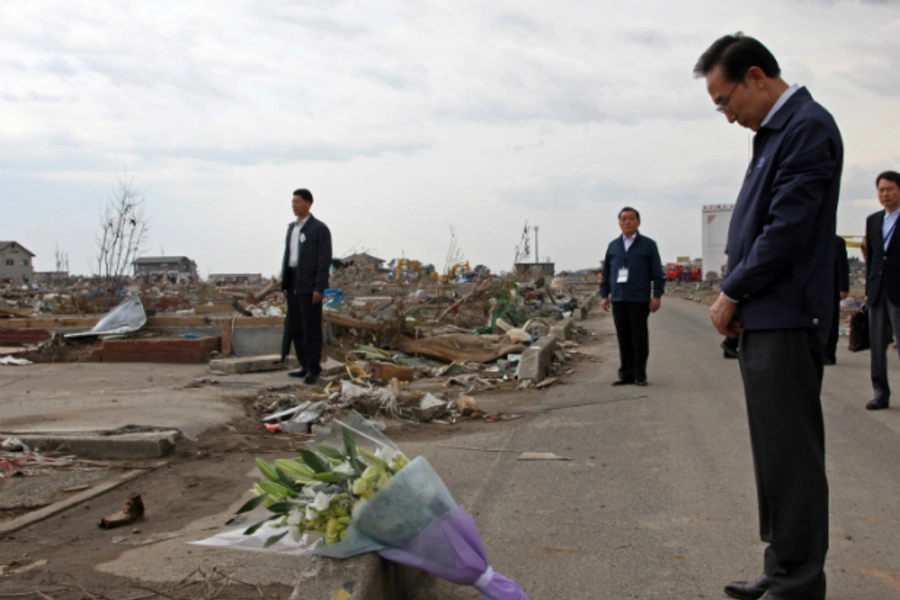 Park Cheol-hee is an associate professor at Seoul National University.
NHK live broadcasts on the tsunami that swept coastal villages in Eastern Japan on March 11, 2011, were a shocking scene to the South Korean people. Japan now confronts the aftermath of triple natural disasters—an earthquake of a record 9.0 magnitude, a devastating tsunami, and the threat of radioactive contamination—that have left 11,417 dead, 16,273 missing, and more than 350,000 people struggling to survive at crowded shelters.
Following the daily progress of these unbearable natural disasters, South Koreans moved quickly to help the Japanese. The South Korean government's decision to dispatch a rescue team within days of the crisis was the earliest action by any government. South Korea has sent fifty-three tons of boric acid to help control the badly-broken Fukushima nuclear plants, and on March 19, 2011, delivered one hundred tons of water and six thousand blankets for the Japanese in shelters.
The government was not the only helping hand. On March 12, 2011, the Chosun Daily initiated a movement for donations from South Korean citizens, which drew more than ten thousand participants in a single day and led actions from other media and public organizations. The Korean Red Cross amassed 21.3 billion won ($19.6 million) in two weeks, the largest amount of voluntary donation at times of natural disasters both in and outside South Korea. Myeongdong, the most well-known tourist spot for Japanese, displayed a banner saying "Cheer up, Japanese friends. We are always with you," while the Korean Salvation Army appealed for charitable donations from passersby. Even the Korean comfort women, victims of Japanese colonialism who have demonstrated at the Japanese embassy every Wednesday for the past nineteen years, observed a time for mourning and donated money for Japan on March 16, 2011. In three weeks, South Korean donations reportedly amounted to a total of 50 billion won ($46 million).
In an opinion survey conducted by YTN, JoongAng Daily, and the East Asia Institute in March, 76.4 percent of respondents supported the idea of collecting money for, and dispatching rescuers to, Japan. For South Korea, where ordinary people have mixed feelings toward Japan because of historical and territorial controversies, this was a rare manifestation of friendly and embracing attitudes toward Japan. The vast majority of South Koreans has shown deep sympathy toward the disaster-stricken Japanese people, starting from elementary school students who have joined the voluntary donation effort. A high-ranking South Korean diplomat in Japanese affairs has suggested that this unprecedented and virtually unanimous positive shift in attitudes toward Japan could be a new milestone for upgrading South Korea-Japan relations. Another Japan specialist has called the response a paradigmatic shift in the South Korean mindset. Japan's March 11, 2011, earthquake and South Korea's subsequent civic initiative to help Japan could present a potential turning point for breaking the vicious cycle of repeated controversies.
But, South Korea's heightened mood of friendship toward Japan and Japan's own hardship did not discourage Japan's Ministry of Education from promoting territorial awareness on Dokdo/Takeshima through its March 30, 2011, middle school textbook review, the result of which follows new teaching guidelines established in 2008. Reflecting a conservative shift in Japanese society, all eighteen geography, civics, and history textbooks present the island as Japanese territory, with four arguing that South Korea is illegally occupying Japan's territory, and the proportion of textbooks containing Japan's territorial claim increasing from 43 to 66 percent. The Japanese government's handling of the issues galvanized the South Korean public, for whom Dokdo/Takeshima is not a mere subject of territorial controversy, but also symbolizes the legacy of Japanese colonial rule as the first "territorial" concession to Japan in 1905.
Most Koreans find it deplorable that Japan could not avoid another territorial flare-up amid the South Korean government and public's unprecedented friendly outreach toward Japan, an otherwise historic moment for the heightening of bilateral ties which can hardly be engineered by diplomatic efforts. South Koreans received Japan's posture with understandable frustration. In a DongA Ilbo survey on March 31, 2011, only 17.3 percent of respondents believed that Korean assistance for the Japanese earthquake would substantially contribute to upgrading the bilateral relationship; 43.3 percent saw Korean support of Japan as a temporary phenomenon; and 34.9 percent anticipated that major breakthrough in relations led by Korean initiative.
Although the South Korean government has decided to separate the issue of humanitarian aid from the territorial controversy and abstain from raising political tensions, the confrontation highlighted the territorial issue as a continued constraint to cooperation with Japan. But, it is unlikely that South Korea will link territorial controversies with other cooperative agendas. The United States, Japan, and South Korea are stepping up trilateral coordination, especially after the North Korean artillery attack on Yeonpyeong Island in November 2010. On December 6, 2010, the foreign ministers of the three countries urged North Korea to cease its provocative behavior, abide by the terms of the 1953 Armistice Agreement, and take concrete steps to demonstrate a genuine commitment to complete, verifiable, and irreversible denuclearization. The ministers also agreed to deal effectively with common security threats, including North Korean contingencies.
This tremendous natural disaster reminded both South Korea and Japan of the critical need to work together on nuclear safety in addition to ongoing efforts toward North Korean denuclearization and nonproliferation. When foreign ministers of South Korea, Japan and China met on March 19, 2011, they recognized the need to strengthen cooperation in the areas of disaster management and nuclear safety. Putting nuclear safety on the agenda of the 2012 Nuclear Security Summit in Seoul will present an important opportunity to enhance alliance cooperation among Korea, Japan, and the United States. Furthermore, the Great East Japan Earthquake elevated the need to undertake concerted efforts in dealing with other nontraditional security concerns in the region such as energy security, environmental challenges, and food safety. Critically important to enhancing nontraditional security cooperation is the provision of public goods by maintaining peace and stability in the Asia-Pacific region, which can be effectively secured by trilateral cooperation among the United States, Japan, and South Korea.