Guatemala's Protests Go National, Plus Meddling Ex-Presidents and a Thaw in U.S.-Venezuela Relations
Guatemala's protest movement goes national; Latin America's meddlesome ex-presidents; U.S. border crisis and geopolitical turmoil are taking the pressure off Maduro.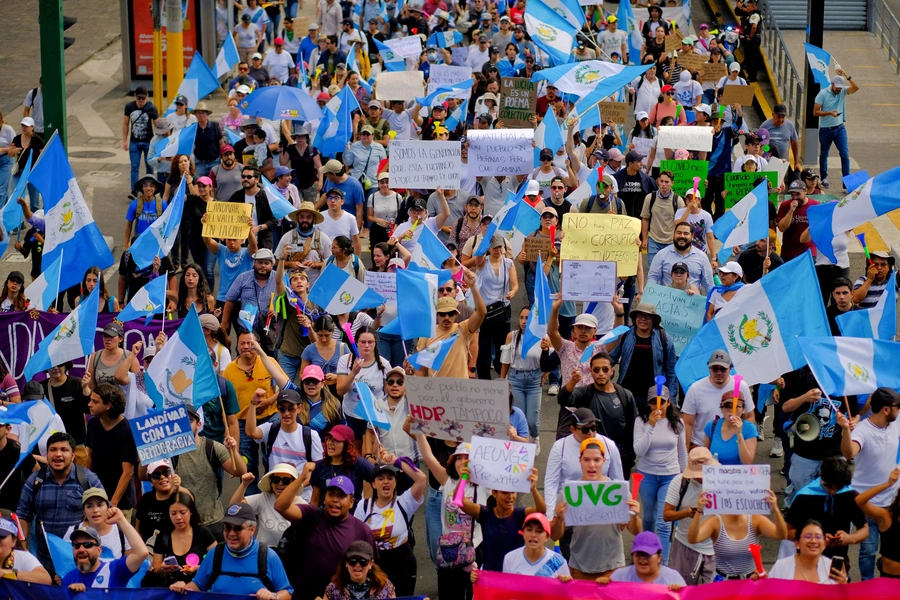 Guatemala's protest movement goes national. In 2015, tens of thousands of Guatemalans packed into Guatemala City's Constitutional Plaza to demand that then-President Otto Pérez Molina, accused and later convicted of corruption, step down. Though successful at ousting Pérez Molina, the "Guatemala Spring" protests never expanded much beyond the urban middle class or achieved broader changes to the political system. Without a viable reformist political party or candidate to support, the influence of the protest movement soon fizzled out. But the coordinated mass protests that started on October 2—which call for the immediate resignation of Attorney General Consuelo Porras, who is attempting to eliminate President-elect Bernardo Arévalo's Seed Movement party—look different, and stand to have an enduring impact. For one, they are national in scope. Launched by the 48 Cantones of Totonicapan, one of Guatemala's strongest Indigenous organizations, the protests have drawn not only students, public sector workers, and middle class professionals, but also many rural farmers and informal sector workers in small towns and mid-sized cities. Second, instead of a leaderless display of rage at the corrupt system, the protests have clearer political aims: end the legal assault on the results of the August 20 elections, keep Arévalo's party intact, and let him govern. By October 16, the protests had begun to dwindle. But they will still have far-reaching effects. They created a broader coalition behind Arévalo than the mostly urban one that voted him into office, and demonstrated that he will have the streets on his side if congress or the judiciary continues to obstruct him. And Arévalo, now with rural and Indigenous Guatemalans behind him, may prioritize their concerns, including rural inequality and environmental issues.
Latin America's meddlesome ex-presidents. Last week, Bolivia's Movimiento al Socialismo (MAS) ruling party expelled President Luis Arce, his vice president, and several of his supporters to make way for former President Evo Morales to again be the party's presidential candidate in 2025. Morales is just one, if the most successful, of the region's ex-presidents in maintaining political dominance. In Argentina, Cristina Kirchner has maintained power and influence for two decades as first lady, president, and now vice president. Other Latin American leaders have tried to keep their grip on power though with less success. Former Ecuadorean President Rafael Correa failed to control his vice president and handpicked successor Lenín Moreno, and now sits in exile in Belgium. Juan Manuel Santos asserted his independence from former Colombian President Alvaro Uribe shortly after taking office in 2010. Many see Mexican President Andrés Manuel López Obrador's crowning of Claudia Sheinbaum as MORENA's presidential candidate as a push to continue exerting political control in the next administration. Mexico's history suggests he too will fail.
U.S. border crisis and geopolitical turmoil are taking the pressure off Maduro. In 2019, the United States, Europe, many countries in Latin America, and most of all the Venezuelan people dialed up pressure to force Nicolás Maduro from power. But almost five years later, Maduro remains entrenched. Politically, the region swung left and many governments re-established ties with Caracas. Inflation and oil price hikes in the wake of Russia's war on Ukraine prefaced a partial easing of U.S. oil sanctions. Recently, as the number of Venezuelan migrants arriving at the U.S.-Mexico border spiked, the Biden administration announced it would resume direct deportation flights to Venezuela. And Washington is ready to offer further sanctions relief if Maduro drops bans on opposition candidates who plan to run for president next year—a deal he's unlikely to take. The thaw in relations is in part pragmatism: the "maximum pressure" strategy left over from the Trump administration wasn't working in Venezuela, and it was isolating the United States abroad. But surging migration and geopolitical turmoil also have created an opening for Maduro, despite his continued authoritarian ways.