Happy 245th Birthday to the United States Marine Corps!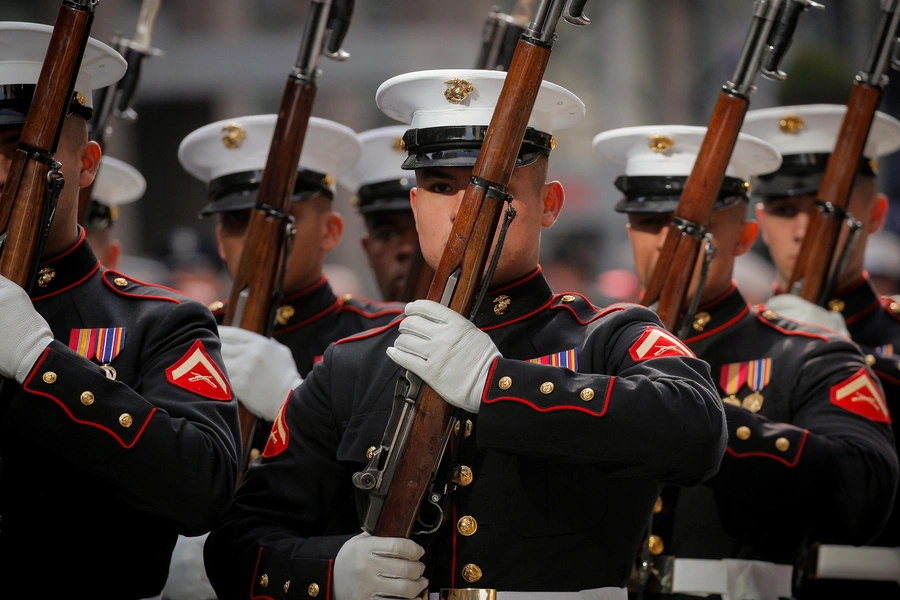 The U.S. Marine Corps turns 245 years-old today. On November 10, 1775, the Continental Congress adopted a resolution to create a Marine force composed of two battalions. Since then, the Marines have been "from the halls of Montezuma to the shores of Tripoli" and many other places as well. 
You probably know that the Marines' motto is Semper Fidelis, or Semper Fi for short. It means "always faithful" in Latin. It signifies a Marine's loyalty both to the U.S. Marine Corps and to the United States. However, Semper Fi didn't become the Marines' motto until 1883. During its first century of existence, the Marines had a few unofficial mottos. These included "to the shores of Tripoli," which commemorates the Marines' service in the First Barbary War, Fortitudine (meaning "with courage"), and Per Mare, Per Terram ("by sea and by land"), which the Marines borrowed from the British Royal Marines. 
No Marine has ever become president, but several have made it in politics. Former Secretary of Defense James Mattis and former White House Chief of Staff John F. Kelly were both U.S. Marine Corps generals. U.S. Secretaries of State James A. Baker and George P. Shultz, Senator John Glenn (who first gained fame as an astronaut), and legendary political consultant James Carville also served in the Marines. Several baseball hall-of-famers are veterans of the Marines, including Rod Carew, Roberto Clemente, Eddie Collins, Bill Veeck, and the incomparable Ted Williams. Marines who made it in Hollywood include Gene Hackman, Harvey Keitel, Lee Marvin, Steve McQueen, and George C. Scott. Comedians Drew Carey and Rob Riggle were Marines, as was the late, great Jonathan Winters. If you are old enough to remember Captain Kangaroo (Bob Keeshan), he was a Marine. Several famous musicians served in the Marines, including country legend George Jones, hip-hop artist Shaggy, and "The March King," John Philip Sousa. Marines who made it in the business world include Tom Bell (Taco Bell), Tom Monaghan (Dominos), Bob Parsons (GoDaddy.com), and Fred Smith (FedEx). 
The Marines are the smallest of the four U.S. armed services in the U.S. Department of Defense, with roughly 182,000 active-duty personnel deployed around the world. To put the size of the Marine Corps in perspective, the U.S. Army is more than two-and-a-half times larger with 486,000 troops. But compared to most of the world's militaries the Marines are a giant. Countries that have armies smaller than the Marines include France, Germany, Great Britain, Italy, and Japan. 
I asked Colonel Walker M. Field, a Marine Corps officer spending a year as a visiting military fellow in CFR's David Rockefeller Studies Program, to recommend reading for those wanting to learn more about the Marines. Here are Col. Field's suggestions. 
Mark Bowden, Hue 1968: A Turning Point of the American War in Vietnam (2017). "Hue 1968 is the Tet Offensive story. Derived from interviews of those who were there, Hue relives the day-to-day urban battle, including, among the many units that fought in this epic urban battle, a focus on the exploits of 2nd Battalion, 5th Marines. 2/5 was led by Lt. Col. Earnie Cheatham, a strapping NFL lineman before departing for Marine Corps service in Vietnam. Cheatham is credited with devising the urban warfare strategy that led to retaking of Hue City." 
James Bradley and Ron Powers, Flags of Our Fathers (2000). "This New York Times bestseller tells the story of the six Marines made famous by Joe Rosenthal's photograph of the U.S.-flag raising over Mt. Suribachi. In February 1945, Marines landed at Iwo Jima and battled to the top of Mt. Suribachi, a daunting 550-foot vertical climb that is tough enough in loose volcanic gravel, much less under constant machine gun and artillery fire. Having climbed Suribachi myself, I can't fathom the sheer will and courage it took for those young Marines and sailors to scale such a daunting objective. Once atop the mountain, they raised a flag as an indicator to the fleet and those on the beach that Suribachi had been taken. Bradley captures the essence of this historic moment and the intense close combat in his gripping tale of a critically important World War II battle."  
Burke Davis, Marine!: The Life of Chesty Puller (1962). "Davis provides a riveting account of arguably the Corps' most accomplished combat leader, Chesty Puller. A five-time Navy Cross winner, Puller fought in the Banana Wars, commanded Horse Marines in China, led Marines in the treacherous battles of Guadalcanal and Peleliu, and fought his way out of an encircled frozen Chosin Reservoir in the Korean War. He will be forever revered as one of the most accomplished combat warriors in our Corps' history. If you are unfamiliar with Chesty Puller and love our Corps, this is a must read."    
Col. Field also recommended three films: 
Flying Leathernecks (1951). "This film was directed by Nicholas Ray, and stars John Wayne and Robert Ryan. Ryan, a college boxer, was said to have been cast opposite John Wayne because he was thought to be the only actor who could, as Ray puts it, 'kick Wayne's ass.' John Wayne plays Major Kirby, a focused, hard-nosed squadron commander during the battle for Guadalcanal. The character was inspired by real World War II flying ace, Maj. John L. Smith, who was awarded the Medal of Honor for his missions over Guadalcanal in 1942." 
A Few Good Men (1992). "Nominated for four Oscars, this Rob Reiner film features Tom Cruise, Jack Nicholson, Demi Moore, and Kevin Bacon. I'm reluctant to recommend any film that leaves even the slightest residue of negativity about the Corps, even if wholly fictional, but this is an exceptional movie save for the sensationalized, narcissistic commander (Nicholson). Lt. Junior Grade Kaffee (Cruise) defends two young Marine security guards being court-martialed for the murder of a third Marine. Ultimately, it's uncovered that the two Marines are scapegoats for the commander whose unorthodox and inappropriate leadership style underscored a caustic command climate." 
Taking Chance (2009). "An HBO film directed by Ross Katz, Taking Chance is a true story based on the written account of Marine Lt. Col. Michael Strobl, who is played by Kevin Bacon. Nearing retirement and having not deployed to Iraq, Lt. Col. Strobel volunteered to escort the body of a fallen Marine, Private First-Class Chance Phelps, back from Iraq to his hometown of Dubois, Wyoming. Katz does a fine job of apolitically conveying the impact of this wartime loss to our nation and to Phelps' family, without casting any judgement or offering an opinion on the Iraq War. At the time of its release, the film was the most-watched HBO original in five years; for his efforts, Bacon won a Golden Globe." 
If you want to know what all Marines are required to read, the U.S. Marine Corps has posted its reading list online. Marines.com also has a great timeline of the history of the Marines. 
A tip of the TWE cap to all the men and women who have worn the uniform of the U.S. Marine Corps. 
Anna Shortridge assisted in the preparation of this post.