How "Cyber" Sidelined "Development" at the ITU's World Telecommunication Development Conference
Cybersecurity has made the World Telecommunication Development Conference another political battleground for digital policy, threatening to sideline the very real problems that developing countries need to solve.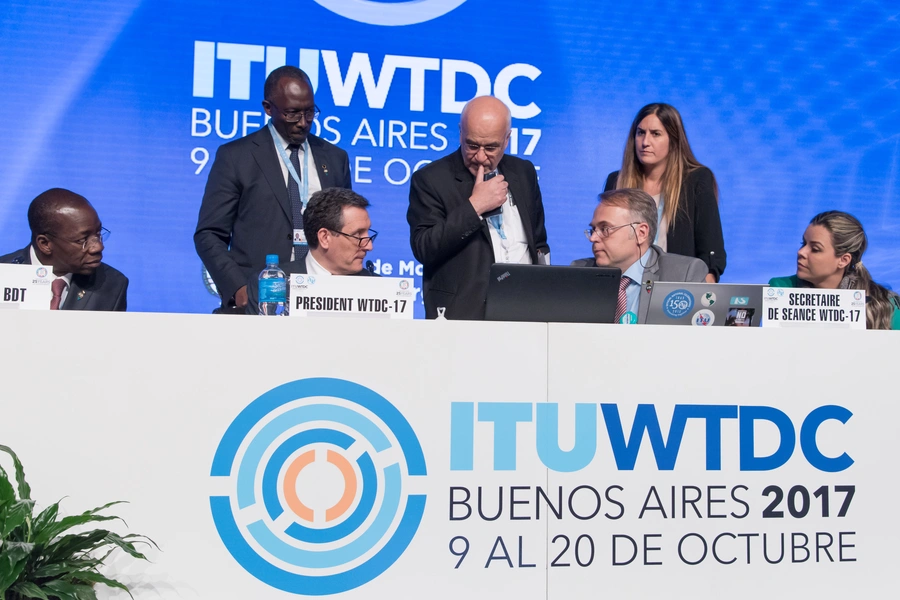 Samantha Dickinson is an internet governance consultant and writer. You can follow her on Twitter at @sgdickinson and via her blog, Lingua Synaptica.
Every four years or so, the International Telecommunication Union (ITU) holds the World Telecommunication Development Conference (WTDC), and this year's conference was held in Buenos Aires, Argentina. You would be forgiven for thinking that discussing information and communication technologies (ICTs) and how they can contribute to social and economic development would be relatively uncontroversial. However, contentious issues like cybersecurity have made WTDC another political battleground for digital policy, threatening to sideline the very real problems that developing countries need to solve.  
Multilateral organizations, including the ITU, were slow to recognize the power of the internet. The internet was only first mentioned at a WTDC in 1998. It was seen as a fad technology that would be overtaken by the Open Systems Interconnection (OSI) model of networking, developed by the International Organization for Standardization and ITU.
It was really only around the time of the World Summit on the Information Society (WSIS) in 2003 and 2005 that most governments and multilateral organizations finally understood that academia, the private sector and technical experts were creating a new online world—one that they had either actively chosen not to be a part of or had no idea had even existed. In response, governments began taking their views and concerns to any venue that might hear and act on them—a practice known as forum shopping.
Forum shopping is often prevalent at the ITU, where governments have in recent years added artificial intelligence, blockchain technology, big data, over-the-top content providers (think Netflix), digital waste, internet governance, and even mobile money to the ITU's agenda.
This year's WTDC was no exception. Over the last two days of the conference, attendees worked through the night and without meal breaks to debate highly politicized issues that have long had difficulty reaching consensus in other parts of ITU or other intergovernmental forums.
Cybersecurity was the most contentious topic. Given even the UN Group of Governmental Experts failed to reach consensus on their cybersecurity report this year, this was not an unexpected outcome. Although there is no doubt that poor cybersecurity practices can be a challenge to economic development, the discussion at the WTDC mostly rehashed existing policy cleavages between China, Saudi Arabia, Russia, the United States, and others (e.g. multilateral vs. multistakholder governance, cyber sovereignty). As a result, WTDC ended with the 2014 version of the cybersecurity resolution being kept as is.
Agreeing to keep to previously agreed text and hoping progress can be made next time a group convenes happens frequently in international negotiations. However, many tired and frustrated delegates interpreted this outcome at WTDC as a direct affront to developing countries, who took to the floor to state, angrily, that they felt ignored, oppressed, and deprived. There were even subtle threats to invoke a move to voting in the future, since some believed the goodwill needed to sustain deliberations based on consensus was breaking down. If things go to the vote, the Group of 77 (G77) knows it will win. The United States and the minority of developed countries in the ITU know it too.
WTDC's failure to reach agreement on cybersecurity—a topic that many other forums have also failed to reach consensus on—was framed, particularly by the African group, as an attack on the legitimate desire of developing countries to have the same level of development as developed countries. In reality, though, it was just an unfortunate result of discussing a highly political topic.
Still, the optics of the United States and like-minded states rejecting all changes to the cybersecurity resolution were very bad, and will likely lead to further entrenching of positions at ITU's Plenipotentiary Conference in Dubai next year. It also is likely to lead some disgruntled governments to forum shop to other parts of the ITU, as well as to yet more intergovernmental agencies and processes, in an effort to have their concerns addressed to their satisfaction.
In the early 2000s, there was a tiny handful of international venues related to internet and digital issues. Now, barely a week goes by without some international meeting trying to produce an outcome that will have an impact on the internet and ICTs. Forum shopping is reducing the expertise and resources that can be directed by even the most well-resourced government or company toward the many forums discussing important issues like cybersecurity. As a result, forum shopped issues are not being solved any faster or more effectively, and indeed, solutions may actually be hindered by the thinner and thinner spread of resources across a wider range of forums trying to taking the same issues. Worst of all, it makes it even harder for developing countries to have their needs met.