Human Rights and the Sri Lankan Election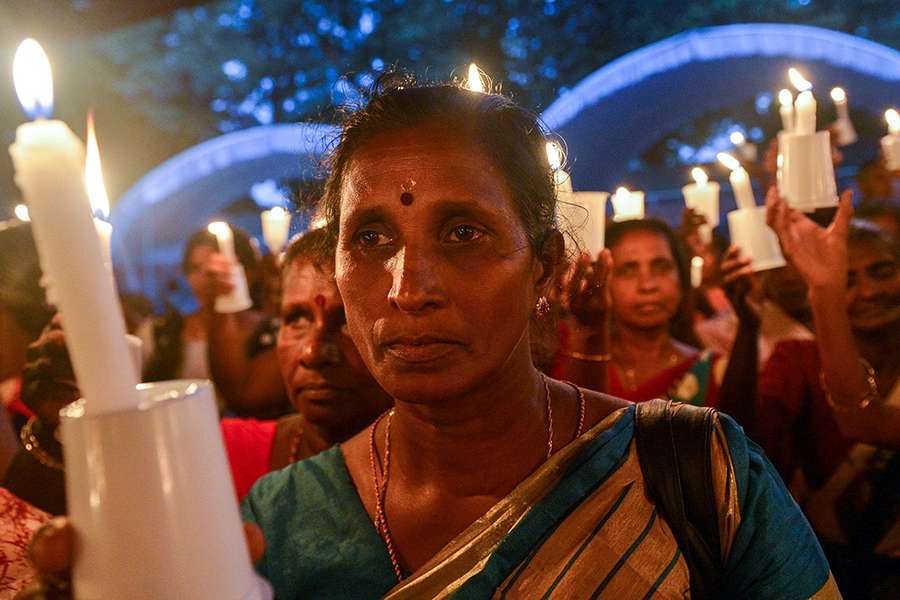 Sri Lanka will hold its presidential election on November 16. In the decade since the end of its long-running internal conflict, lack of progress on human rights, reconciliation, and accountability has kept concern for these issues on the international agenda. I asked Meenakshi Ganguly, South Asia director at Human Rights Watch, about the human rights issues at stake in this election. Our exchange appears below.
The global human rights community has consistently called upon Sri Lanka to address reconciliation and accountability for the human rights and international humanitarian law violations during its thirty-year conflict. Where does that process stand today?
There have been serious challenges to addressing wartime violations by both sides in Sri Lanka. Soon after the war ended in 2009, the government of President Mahinda Rajapaksa was determined to deny all allegations of violations by security forces despite numerous findings by domestic and international groups, media, and the United Nations. There was some progress after Rajapaksa was defeated in the 2015 election. The new government under the current President Maithripala Sirisena agreed to a U.S.-led resolution at the UN Human Rights Council and pledged reform and justice.
Unfortunately, after initial good steps including lifting the Rajapaksa government's authoritarian stranglehold on dissent and the media, bolstering the national human rights commission, and setting up civil society-led public consultations on the need for accountability and constitutional reform, progress slowed down. The Office on Missing Persons took a long time to set up and has yet to resolve even a single case. The Office for Reparations too has made little headway. And key issues such as repealing the Prevention of Terrorism Act and establishing a truth and reconciliation mechanism have just fallen off the radar. The worst is the rhetoric around setting up an independent justice mechanism with international participation—Sirisena simply reneged, saying that his government had no intention of prosecuting "war heroes."
What are the presidential candidates emphasizing, if anything, in their reconciliation and accountability agendas? 
There are a number of candidates, but the contest is largely seen to be between Gotabaya Rajapaksa and Sajith Premadasa. Gotabaya, whose brother Mahinda was president during the final years of the war with the Liberation Tigers of Tamil Eelam (LTTE), was defense secretary at that time, and is widely alleged to have presided over conflict atrocities and the repression of peaceful critics. Premadasa's father was also president, and was assassinated by an LTTE suicide bomber in 1993.
In seeking to appeal to Sri Lanka's Sinhala Buddhist majority, most politicians seem to think that calling for accountability, or even reconciliation among the country's main ethnic and religious groups, will not win them votes. After the Easter Sunday bombings this year by Islamist groups that killed and injured hundreds—reminding many of similar past attacks by the LTTE—many Sri Lankans are seeking reassurances on security.
Gotabaya Rajapaksa has not endorsed accountability for past rights abuses but emphasizes national security: "The security apparatus would be strengthened to secure the country from threats of terrorism, underworld activities, robbers, extortionists, drugs, violence and as well as foreign threats," he recently said. Premadasa has sought the support of minority Tamil and Muslim communities who fear the return of an authoritarian Rajapaksa government, but has not put forward an accountability agenda.
Human Rights Watch has highlighted how social media platforms in Sri Lanka have been used to amplify hate speech. Can you say more about this challenge, what should be done about it, and what progress has been made?
Social media and WhatsApp have become popular platforms to share and inform public opinion. But they have also been used to promote misinformation and incite hatred against marginalized groups. Tech companies need to uphold standards in protecting against human rights harm.
Of course, companies wish to make a profit, but they need to recognize a key flaw. Algorithms engineered to maximize user engagement for advertising revenue can end up amplifying societal outrage and polarization by rewarding inflammatory and partisan content that people are more likely to share.
What are the stakes for U.S. interests, particularly on the values and human rights front, with this upcoming election?
Since the end of the armed conflict in 2009, the United States has played an important part promoting human rights in Sri Lanka. It had a key role in building the consensus for the resolution on Sri Lanka at the UN Human Rights Council in 2015. Since the Trump administration completely withdrew from participation in the council, the United States has effectively removed itself from the most important international forum for promoting human rights in Sri Lanka. The United States, which has strategic concerns about China's increasing footprint in the Indian Ocean, should recognize that promoting human rights, justice and accountability is crucial for ensuring that democracies which respect rights thrive in the region. Whoever wins the election, the United States should make human rights a priority of its foreign policy.