Implications of South Korea's Historic COVID-19 Elections
The scale of the Democratic Party's victory virtually eliminates the ability of the opposition to obstruct major legislation.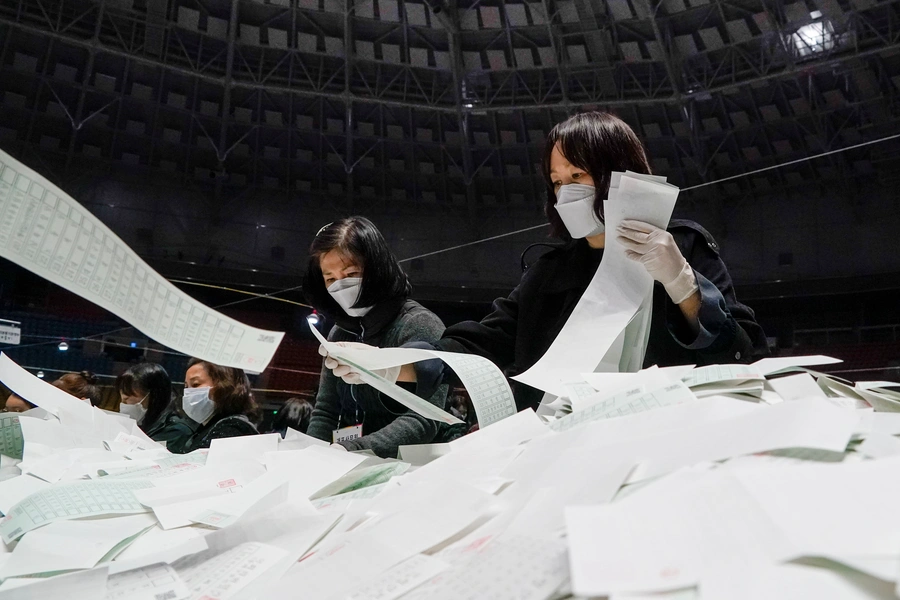 South Korea's 2020 National Assembly elections went ahead on schedule in the first national election in the world to be held against the backdrop of the COVID-19 crisis. The Moon administration's successful early handling of the crisis crowded out contentious domestic issues and made the election a referendum on crisis management, with praise for well-integrated bureaucratic performance and expertise overtaking emotional appeals to nationalism. South Korean President Moon Jae-in's ruling Democratic Party coalition passed with flying colors, winning 180 out of 300 seats.
The decisive legislative victory provides Moon with a political boost during the remaining two years of his term and enhances the likelihood that Moon's Democratic Party will retain political power in 2022. Moreover, parliamentary losses among the conservative opposition party have eviscerated conservative leadership, including prominent conservatives who had hoped to run for president in 2022.
The scale of the Democratic Party's victory virtually eliminates the ability of the opposition to obstruct major legislation, providing Moon with the power to push through any legislation that supports his platform. South Korean voters will maintain high expectations for the Moon administration to implement successful economic, social, and foreign policies on the basis of the strong mandate he has received.
Moon administration policy priorities will include public sector-led economic stimulus measures designed to support Korean economic recovery and judicial reform including the establishment of an independent body dedicated to investigating high-level political corruption. The Moon administration might also pursue tax and regulatory reforms designed to address income inequality and the disproportionate economic influence of conglomerates within the South Korean economy.
In foreign policy, the Moon administration has received a boost from COVID-19 diplomacy thanks to its rapid movement to the other side of the pandemic curve. South Korea's success in confronting the COVID-19 crisis has provided the Moon administration with new opportunities both to export test kits and personal protective equipment (PPE) and to advertise itself as a model in public health and elections management.
But on many preexisting foreign challenges, the Moon administration continues to face primarily international rather than domestic constraints. The Moon administration's promotion of economic cooperation and integration with North Korea requires North Korean leader Kim Jong-un to demonstrate a willingness to cooperate that he has not yet displayed. Deep distrust in the relationship between Moon and Japanese Prime Minister Shinzo Abe will persist, perpetuated by deepening public skepticism in both societies about prospects for cooperation. China's heavy-handed economic retaliation against South Korea for deployment of the Terminal High-Altitude Air Defense (THAAD) system continues to generate public anxieties and limit prospects for improvement in bilateral relations. Only Moon's New Southern Policy toward ASEAN faces few obstacles to further development.
Likewise, preexisting difficulties in the U.S.-South Korea relationship will remain and could potentially worsen. Ongoing cost-sharing negotiations, paralyzed by exorbitant demands from U.S. President Donald J. Trump, will face increased difficulty now that the ruling party's political time horizon is assured while prospects for a second term for the Trump administration remain uncertain. Moon administration efforts to open inter-Korean economic cooperation or further deterioration in Japan-South Korea relations might constitute a further drag on U.S.-South Korea alliance cooperation.
To survive the coming global turn inward and erosion of longstanding international structures of cooperation, U.S. and South Korean leaders should maintain pragmatic rather than nationalist-fueled or ideological approaches to alliance management.