India, the Nuclear Suppliers Group, and the Paris Climate Accord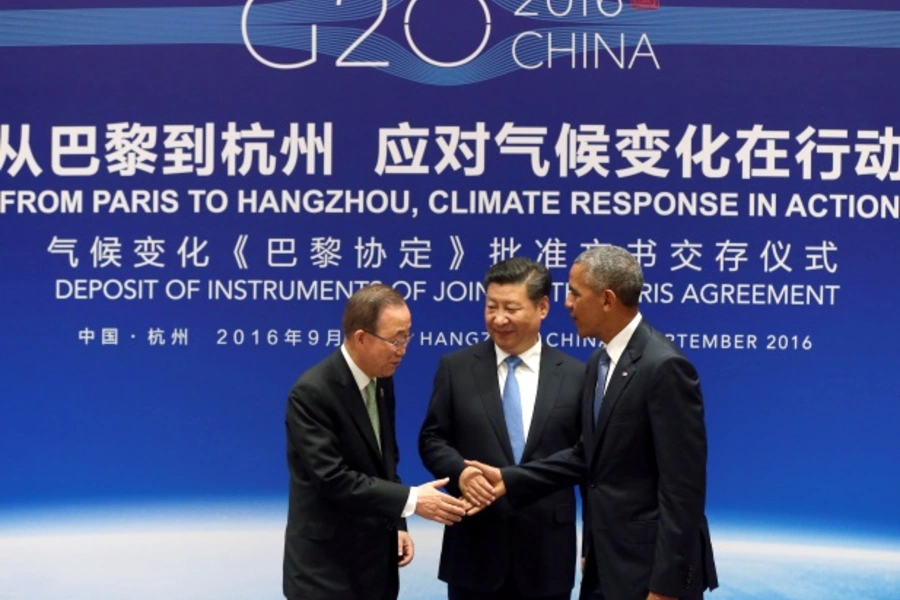 The Group of Twenty (G20) summit in Hangzhou brought big news: U.S.-China ratification of the Paris climate agreement, heralded as an important sign of "climate change cooperation." The world's two largest carbon emitters called upon other Paris signatories to join them in bringing the global agreement into effect. India remains the third largest carbon emitter globally, although its per capita emissions are much lower than those of the United States or China, so many eyes have been watching to see what New Delhi does next.
But New Delhi's next steps now look a little less clear. When Prime Minister Narendra Modi met President Barack Obama in Washington this past June, one line in the joint statement referred to the U.S. commitment to bring the Paris accord into effect this year, and that India "similarly has begun its processes to work toward this shared objective." Yet the G20 summit produced instead talk of a "linkage" that India has made between membership in the Nuclear Suppliers Group (NSG) and accession to the Paris accord. What does the NSG have to do with Paris?
Back in June, the NSG plenary meeting in Seoul, which considered membership for India, did not result in a decision. It was the group's first formal plenary discussion of the matter, and China held back its approval, stating that Nuclear Nonproliferation Treaty accession should be a requirement. Many in India were disappointed with the non-decision outcome, criticizing the government for acting too hastily, or having failed to do sufficient diplomatic spadework before making a public bid for NSG membership.
I wrote at the time that contrary to some public critique, Seoul had not been a "fiasco," and that a membership process for a forty-eight nation organization that works by consensus could hardly be expected to happen instantly. If anything, India's overt push for membership had demonstrated decisive leadership, and the United States and India should continue their efforts toward formal inclusion for India in the group. For its part, the United States continues to affirm its strong support for Indian membership.
In the wake of the June NSG disappointment, India's Ministry of External Affairs issued a statement that contained this sentence: "Our application has acquired an immediacy in view of India's INDC [intended nationally determined contributions] envisaging 40% non-fossil power generation capacity by 2030. An early positive decision by the NSG would have allowed us to move forward on the Paris Agreement."
Since the NSG had issued an exemption to India back in 2008, a major step in the U.S.-India Civil Nuclear Agreement and one that opened up the possibility of civil nuclear commerce with India for any NSG participating government, it was not clear why the lack of NSG membership would hurt India's ability to ramp up its civil nuclear power sector.
But even if it did, according to one calculation by Business Standard reporter Nitin Sethi, it is not clear that the percentage of civil nuclear energy in India's non-fossil power capacity commitments (16 GW, or 3.91 percent of its clean energy capacity commitments) would make or break its Paris commitments. Most of India's new clean energy capacity will come from solar and wind.
With this muddle as the backdrop, the news from Hangzhou that India would not be ready to ratify the Paris agreement by the end of 2016 spurred a series of fresh news reports. India's G20 sherpa, Dr. Arvind Panagariya, went on the record stating that India was "not quite ready yet in terms of domestic actions" to ratify by the end of 2016. Some press accounts  took as fact that India had created a new diplomatic linkage between receiving NSG membership and moving ahead with Paris commitment ratification. If this is a bargaining tactic, it's hard to see how it would be persuasive, for ratification of the Paris accord is not a "give" in exchange for something else but rather a step toward collective action to solve a global problem. If this linkage proves to be real, India loses some of the goodwill gained by its leadership last year in Paris.
Count me confused on this one.
Follow me on Twitter: @AyresAlyssa   Or like me on Facebook (fb.me/ayresalyssa) or Instagram (instagr.am/ayresalyssa)