India Is at the Top Table. Now What?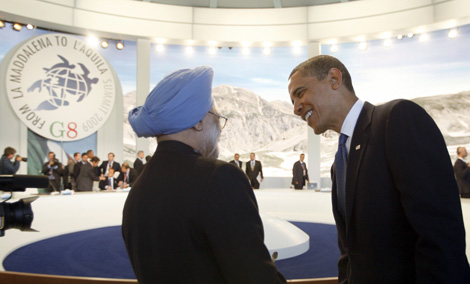 On Sunday, China and India enlarged their seats at the top table of international relations.  As part of a general increase in capital, rich countries agreed to give up 3.1 percentage points of voting shares in the World Bank and to give China, India, and other emerging economies greater voting power.  The Bretton Woods table is hardly the only one that matters in international relations.  But the agreement makes China the number three shareholder in the Bank, while India—at number seven—now has greater voting power than Russia, Canada, Australia, Italy, and Saudi Arabia.  That's an arresting fact.  And when you combine it with the decision taken at last year's Pittsburgh G20 meeting to supplant the G8 with the more inclusive G20, the trendline becomes clearer still.  China and India are sitting at the top table.
I'll blog later on some of the choices this raises for China.  My former boss, Bob Zoellick, famously argued that China, as a "stakeholder" in the international system, ought to support, sustain, and adapt the system that has enabled China's own success.  He even took his counterpart, Vice Foreign Minister Dai Bingguo, to President Franklin D. Roosevelt's home in Hyde Park, New York, to drive home the point.  And in the case of the Bretton Woods institutions, this means that China—as a literal stakeholder, with a now increased voting share—will be challenged to reconcile its bilateral lending practices, which lack World Bank-style conditionality, with its weight in this and other multilateral institutions.
But I'm equally intrigued by the questions this raises for India.
India's post-Cold War foreign policy is hotly contested terrain.  One question is what will replace nonalignment as the basis of Indian foreign policy.  But another is whether and how India will leverage its growth, not to mention its seat at the top tables of international relations, such as the G20, into political influence and leverage.
India isn't a member of the UN Security Council.  But it would be hard to argue anymore that India isn't seated at the top table.  It's in the G20.  It's in the G8 Plus Five.  It's on the Financial Stability Board.  And now it has acquired a larger voice in the Bretton Woods system.
So, what will India do with its new weight?
Indian foreign policy is in flux.  And to my mind,  India can be a real jumble of foreign policy contradictions:  It is a maritime nation—strategically situated at key chokepoints—but with a continental strategic tradition.  It was nonaligned but, in essence, aligned itself with the Soviet Union, particularly after 1971.  It is a nation of illustrious mercantile traditions that closed many aspects of its economy.
But a more powerful India, economically integrated with other major economies, is an India whose self-interest should increasingly overlap with the self-interest of the United States and other G20 countries, not the G77.  And yet leveraging its seat at the world's top tables challenges at least some long-standing Indian approaches.
Take the debate about climate change.  A leaked October 2009 memo by environment minister Jairam Ramesh exposed some of the fault lines that are bound to emerge as India moves beyond nonalignment toward something new.  India should "not stick with G77 but be embedded in G20," Ramesh wrote.  But his memo, which proposed to leverage India's new weight in the G20, prompted a backlash.
So here's the issue:  While only the United States presently projects military power globally, other leading or emerging players either (1) provide public goods, (2) join clubs of leading economies, (3) leverage their voting weight in the international financial institutions, or (4) deploy economic and financial tools to move global markets.  India does some, but not all, of these things but seems most likely to make its mark over the next five years on the international financial institutions and global markets.  So the question will be whether—and precisely how—India deploys its power to shape these institutions' policies and decisions.  And on that question, there is much debate in New Delhi.
In short, Sunday's decision will be seen as very good news in India.  But India now faces broader—and much tougher—foreign policy choices than merely how to acquire or enlarge its seat at the top table.