Investing in Girls' Education Transforms Rural Communities
Voices from the Field features contributions from scholars and practitioners highlighting new research, thinking, and approaches to development challenges. This article is authored by Dr. Kakenya Ntaiya, founder and president, and Jolena Zabel, communications and advocacy manager, of Kakenya's Dream. To mark International Day of the Girl Child, Ntaiya and Zabel highlight the unique challenges girls face in accessing education and share insights from one successful model in rural Kenya.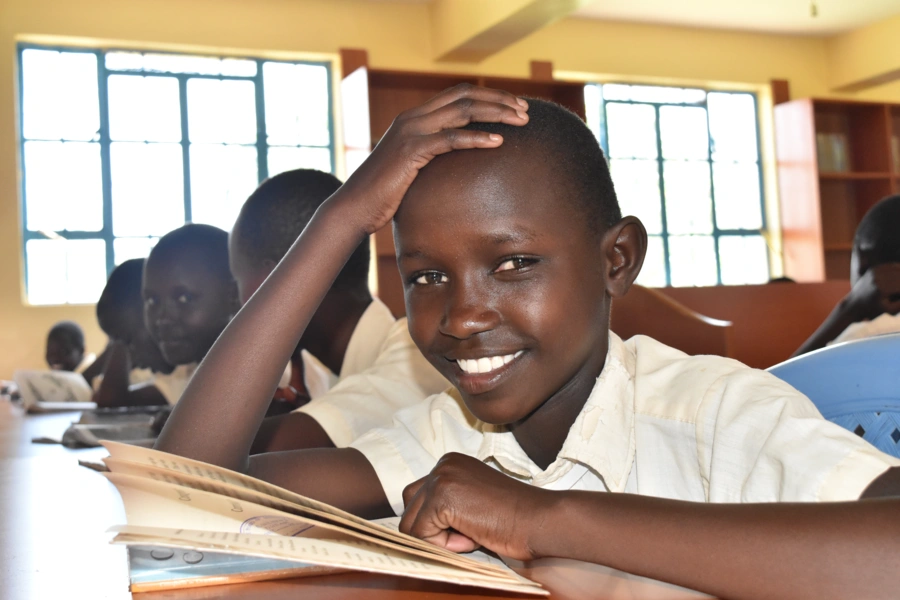 The global urban-rural divide is deepening. Despite widespread population shifts from rural to urban living, 85 percent of the world's poor live in rural areas and face significant employment, infrastructure, education, and healthcare challenges.  
Women in rural communities, in particular, have been left behind. In Kenya, one in two girls in rural areas marries by age nineteen, which is double the child marriage rate in urban areas. Over 80 percent of girls in rural Narok County have undergone the harmful practice of female genital mutilation (FGM), compared to just 8 percent in the capital city of Nairobi. Similar trends persist across development indicators, from contraceptive use to educational attainment. 
Growing up in an isolated, rural area of Narok County, Linet faced all of these challenges. After finishing third grade, she was about to leave school, undergo FGM, and marry. Her father adamantly opposed girls' education; none of his older daughters had stayed in school. Her mother, however, had heard about the Kakenya Center for Excellence (KCE), the all-girls primary boarding school operated by the organization Kakenya's Dream, and took Linet to enroll. 
Linet was accepted, and at the school she received a safe place to sleep, nutritious meals every day, healthcare, and other vital services in addition to high-quality, empowering education. Organization staff also worked with her family. Maasai fathers and daughters traditionally do not have a relationship, but by inviting her father to the school to meet with Linet and her teachers, he became invested in her academic journey. Today, he is one of her biggest supporters and a vocal advocate for girls' education. 
Now a graduate from one of Kenya's most prestigious high schools, Linet will attend university next fall to study medicine to become a doctor in her community. This is the power of investing in girls from rural communities. 
Linet's story is not unique. One-hundred percent of Kakenya's Dream girls are still in school, living free from the harmful practices of FGM and child marriage, which pose significant health risks to girls and stifle women's future earnings. They excel academically, regularly scoring in the top 2 percent on the Kenya National Exam. The wider community's views about women and girls have also transformed, encouraging more families to support girls' education and gender equality. The program's greatest success is not yet calculable: the future economic and social impact of a rural, marginalized community in which hundreds of postsecondary female graduates return to become leaders in their families and communities.
Through girl-centered and community-driven programming, Kakenya's Dream girls are beating the odds to uplift their community, promote gender equality, and close the urban-rural achievement divide. 
Unfortunately, not enough programs operate in rural communities and even fewer offer such comprehensive services. Significant investment by governments and non-governmental organizations (NGOs) has too often been limited to interventions in more accessible urban and near-urban communities. This perpetuates the disproportionate marginalization of rural communities, and especially of rural women and girls. 
And of the programs operating in rural communities, few are capable of creating lasting, sustainable change. The lack of integrated interventions is a problem confronting development and aid organizations worldwide, especially for programs targeting women and girls. If a program addresses only sanitation, for example, it may fail to remove other barriers—like child marriage and inadequate healthcare—that keep girls out of school and at the margins of society. This is especially dangerous in rural areas, where fewer programs operate and the likelihood that other groups will fill in the gaps is slim. 
At Kakenya's Dream, three holistic, girl-centered, and community-driven programs are creating lasting, sustainable change in rural Kenya. The Kakenya Center for Excellence primary boarding school provides girls with a high-quality, empowering education. After graduating, the Network for Excellence supports alumnae as they continue at secondary and postsecondary institutions—critical in a region where secondary school enrollment is low among girls and professional training is lacking. The Health and Leadership Trainings program brings vital life skills and health and rights knowledge to boys and girls throughout the region. The organization also works with community leaders, families, and the government to change norms and create an environment in which girls can thrive. By employing a multifaceted approach, the program's successes go beyond educating girls to uplifting an entire rural community.
Closing the urban-rural divide in access to services and achieving gender equality are inextricably linked. Investing in smart, multi-service programs that uplift girls in rural communities is one promising solution to empower women and promote broader prosperity in the future.