Joe Biden's Summit With South Korea's Moon Jae-In Poses a Question of Shared Values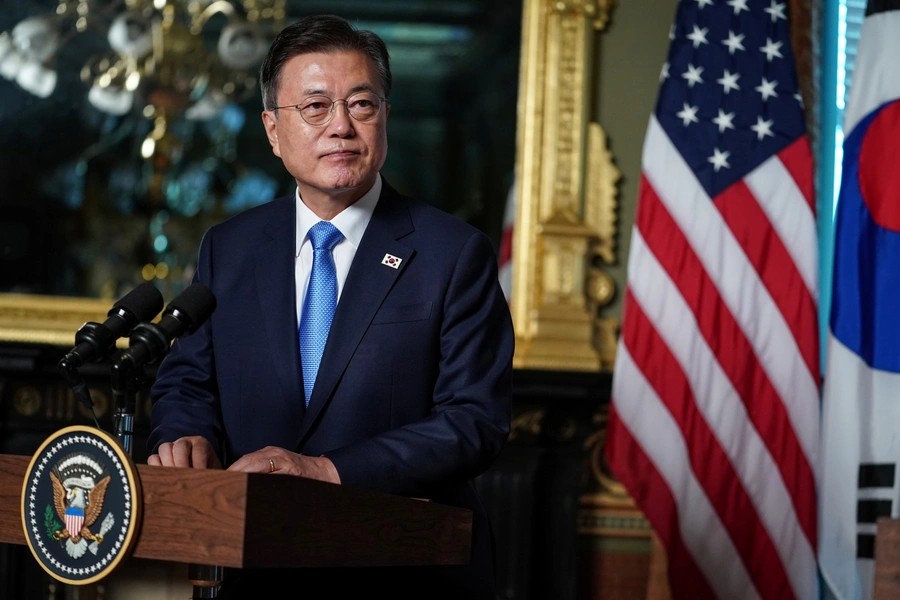 The Joe Biden administration has framed its main foreign policy paradigm primarily in terms of competition between democracy and authoritarianism, emphasizing cooperation among like-minded allies as its fundamental strategy for confronting China. There should be no questions as to where South Korea stands, both as a security ally and a vibrant democracy.

And when South Korea's President Moon Jae-in meets with U.S. President Joe Biden at the White House Friday afternoon (local time), the decades-long U.S.-South Korea alliance will have an opportunity to address two distinct challenges to the proposition that the alliance is sustained by shared democratic values.

The first challenge stems from the Biden administration's conflation of shared values with shared interests in defining its approach to China and its expectations for allies. This approach has put considerable pressure on Seoul to join in a U.S.-led coalition to confront China's challenge to the rules-based order.

South Korea is an obvious candidate for membership in the Quad, especially given that last year the country had touted itself as a model in its initial pandemic response and in view of the potential importance of South Korean semiconductor production to supply chain resilience.

But despite having the potential to forge extensive value-based cooperation in many functional areas, the Moon Jae-in's government has expressed almost no public interest in joining the Quad. Instead, South Korea has thus far clung to choice avoidance as its primary approach to Sino-U.S. rivalry.

The Biden administration's framing of the Quad summit as an opportunity for cooperation among like-minded nations to provide public goods in the Indo-Pacific by emphasizing pandemic response, has helped to ease South Korean concerns that joining would label the country as part of an anti-China coalition. But South Korea's geographic proximity to China and fear of economic retaliation from its largest trading partner have induced policy paralysis in Seoul.

Also, South Korea retains an abiding interest in preventing China from exercising a veto power over inter-Korean reconciliation efforts by further enabling North Korean hostility.

Seoul has tried to square the circle by aligning its policy approach to Southeast Asia with the U.S. Free and Open Indo-Pacific strategy, and hedging in relations with Beijing by holding out the possibility of economic cooperation in infrastructure projects through China's Belt and Road Initiative and Asian International Infrastructure Bank. South Korea's approach to values-based cooperation is akin to a shy student that aces the test, but who goes to great lengths to avoid class participation.

The second challenge to values-based U.S.-South Korea alliance cooperation relates to the Moon administration's conciliation of North Korea with regard to efforts to promote information penetration inside North Korea. Following inter-Korean pledges not to slander each other, North Korean leader Kim Jong-un's sister Kim Yo-jong issued belligerent statements last year aimed at North Korean defectors in South Korea who sent leaflets across the border.

In December 2020, South Korea's National Assembly passed a vaguely worded anti-leaflet law imposing harsh penalties on the spread of outside information into North Korea of virtually any type of information from almost any location.

The law rests on the premise that prevention of North Korean retaliation superseded both the rights to freedom of expression of those sending the information, and those in North Korea who suffer under the regime's control over dissemination of information.

The Moon administration's support for the anti-leaflet law pits South Korean appeasement of the Kim Jong-un regime against Biden's strong emphasis on human rights promotion and freedoms of expression. A U.S. Congressional hearing on the matter elicited bipartisan pleas for South Korea's legislature to reverse course and rescind the law, and the South Korean government has acknowledged deficiencies in the draft law by pledging to make revisions.
However, Moon's progressive supporters in South Korea view external criticisms of South Korean law-making as U.S. meddling in South Korea's domestic affairs, while conservative critics see Moon as simultaneously appeasing the Kim regime and betraying the very pro-democratic values on which he has fashioned his political image.

Moon's first face-to-face meeting with Biden provides a clear opportunity for them to address these cleavages and shore up the foundations of the alliance. As a first step, the Biden administration should welcome South Korean proposals for a vaccine swap to meet Moon's domestic need to increase vaccine availability in South Korea, in return for South Korean engagement with Quad priorities through enhanced roles in supply chain resiliency and in production and distribution of vaccines within the region.

On the human rights front, Biden and Moon should stand firm on preserving freedoms of expression as a distinguishing characteristic of democracies and by speaking out on North Korean human rights abuses; while acknowledging Kim as an inevitable counterpart for addressing mutual security concerns such as denuclearization and reduction of inter-Korean military tensions. These joint actions will align the interests of the two countries, while affirming common democratic values as the bedrock for U.S.-South Korean cooperation.