Meet Bernie Sanders, Democratic Presidential Candidate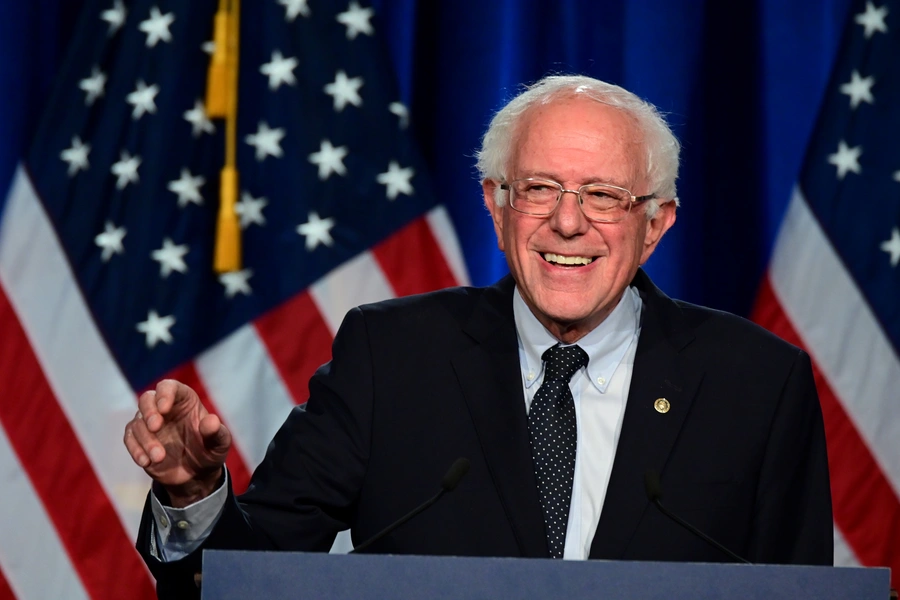 Update: Bernie Sanders announced on April 8, 2020, that he was suspending his campaign. 
Is the second time the charm? Vermont Senator Bernie Sanders certainly hopes so. Back in 2016, the self-proclaimed democratic socialist gave heavily favored Hillary Clinton a surprisingly tough run for the Democratic presidential nomination. Sanders and many of his followers are convinced that if the Democratic Party leadership and its campaign rules hadn't been tilted so heavily in favor of the former First Lady he would have won the nomination and defeated Donald Trump in the general election. If Sanders does make it to the White House he would, at seventy-nine years of age, be the oldest person elected president. (Ronald Reagan currently holds the record; he was nearly seventy-four when he was elected to his second term.) He would also be the first Jewish American elected president. And, of course, he would be America's first democratic socialist president.
The Basics
Name: Bernard (Bernie) Sanders  
Date of Birth: September 8, 1941
Place of Birth: Brooklyn, New York
Religion: Jewish
Political Party: Independent  
Marital Status: Married (Jane O'Meara)
Children: Levi (49); and three stepchildren: Heather (48), Carina (45), and David (44)
Alma Mater: Brooklyn College, University of Chicago (BA)
Career: Mayor of Burlington, Vermont (1981-1989); U.S. Representative (1991-2007); U.S. Senator (2007-present)
Campaign Website: https://berniesanders.com/
Twitter Handle: @BernieSanders
Sanders's Announcement
Sanders announced his second run for the White House in an interview with Vermont Public Radio on February 19. He released his official announcement video later that morning.
Sanders called for a grassroots movement of one million volunteers to support his campaign and to take on special interests. He said he is running so he could tackle a long list of challenges facing the United States, including wealth inequality, voter suppression, inadequate childcare, a regressive tax system, healthcare, student debt, immigration, and gun violence. He called Trump "a pathological liar, a fraud, a racist, a sexist, a xenophobe, and someone who is undermining American democracy as he leads us in an authoritarian direction."
Unlike most of his Democratic presidential rivals, Sanders mentioned foreign policy in his announcement video. He said America needs "trade policies that reflect the interests of workers and not multinational corporations" and he called for "a foreign policy which focuses on democracy, human rights, diplomacy, and world peace. The United States must lead the world in improving international cooperation in the fight against climate change, militarism, authoritarianism, and global wealth inequality."
Sanders's Story
Sanders grew up in Flatbush, Brooklyn, in a lower-middle class. He was the son of Jewish immigrants. His father's family came from Poland, his mother's from Russia. His father was a paint salesman and his mother a homemaker. Much of his father's family was killed during the Holocaust. He says that made him recognize at an early age the importance of elections because "an election in 1932 ended up killing fifty million people around the world."
Sanders attended Brooklyn College for a year and then transferred to the University of Chicago. There he joined the Young People's Socialist League, the Student Nonviolent Coordinating Committee, the Student Peace Union, and the Congress on Racial Equality, where he protested the segregation of university-owned housing and Chicago public schools.
After graduating from Chicago in 1964 with a degree in political science, Sanders bounced from job to job, first in New York City, then in Vermont. He was variously a freelance writer, filmmaker, carpenter, aide at a psychiatric hospital, preschool teacher, and researcher for the Vermont Department of Taxes.
Sanders moved to Vermont in 1968. He ran unsuccessfully for governor in 1972 and 1976 and for the U.S. Senate in 1972 and 1974 on the Liberty Union ticket. He then lowered his sights and ran for mayor of Burlington in 1981 as an independent. He won and served for four terms. But his desire for higher office didn't abate. He ran and lost a gubernatorial election in 1986 and a U.S. House race in 1988. Sanders's losing streak for higher office came to an end in 1990 when he won Vermont's at-large congressional seat running as an independent. He served eight terms in the House before being elected to the Senate in 2006. He was reelected in 2012 and 2018.
Sanders sought the Democratic nomination in 2016. He won twenty-three primaries and caucuses, ultimately losing to Secretary Hillary Clinton. Not bad for someone who wasn't a member of the Democratic Party.
Sanders sits on four Senate committees: Budget; Environment, Energy, and Health; Education, Labor, and Pensions; and Veteran's Affairs. He is also a member of the Democratic leadership, despite not being a Democrat. He is the longest serving independent member of Congress in U.S. history.
Sanders's Message
Just like in his 2016 campaign, Sanders is seeking to establish a grassroots movement that demands that the government work for all and not just the few. He believes multinational corporations exercise too much political power, and he regularly attacks Wall Street, health-insurance companies, Big Pharma, the fossil-fuel industry, and the military-industrial complex. He believes Americans are "inherently entitled" to health care, education, a clean environment, and decent paying jobs.
Sanders says that his calls for progressive policies that were once considered "too radical," like Medicare-for-all, a $15-an-hour-minimum wage, and free college tuition, are now supported "by a majority of Americans" and a part of the "political mainstream." So his 2016 campaign "began the political revolution. Now it is time to complete that revolution and implement the vision that we fought for."
When asked about what he will do differently in 2020, Sanders has simple answer: "We're gonna win."
Sanders's Foreign Policy Views
Foreign policy has never been Sanders's passion. He has sponsored very few foreign policy bills in his nearly three decades on Capitol Hill. He generally avoided foreign policy issues back in 2016. For five months after he declared his candidacy, his campaign website didn't have a section dedicated to foreign policy. When he did address foreign policy he often struggled to explain his positions. His lack of interest was so striking that a group of Democratic-leaning former government national security officials signed a letter criticizing his "continued lack of interest in and knowledge of essential foreign policy and national security issues."
Sanders made it a point to burnish his foreign policy credentials in time for his second run for the White House. In 2017, he hired his first full-time Senate foreign policy advisor. He then gave two major foreign policy speeches outlining what a progressive foreign policy would look like. The first speech was in September 2017 at Westminster College in Fulton, Missouri. That's where Winston Churchill gave his famous "Iron Curtain" speech in 1946. The second was last October at Johns Hopkins School of Advanced International Studies (SAIS).
Both speeches were long generalities, short on actionable specifics. At Westminster, he stressed:
The goal is not for the United States to dominate the world. Nor, on the other hand, is our goal to withdraw from the international community and shirk our responsibilities under the banner of "America First." Our goal should be global engagement based on partnership, rather than dominance. This is better for our security, better for global stability and better for facilitating the international cooperation necessary to meet shared challenges.
His SAIS speech stressed what he sees as "a troubling trend in global affairs":
There is currently a struggle of enormous consequence taking place in the United States and throughout the world. In it we see two competing visions. On one hand, we see a growing worldwide movement toward authoritarianism, oligarchy, and kleptocracy. On the other side we see a movement toward strengthening democracy, egalitarianism, and economic, social, racial, and environmental justice. This struggle has consequences for the entire future of the planet—economically, socially, and environmentally.
Neither speech talks much about what Sanders would do as president. That's perhaps not surprising given that it can be easier to identify a problem than to figure out how to solve it. As Sanders told the New Yorker, "Look, this is very difficult stuff." He added, "I should have prefaced everything by saying I most certainly do not believe I have all the answers or that this is easy stuff. I mean, you're dealing with so much—my God." (Sanders told the Intercept something similar: "Anyone who thinks there is a simple solution in dealing with all of the horrific and longstanding conflicts in the world would be mistaken … Where we've got to be radical is to understand we cannot continue with simply using military as a means of addressing foreign policy issues.") Of course, presidents are the ones responsible for figuring out the details.
Sanders followed up his Westminster College and SAIS speeches with an article in June for Foreign Affairs on counterterrorism policy and ending America's "forever wars." He argued that "we need to rethink the militaristic approach that has undermined the United States' moral authority, caused our allies to question our ability to lead, drained our tax coffers, and corroded our own democracy." He thinks that endless wars "draw attention away from economic corruption" that has a bigger impact on people's lives. As with his two major foreign policy speeches, Sanders's Foreign Affairs article said little about what specifically he would do as president.
Sanders's main message on foreign policy is that the United States should rely less on its military and more on it its diplomacy. Like many of his fellow Democratic candidates, he supports withdrawing U.S. troops from Afghanistan and Syria. However, he opposes the Trump administration's unilateralist approach in both countries. Sanders says the withdrawals need "to be done with our allies, not through tweets." And unlike many of his Democratic rivals, he won't commit to getting U.S. troops out of Afghanistan before the end of his first term in office. He instead says that he "would withdraw U.S. military forces from Afghanistan as expeditiously as possible," adding that "withdrawing troops does not mean withdrawing all involvement, and my administration would stay politically engaged in these countries and do whatever we can to help them develop their economy and strengthen a government that is responsible to its people." 
Sanders has been a leading Senate critic of U.S. support for the Saudi-led war in Yemen. He co-sponsored the resolution that would have ended that support. However, Trump vetoed the bill and the necessary votes don't exist in Congress to override that veto.
Sanders also opposes Trump's decision to leave the Iran nuclear deal, calling it "the latest in a series of reckless decisions that move our country closer to conflict." He says he "would re-enter the agreement on day one of my presidency and then work with the P5+1 and Iran to build upon it with additional measures to further block any path to a nuclear weapon, restrain Iran's offensive actions in the region and forge a new strategic balance in the Middle East."
Sanders has no problems with Trump's effort to negotiate with North Korea's Kim Jong Un. He further agrees with Trump that the United States needs to "put all of the pressure that we can" on North Korea, both economically and politically. He is willing to give North Korea some sanctions relief if Pyongyang agrees to dismantle some of its nuclear arsenal. He would then pursue additional negotiations aimed at "the eventual elimination of all North Korean nuclear weapons."
Many Democratic presidential candidates have recognized Juan Guaidó as the legitimate president of Venezuela. But not Sanders. When asked earlier this year if Nicolas Maduro, who has presided over the impoverishment of Venezuela and the destruction of its democracy, should step down as president, Sanders refused to say yes or no. He has said that "the United States should support the rule of law, fair elections and self-determination for the Venezuelan people," but seems more worried that "the United States has a long history of inappropriately intervening in Latin American countries; we must not go down that road again." Sanders has a record of being sympathetic to Latin American dictators who profess to be socialists. Back in the 1980's he called Nicaraguan President Daniel Ortega "an impressive guy" and praised Fidel Castro for having made "enormous progress" in "improving the lives of poor people and working people."
Sanders is one of Trump's harshest foreign policy critics, but shares his disdain for U.S. trade policy. Sanders strongly opposes the Trans-Pacific Partnership (TPP) and supported Trump's decision to exit the deal:
I am glad the Trans-Pacific Partnership is dead and gone. For the last 30 years, we have had a series of trade deals—including the North American Free Trade Agreement, permanent normal trade relations with China and others—which have cost us millions of decent-paying jobs and caused a 'race to the bottom' which has lowered wages for American workers. Now is the time to develop a new trade policy that helps working families, not just multinational corporations.
Sanders doesn't think TPP is salvageable and "under no circumstance would we rejoin the Trans-Pacific Partnership under a Sanders administration." 
Sanders's support for parts of Trump's trade agenda is not surprising. Sanders has proudly opposed every trade agreement presented during his time in Congress. But the basis of his disdain for America's trade agreements differs from Trump's. The president thinks U.S. trade deals have given too much to America's trade partners; Sanders thinks they have given too much to multinational corporations at the expense of American workers. That's why he supported Trump's decision to renegotiate NAFTA and then opposed the deal Trump struck. In his view, "a re-negotiated NAFTA must stop the outsourcing of U.S. jobs, end the destructive race to the bottom, protect the environment, and lower the outrageously high price of prescription drugs. Clearly, Trump's NAFTA 2.0 does not meet these standards and I will strongly oppose it in its current form."
Sanders similarly both supported and criticized Trump's tariffs on aluminum and steel. He was fine with "imposing stiff penalties on countries like China, Russia, South Korea and Vietnam to prevent them from illegally dumping steel and aluminum into the U.S. and throughout the world." And he says "of course" he would use tariffs as a negotiating tool. However, he objected to imposing tariffs on imports of steel and aluminum from Canada and the European Union, calling the policy "haphazard and reckless" and "an absolute disaster." Why the difference? Sanders says "it simply makes no sense to start a trade war with Canada, the European Union and others who are engaged in fair trade, are not cheating and where workers are paid a living wage with good benefits." More broadly, he thinks Trump's use of tariffs "is totally irrational and it is destabilizing the entire world economy."
Last week, Sanders unveiled his plan to combat climate change, which he also calls the Green New Deal. He proposes to spend $16 trillion dollars to eliminate fossil-fuel use in the United States by 2050. To put that number in perspective, the annual U.S. GDP is $21 trillion. Joe Biden puts a price tag of $1.7 trillion on his climate plan, and Elizabeth Warren has pledged to spend $2 trillion to promote clean manufacturing and exports.
More on Sanders
Since the 2016 election, Sanders has written Our Revolution: A Future to Believe In, Bernie Sanders Guide to Political Revolution, and Where We Go from Here: Two Years in the Resistance.
The New York Times Magazine profiled Sanders back in 2007, calling the then freshman senator "an awkward fit in the chummy realm of Capitol Hill. He is no pleaser or jokester by anyone's prototype."
Politico Magazine profiled Sanders back in 2015, describing his life before elected office as one of a "radical and an agitator in the ferment of 1960s and '70s Vermont, a tireless campaigner and champion of laborers who didn't collect his first steady paycheck until he was an elected official pushing 40 years old."
Back in 2015 the New Yorker explored the appeal of Sanders's populist message, concluding that "though Sanders is steadfastly earnest, the youthful enthusiasm for him often partakes of irony. Whimsical buttons feature the slogan 'Feel the Bern,' and Tumblr is full of memes that play up the contrast between Sanders's age and his popularity with hipsters."
Last year, the New Yorker assessed Sanders's legacy on progressive politics, saying that "since the 2016 election, the Sanders movement has been tricky to pin down—at times it has seemed to embody the Democratic future and at others to be disappearing quickly into the past."
Last November New York Magazine tagged along as Sanders mulled over whether to make a second run at the White House and found that his advisors were split—some "think his path to the White House has never been clearer. But other friends warn him there's a good chance that if he enters the race, his first day will be his best day."
Sanders appeared on a CNN Town Hall back in April.
Earlier this month Sanders spent an hour on the Joe Rogan Experience podcast.
Sanders answered eighteen questions for the New York Times. When asked where he would go on his first international trip as president, he answered: "I have no idea. There are a lot of hot spots around the world."
CFR asked Sanders twelve foreign policy questions. When asked to name America's greatest foreign policy accomplishment he named two—the Marshall Plan and the creation of the United Nations. He named the war in Iraq as America's greatest foreign policy blunder.
Corey Cooper, Elizabeth Lordi, and Aliya Medetbekova assisted in the preparation of this post.