Kafka in Paradise: Maldives Court Sentences Former President for Terrorism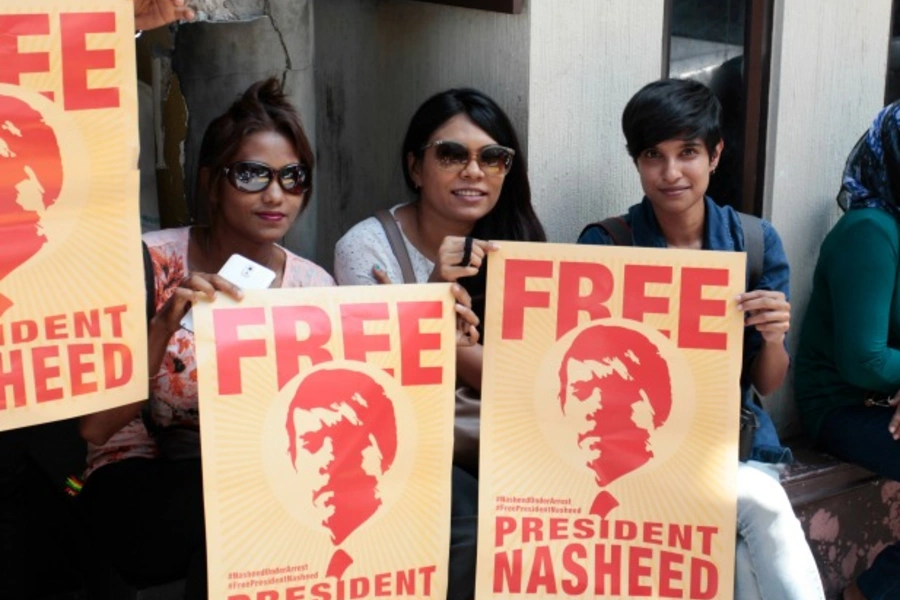 On March 13, a Maldivian court found Mohamed Nasheed, the first democratically elected president of the Maldives, guilty of terrorism and sentenced him to thirteen years in prison.
The specific act of which Nasheed was accused? Ordering the arrest of a criminal court judge back in 2012 when Nasheed was still president of the island nation of 400,000 people. The mismatch between accusation and conviction beggars belief.
The trial also contained a number of other Kafkaesque deformities. The court denied the defense team access to Nasheed. According to the Maldivian Democracy Network, the court arbitrarily scheduled a hearing within hours of Nasheed's arrest, preventing the defense team from appearing in court since they were required to register at least two days in advance. Add to that the obvious conflict of interest of two justices providing testimony for the trial in which they sat in judgment. Nasheed's own lawyers quit during the trial, saying they could not mount a defense in such biased proceedings.
Most Americans haven't heard of Nasheed, elected in 2008 in what was hailed as a democratic transition in the Indian Ocean island nation. But before he resigned in 2012, charging his opponents of conducting a de facto coup, he had earned a reputation as a moderate Muslim reformer focused on human rights, democracy, and climate change. The 2011 film The Island President profiled his advocacy for a climate agreement at the 2009 Copenhagen talks. Nasheed's sentencing sets back democracy in Maldives, which for thirty years (1978–2008) was ruled by strongman Maumoon Abdul Gayoom.
Not everyone in the Maldives is taking the judgment lying down. The Human Rights Commission of the Maldives, a statutory but independent body, expressed concern about denial of Nasheed's constitutional rights as well as problems with due process in the trial. The commission stated that the court rebuffed their effort to raise these matters during the trial, along with their request to monitor proceedings. Internationally, the governments of India, the United States, the United Kingdom, and the EU made statements about the trial.
Maldivian institutions have weak and limited experience with democratic norms, and the judiciary has long been a focus of calls for reform. The current constitution dates only to 2008, and the judiciary has yet to be reformed despite the creation of a Judicial Services Commission in 2008. In 2013, the United Nations Human Rights Council sent the special rapporteur on the independence of judges and lawyers, Gabriela Knaul, on a fact-finding mission to the Maldives. She found a politicized judiciary vulnerable to external influence. She also noted that the "concept of independence of the judiciary" had been "misconstrued" in Maldives to connote a privilege of the individual judge, and not the ability to adjudicate a case fairly and impartially for those under trial. Reading the Knaul report in light of Friday's conviction is a sobering experience.
Although Maldivian President Abdulla Yameen, the half-brother of former president Gayoom, denies any politicization of the ruling, many aspects of these proceedings look preposterous at face value. And on March 15, the High Court tossed out Nasheed's appeal of his February arrest because Nasheed insisted on a hearing open to the public, which the court denied.
For now stability in Maldives is in danger. Protests have been taking place on and off for weeks. Following his sentencing, Nasheed called upon Maldivians to "confront the dictatorial power of this regime" and take to the streets. It's unclear whether Yameen's government can survive a full term, as he has already lost one coalition ally, fired (and detained) his former defense minister, and appointed a new one currently accused of terrorism—ironically, in the same matter for which Nasheed was just sentenced. Defending grossly irregular legal processes cannot help Yameen, and undermines any claim that these proceedings are isolated from politics.
This 100 percent Sunni Muslim nation, struggling to institutionalize democracy, should not be written off as too small to matter. Nasheed has accused Yameen—to whom he graciously conceded defeat in November 2013, after narrowly losing in a run-off election—of marshaling the judiciary to eliminate Nasheed as a political threat. Nasheed and his Maldivian Democratic Party believe the Yameen government is soft on Islamic extremists. Last fall, Nasheed told the Independent that Maldives had become a recruiting ground for the Islamic State. Pro-Islamic State rallies have taken place in Maldives.
With its strategic location and hundreds of isolated, uninhabited islands, a Maldives that falls to or is unable to control radical Islamists would quickly become a regional security threat.
Top photo credit: Ides of March: Maldives, Barricades, protests & injustice. Photo by Dying Regime licensed under CC BY 2.0.
Follow me on Twitter: @AyresAlyssa