Latin America This Week: September 20, 2023
At 32 years old, Mercosur faces an existential crisis; Petro signals a big shift on drug policy; Massa's last-ditch election spending will hobble the next government.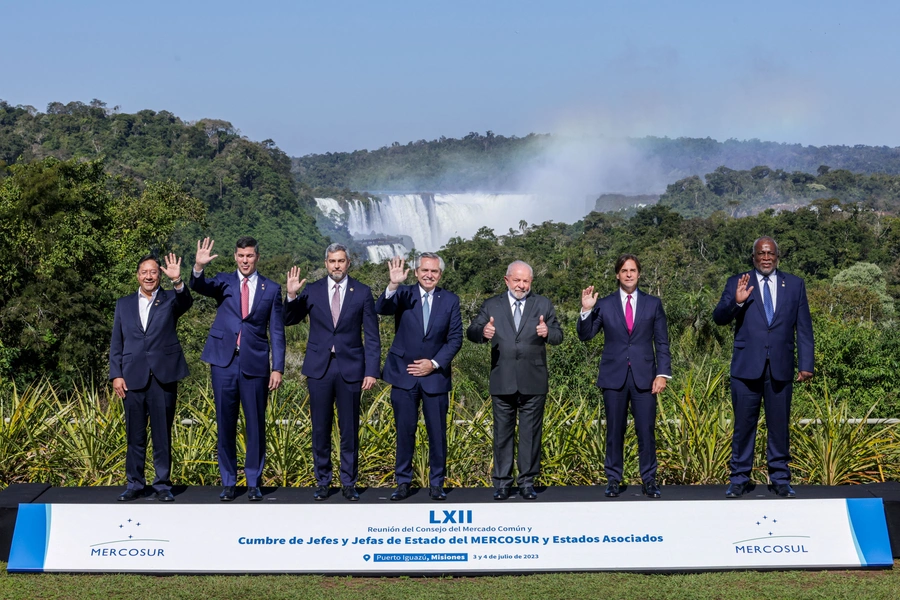 At 32 years old, Mercosur faces an existential crisis. Talks to establish a trade agreement between the Mercosur customs union and the European Union (EU)—20 years in the making—were on the brink of stalling out for good before they restarted on September 14. Still, if the two parties don't seal the deal by year's end, it could put Mercosur's future in doubt. Spain, the most vocal European advocate of the deal, steps down as EU president in December, and Brazilian President Luiz Inácio Lula da Silva, its biggest South American champion, hands off Mercosur's rotating presidency in January. European politicians are turning their attention to next year's European Parliamentary elections. Even before the latest crisis, Mercosur was in trouble. Trade flows between its members—Brazil, Argentina, Uruguay, and Paraguay—peaked in 2011, at US$54 billion, and haven't fully rebounded since. Political disagreements divide the bloc, too. Members clash over whether to readmit Venezuela, which the union suspended in 2016 for breaking with democracy. Uruguay is already toying with going it alone by negotiating free trade agreements (FTAs) with China and Turkey as well as by applying to join the Comprehensive and Progressive Agreement for Trans-Pacific Partnership, an 11-country FTA with many of the major Indo-Pacific economies. If the EU-Mercosur agreement doesn't come together quickly, other Mercosur members may have no choice but to go it alone, following Uruguay's lead.
Petro signals a big shift on drug policy. If he's counting on U.S. support, he should move fast. Colombian President Gustavo Petro, who consistently blasts the "war on drugs" as a failure, just unveiled a new drug policy for Colombia. Petro's policy shifts away from the forced eradication model of years past and toward crop substitution and the creation of alternative livelihoods for rural communities that depend on growing coca. For now, Washington is listening. As synthetics have overtaken plant-based drugs and U.S. drug overdose deaths have topped 100,000 per year, the Biden administration has increasingly focused on harm reduction, rehabilitation, and stopping the flow of precursor ingredients for fentanyl, meth, and other synthetics produced largely in China. Report after report to Congress, the executive, and by leading NGOs show that forced eradication operations using Colombia's police and military just haven't worked. Instead they have pushed coca cultivation into new areas (including Colombia's national parks) and wreaked havoc on the environment—all while coca production hit an all-time high in 2022. Biden administration officials suspended satellite monitoring of Colombia's coca crops and voiced support for the Petro government's "holistic approach" to counternarcotics last October. Even so, Petro won't have an easy time implementing his plans. For one, he faces weak domestic support: 65 percent of Colombians believe the narcotrafficking situation is worse now than when Petro took office, and 61 percent disapprove of his government. Republicans distrust Petro. If the party wins control of the White House in 2024, expect the next administration to pressure Colombia to return to a more traditional approach to drug policy. The clock is ticking.
Massa's pre-election spending spree will hobble the next government. Argentina's Economy Minister and ruling party presidential candidate, Sergio Massa, announced a slew of new spending and social policies that go into effect immediately. The plans include tax breaks for huge swaths of the population, more social spending, and wage increases for government workers. The Central Bank helped out by not raising interest rates, despite accelerating inflation. The largesse won't win over voters tired of economic crisis. But it will leave the next president in even more of a financial bind. The spending spree comes just weeks after negotiating a US$7.5 billion disbursement from the International Monetary Fund (IMF). Argentina conducted a complicated shell game to pay off a US$1.8 billion debt with loans from Qatar and the Development Bank of Latin America and a US$1.7 billion swap with the Chinese to cover payments. With the new tranche of capital, the government renewed promises to keep the fiscal deficit at 1.9 percent and 0.9 percent of GDP in 2023 and 2024, respectively. Massa's largesse will pull Argentina even further from these commitments ahead of the next rounds of reviews and negotiations with the IMF, set for November 2023 and March 2024.