Latin America's Right Turn Could Draw Its Economies Closer
The ascent of leaders who favor free trade opens space for real integration.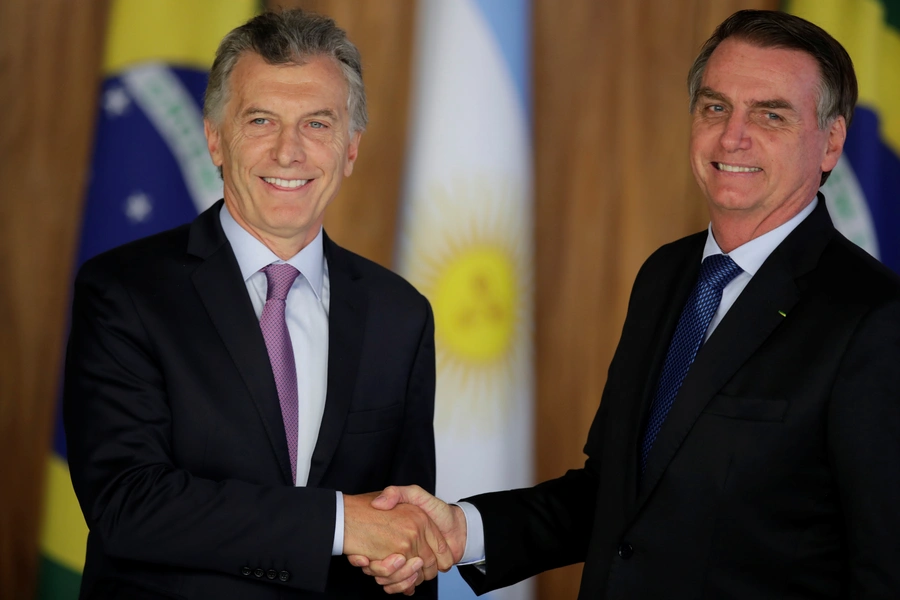 In 2011, when Sebastian Pinera showed up for his first 33-member Community of Latin American and Caribbean States meeting, it was a lonely affair for the right-leaning billionaire Chilean president: Most of his counterparts were part of the "pink tide" sweeping the region. Now he fits right in at the annual presidential summits, with market-oriented leaders at the helm of Argentina, Brazil, Colombia and beyond.  
South America's new like-minded leadership opens the possibility of cooperation on a host of issues, as long as these leaders aren't consumed by their own internal policies and politics.
We are already seeing action on Venezuela, the region's biggest foreign policy and humanitarian crisis in decades. Together the members of the 14-nation Lima Group (Mexico's leftist government the exception) have recognized Juan Guaido, head of Venezuela's National Assembly, as interim president and called for a transition to democracy through new elections.
Trade is another area ripe for cooperation. For decades Latin America has done little to realize its long-held aspiration of regional integration. The promise of Mercosur, the trading bloc encompassing Argentina, Brazil, Paraguay and Uruguay, has been derailed by exemptions and exceptions that have kept in place quotas, tariffs and other barriers. The more ambitious Pacific Alliance has done little to change economics and interchanges on the ground. Instead, South America remains quite closed, with trade as a percentage of GDP lagging far behind other emerging markets.
Perhaps worse, less than 20 cents of every dollar of international commerce goes next door, attesting to the relative isolation of these countries from their neighbors. This is costly in terms of jobs and prosperity: the small portion that is traded within the region is more likely to be in higher value-added goods -- things like auto parts, electronics and processed foods -- than the commodities sent to fuel industrialization elsewhere.
The ascent of executives who favor free trade opens space for real integration. The rapport between Brazil's Jair Bolsonaro and Argentina's Mauricio Macri at their first meeting bodes well for Mercosur's revitalization. This would start with cutting out hundreds of loopholes that have stifled the customs union. The leaders could go further: Pushing to complete -- finally -- an agreement with the European Union and following through on the letter of intent to combine Mercosur and Pacific Alliance, encompassing 90 percent of Latin America's GDP and nearly a half-billion consumers. These broader and freer markets could spur the regional clusters and supply chains that have so far eluded South America.
The fight against corruption, part of so many of their winning electoral platforms, is also a place for convergence: Even as corruption's ill effects have oozed across borders, so too can its solutions. The investigations and prosecutions into the malign activities of the construction giant Odebrecht SA have already fostered judicial ties. As today's leaders support overhauls of their national justice systems, they could deepen this cross-border case-building.
Differences could of course divide them. For instance, few share Bolsonaro's obsession with "Marxism" in the classroom. But the biggest challenge will be finding time for each other. These new leaders all face daunting domestic problems. Bolsonaro and Macri need to pass structural reforms to rein in spending and bring their budgets into better balance. Colombia's Ivan Duque too faces a fiscal cliff after a watered-down tax reform, and his administration may be distracted by dealing with the inflow of more than a million Venezuelan refugees. And Peru's Martin Vizcarra is locked in a political death match with opposition leader Keiko Fujimori and her corrupt legislative bench. Yet even here there could be lessons, and burdens, to share.
Latin America's new leaders also face the challenge of making the political right relevant far into the 21st century. Their electoral triumphs came in large part from a popular rejection of a leftist status quo dragged down by corruption and economic woes. Yet for them and their political parties to win again will depend on building a record of achievements and pragmatic problem-solving, creating long absent organizational roots and drawing on one another's help and cooperation.