Maldives Halts Democratic Backsliding
The outcome of the election in the Maldives, which ousted the authoritarian President Abdulla Yameen Abdul Gayoom, allows the country to focus on rebuilding its democratic institutions and its relationship with India.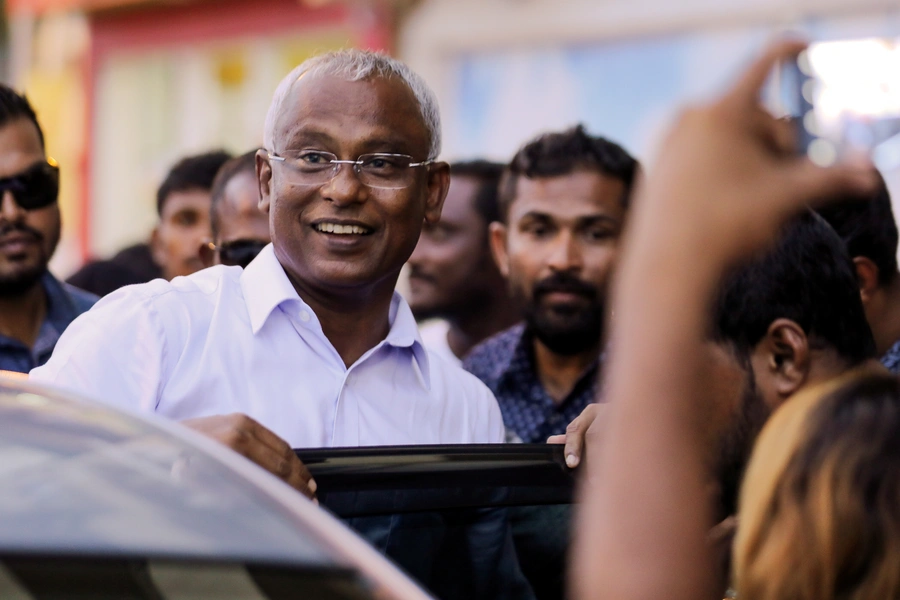 On Sunday, September 23, citizens of the Maldives stood in long lines (up to six hours according to one report) to vote in its presidential election. In a result that was not even close, opposition candidate Ibrahim Mohamed Solih received more than 58 percent of the vote and sent the authoritarian President Abdulla Yameen Abdul Gayoom packing.
This outcome, as several analysts have already remarked, marks an important step toward strengthening democracy in the Maldives. Outgoing President Yameen declared a state of emergency earlier this year; arrested judges and opposition politicians; jailed his half brother, former President Maumoon Abdul Gayoom, when he became a political opponent; and as Human Rights Watch has chronicled, mounted an "all-out assault on democracy."  
But the result shows that elections in the Maldives were not rigged in advance by the incumbent as several observers had feared. Transparency Maldives, for example, issued a statement just days ago calling for the removal of "all impediments to a free and fair election," and the United States issued a blunt statement of concern about "democratic backsliding" that concluded with a warning about "appropriate measures" against those who might impede a free and fair election. Thankfully the process was not distorted to favor the incumbent, or at any rate not distorted enough to affect the outcome. This shows the integrity of the election commission.
With the Maldivian Democratic Party back in power after five years in opposition, the country can work toward restoring its fragile democratic institutions to health. It is likely that former President Mohamed Nasheed, the first democratically elected president of the Maldives, will be able to return to his country down the line from exile in Colombo and London. (He said in an interview that he would seek to resolve his status—a criminal conviction against him still stands—through "proper channels," but hoped to be home for the inauguration.)
Restoring democratic institutions will not be easy. The Maldives will not only have to grapple with questions like freedom of expression, but also the persistent issue of judicial and legal reform, as well as problems of corruption, just to start. A Solih government will be able to restore freedom of expression quickly, but judicial reform and corruption will take much longer to address. But the result of September 23 certainly underscores that Maldivian citizens want their country back on the path of democracy, not backsliding from it.
Finally, as the international media has noted, the election results offer comment on the country's place in regional geopolitics. There is, indeed, a "competition" for influence between India and China in the archipelago, with India a close neighbor and longstanding economic and security partner, and China a more recent presence in the Indian Ocean. After establishing an embassy in Malé, the capital, only in 2011, China has rapidly expanded its support for infrastructure development in the Maldives.
As with Sri Lanka, observers worry about the strategic implications of these infrastructure projects in years to come—in particular, whether or not these economic projects will give way to military outposts. Indeed, the Maldives faces rising debt linked to this financing, a story similar to that of Sri Lanka, where mounting debt to China resulted in Chinese majority ownership of a port. In addition, China has become the largest source country for tourism to the Maldives—no other country comes close—dominating a crucial economic sector.
The outcome of the election allows the Maldives to reevaluate the financial obligations it has incurred to China under the Yameen government. With Yameen seen as "China-backed" and ties with New Delhi having frayed under his watch, Solih is likely to repair the Maldives' relationship with India and veer back to the more traditional close regional partnership. That said, and as others have observed, it is not likely that a new government in Malé will entirely tilt away from China, given its economic importance. But a Maldives focused on restoring its democratic institutions will have much more to discuss with India. As the Indian government's statement on the victory declared, "This election marks not only the triumph of democratic forces in the Maldives, but also reflects the firm commitment to the values of democracy and the rule of law." 
My book about India's rise on the world stage, Our Time Has Come: How India Is Making Its Place in the World, was published by Oxford University Press in January. Follow me on Twitter: @AyresAlyssa. Or like me on Facebook (fb.me/ayresalyssa) or Instagram (instagr.am/ayresalyssa).