A Matter of Particular Concern: India's Transition From Biomass Burning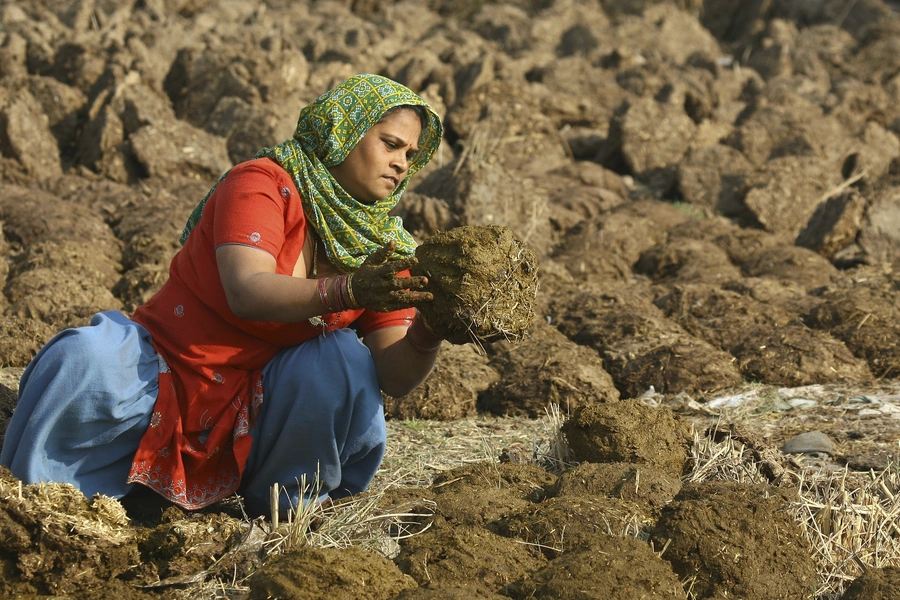 Aaron Steinberg is an interdepartmental program assistant at the Council on Foreign Relations in New York. 
On Sunday, the Indian Election Commission released the much anticipated polling dates for the 2019 general election. Amid the electoral preparations, opposition party members are accusing the incumbent, Prime Minister Narendra Modi, of using recent tensions in Kashmir to stoke nationalist sentiment. Political analysts say that Modi's response to the tensions have indeed helped in preliminary polling, but the concern over domestic issues that had been haunting the prime minister remain during this politically pivotal juncture.  
One of the centerpieces of the Modi government's platform has been addressing air pollution, but his efforts to ameliorate the matter have reportedly fallen short. According to the latest data on air pollution, seven of the ten most polluted cities globally are in India's Indo-Gangetic Plain (IGP)—home to over half of the country's population. One of the most common metrics used for air pollution is the concentration of suspended particulate matter that have a diameter less than 2.5 micrometers (PM2.5). Various factors contribute to poor air quality, but one culprit, residential energy use, has been identified as a primary contributor to emissions in the IGP.
Last year, a study using recent data on PM2.5 concentrations found that residential biomass burning causes as much as 90 percent of the annual anthropogenic PM2.5 emissions in the IGP. The residential energy emissions come primarily from the 78 percent of people who burn biomass (usually in the form of agricultural residues, fuel wood, and dung cake) for cooking and heating, as it is the most affordable energy source for low-income households. Carcinogens from biomass burning contribute to an array of health issues, including respiratory and heart diseases, cancer, and stroke, all of which are central to India's increasing burden of noncommunicable diseases. One New Delhi chest surgeon found that half his lung cancer patients are nonsmokers; when he started practicing thirty years ago, 80–90 percent of such patients were smokers. For many, breathing has become the new smoking.
In 2016, the Modi government launched an initiative to address the issue. Known as Pradhan Mantri Ujjwala Yojana (PMUY), it aims to create liquid gas connections for households below the poverty line and subsidizes state-owned fuel retailers for every new connection. The massive transition has made India the second-largest importer of liquefied petroleum gas (LPG) in the world, and it is poised to take the lead in 2019.
Currently, India imports nearly 80 percent of its fuel to meet demand, leaving the supply vulnerable to price fluctuation and political whim. Amid India's rising demand, importers looked to Iran as an additional source, becoming the country's second-largest client. Major disruptions were expected in the wake of President Donald J. Trump's renewal of sanctions, but India, along with eight other countries, were granted waivers, which prevented disruption. Had sanctions been carried out against Saudi Arabia, as was threatened in the wake of the murder of journalist Jamal Khashoggi, PMUY would have faced severe disruptions. 
India's reliance on imports, combined with the subsidies given through PMUY, has put considerable strain on the country's balance of payments. PMUY's initial success helped justify the expenditure, but issues are beginning to arise as the program progresses. With general elections coming up in the spring, the Modi government appears to be doubling down on its efforts.
PMUY has made impressive progress since its introduction; fifty million new LPG connections have been reported as of 2019. The program's success has been credited with assisting Modi's party, the Bharatiya Janata Party (BJP), in winning the 2017 legislative assembly election in Uttar Pradesh (UP), where PMUY was originally implemented. It is no coincidence that PMUY was launched in UP, which sends the most legislators to parliament of any state. The Modi government is looking for similar success in the upcoming election, but the longevity of PMUY is being questioned as low refill rates for the LPG cylinders indicate a return to biomass burning.
Currently, PMUY beneficiaries pay for their stove and first cylinder refill in monthly installments; however, beneficiaries must pay market rates for subsequent refills. While PMUY has done well in creating LPG connections, many Indian households are finding it difficult to fund the refill of their LPG cylinders despite the incentives. In one UP district, refill rates sunk as low as 25 to 30 percent. When money is scarce, returning to biomass is an easy way to cut costs.
As of early 2019, Modi is polling ahead of his closest competitor, Rahul Gandhi, but his lead has diminished in the past year. Failing to address the shortcomings of PMUY would be a major misstep for Modi and the BJP. The government's current plan to increase LPG subsidies may help restore confidence in PMUY throughout the election period, but energy-source diversification is crucial to long-term success of the program.
India's shift from biomass is one facet of a larger low-carbon transition. LPG is an example of a low-carbon alternative, but converting to an energy source with greater domestic availability would help ensure greater stability for the program. One method suggested by the National Institution for Transforming India is complementing the new gas stoves with electric stoves, which could be powered by domestically sourced energy.
Currently, India's energy mix is dominated by coal, which will remain a fixture for the foreseeable future. Like biomass, coal is a major contributor to air pollution, so investing in cleaner, more efficient coal plants to power electric stoves would curb emissions from both sources. Although coal is dominant, renewable sources are a distant but growing second, outpacing the growth of coal in 2018. Today, renewable energy stands at around 20 percent of the energy mix and is projected to reach at least 48 percent by 2030.
If increased access to alternatives to biomass burning are paired with a more diversified energy mix in India, PM2.5 levels would be drastically diminished, leading to greater quality of life for all, especially as renewables supplant coal. PMUY has been a successful first step in addressing biomass burning and improving India's overall air quality, but as the BJP's flagship energy program stands now, India's air quality and its health are largely contingent on the price of and access to LPG.