A Midterm Election Update
Three and a half months out from the November elections, Democrats' prospects have gotten darker.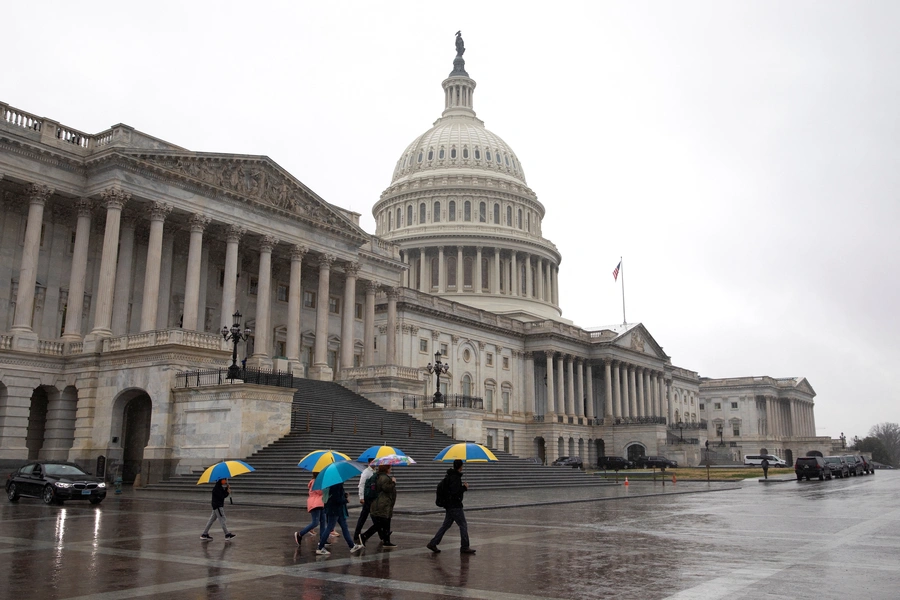 Back in March, I reviewed what we know about U.S. congressional midterm elections. The big takeaway was that the president's party generally loses House seats, but not necessarily Senate seats. That is especially true when the president is struggling in the polls. With President Joe Biden's approval rating at 42 percent eight months out from Election Day, that historical pattern was bad news for Democrats and good news for Republicans. The one bright spot for Democrats was that the decennial redistricting of House seats looked to be going in their favor.
So where do things stand three and a half months from Election Day? The picture appears to have gotten darker for the Democrats—at least when it comes to holding onto the House. Biden's average public approval rating now stands at 38 percent, and his average disapproval rating at 57 percent. To put those numbers in perspective, no elected president since World War II has been lower in the polls at this point in his presidency. (Scientific polling didn't begin until the 1940s, so we can't compare Biden's numbers with, say, James Buchanan's.) Barring a turn in events, Biden is more likely to hurt than help the chances of Democratic congressional candidates.
The bad news doesn't end there for Democrats. The once-promising results of decennial redistricting have dimmed. New York State's Court of Appeals tossed out a redistricting plan drafted by the state's Democratic-controlled legislature that would have added as many as three Democratic seats to New York's congressional delegation. New York instead adopted a redistricting plan drawn up by a court-appointed special master that created more competitive districts and opened up the possibility that Republicans might gain seats. In Maryland, a court struck down the Democratic-controlled state legislature's initial redistricting proposal as "extreme partisan gerrymandering." The revised plan passed by the Maryland legislature likely will preserve the state's one Republican congressional seat.
Republicans, meanwhile, got good news on the redistricting front. The most significant development was in Florida, where Governor Ron DeSantis used his veto to force the Republican-controlled state legislature to abandon a redistricting plan that had only a slight Republican bias. After much back-and-forth, the legislature approved the plan that DeSantis drew up. It's projected to give Florida Republicans four more House seats than they had under the old map.
There are two bits of good news for Democrats. One is that donors have not abandoned them. The Federal Election Commission released second quarter fundraising results yesterday, and many Democrats in competitive races outdid their Republican opponents. To take one example, Senator Raphael Warnock of Georgia raised $17.3 million, nearly three times the $5.8 million raised by his Republican opponent, Hershel Walker. Money doesn't guarantee an electoral victory—several Democratic candidates set fundraising records in 2020 only to lose their races. But it certainly helps.
The second bit of good news for Democrats is that the Republican advantage on the so-called generic ballot has shrunk. When pollsters asked voters back in March which party they were likely to vote for, Republicans held a four-point lead. That advantage is now two points. But the importance of that decline is easy to overstate. Many generic ballot polls are based on surveys of registered voters rather than likely voters. However, Republicans historically are more likely than Democrats to vote in midterms, and they are especially likely to vote when their party is out of power in Washington. Indeed, until recently, polls found that Republicans were far more enthusiastic than Democrats about the midterm elections.
What shrank—but did not eliminate—this "enthusiasm gap" was the Supreme Court's decision to strike down Roe v. Wade. That touched off a flurry of speculation about whether the Dobbs ruling will upend the midterms. The honest answer is that nobody knows. The ruling could motivate Democrats to go to the polls and persuade some Republicans to vote Democratic, thereby changing who wins in districts or states. Or that turnout and vote-switching may happen only in reliably Blue districts and states, or not be large enough to matter in gerrymandered districts, thereby having no effect on who wins or loses. Or neither may happen as voters worry more about inflation or jobs than about abortion rights.
We won't know until Election Day which of these predictions is right.
Margaret Gach assisted in the preparation of this post.