Migration From Central America Rising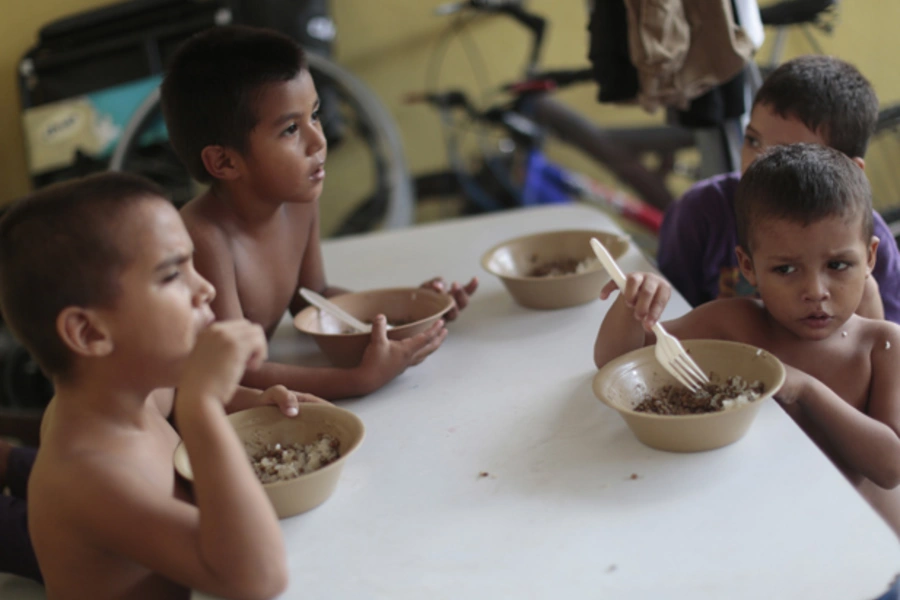 Central America's Northern Triangle is one of the most violent regions in the world. Last year's murder rate of roughly 54 per 100,000 inhabitants surpasses Iraq's civilian death toll. El Salvador alone registered 103 homicides per 100,000—making it the deadliest peacetime country. While victims are often young men, women and children die too. Kids face a murder rate of 27 per 100,000 in El Salvador—making the country as dangerous for elementary and middle schoolers as it is for an adult in the toughest neighborhoods of Detroit or New Orleans. Its neighbors Honduras and Guatemala are also among not just Latin America's but the world's most dangerous nations.
This violence is one of the main factors driving massive migration. In 2014, U.S. border patrol detained a record 239,000 Central Americans on the southern border. In 2015, this figure fell, in large part because Mexico stopped those leaving—sending back some 150,000 migrants caught along its border with Guatemala.
In the last three plus years over 136,000 unaccompanied minors and 140,000 more family members have come north—enough to populate Cincinnati. Tens of thousands are fleeing to neighboring countries—Mexico, Panama, Nicaragua, Costa Rica, and Belize have all seen asylum applications skyrocket. Less than five months into 2016, 56,000 new unaccompanied minors and others are already in U.S. custody, suggesting another record surge in the making.
The challenges facing Central America won't diminish soon, meaning migration flows to the United States and elsewhere won't end. Proposed solutions—strengthening public prosecutors, training police, cleaning up prisons, building community centers, and developing alternative jobs programs —will only make a difference in the medium to longer term. And though the U.S. Congress has approved $750 million for programs to reduce violence and boost economic development, those taking a historical perspective know this isn't the first time the United States and others have tried to buttress these fragile nations, with few results.
Yet what might be different this time comes from these societies themselves. Even as many justifiably flee, other Central Americans (notably not many of their elites, at least yet) are raising their voices against the poverty, inequality, corruption, and violence. Investigative journalists, armed with freedom of information acts, digital paper trails (such as the Panama papers), and other tools within these budding democracies have uncovered deep-seated corruption—including powerful Guatemalan politicians using their office for personal gain, and the expansive ties between Honduran elites and organized crime.
Local prosecutors and judges too have stepped up to make sure justice is done, even if it involves the powerful. In Guatemala, the attorney general—working closely with the International Commission Against Impunity in Guatemala (CICIG)—brought down the former president and vice president for running a customs fraud scheme. El Salvador's Supreme Court is going after two former presidents for graft.
And citizen protests have grown. In Guatemala, the peaceful demonstrations by tens of thousands led to the resignation of President Otto Pérez Molina. In Honduras, citizen outrage over $200 million missing from the social security system forced the government to accept a new Mission Against Corruption and Impunity in Honduras, modeled after CICIG, to investigate that and other alleged wrongdoings. Ongoing protests following the assassination of environmental and indigenous activist Berta Cáceres are forcing the government to investigate.
These steps, while fledgling, could matter for these nations' future. Their successes or failures will also likely matter in shaping future decisions to exit—through migration—or to stay and raise one's voice, for change at home.