Morning Brief: Affluence Correlates with Test Scores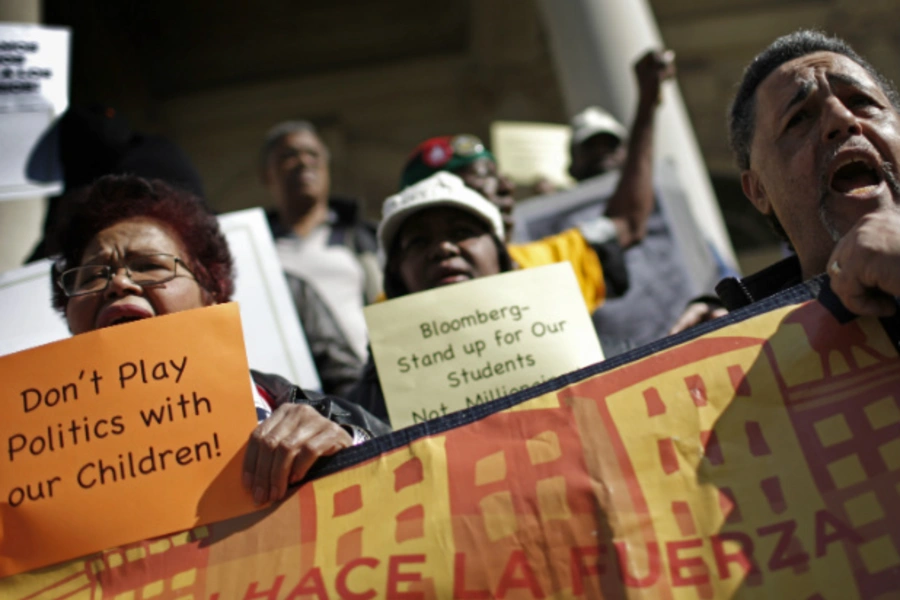 The Brookings Institution released a report on the correlation between income inequality and school quality. Schools in more affluent areas are likely to have higher average test scores, and housing costs are 2.4 times more expensive near high-scoring public schools than low scoring ones. Communities with restrictive zoning laws—many are in the northeast—tend to have starker economic segregation and a commensurate difference in educational opportunities.
The new report of the CFR Independent Task Force on U.S. Education Reform and National Security highlights the importance of the Common Core State Standards and asserts that fixing the nation's underperforming K-12 schools is critical to economic competitiveness and national security.
Education and human capital. Read more from experts discussing ways to improve U.S. education and immigration policies.
International Trade and Investment
China Scrutinizes Google-Motorola Deal
Google's proposed $12.5 billion purchase of Motorola mobility has met approval from the United States, the European Union, and South Korea, but China continues to investigate the deal (BusinessWeek). Google has a complex history with Chinese regulators. While Google's Android platform has seized two-thirds of the Chinese smartphone market, some experts believe its 2010 decision to defy Chinese censorship policy may explain the heightened scrutiny in this deal between two American firms.
Proposals to Revitalize U.S. Manufacturing
The New America Foundation, a non-partisan think-tank, released a report delving into five areas of reform to restore U.S. manufacturing competitiveness. Suggestions include a permanent R&D tax credit, regulatory reform, investment into energy infrastructure, better education for advanced manufacturing roles, and a better defense against predatory trade practices.
This CFR Independent Task Force report encourages the Obama administration and Congress to adopt a "pro-America" trade policy that brings to more Americans the benefits of global engagement
International trade and investment. Read more from leading analysts on the debate over next steps in U.S. trade policy.
Infrastructure
New Route for Keystone XL Pipeline
TransCanada sent Nebraska's state government a modified route proposal (WSJ). The new route includes a 100-mile detour to avoid the environmentally sensitive Sand Hills and Ogallala aquifer. The overall pipeline was rejected by the U.S. State Department in January; with this submission, experts say TransCanda moves closer to a reapplication.
Obama and Reid Disagree over NRC Commissioner
Reuters reports that President Obama will renominate Nuclear Regulatory Commission (NRC) Commissioner Kristine Svinicki, despite the objections of Senate Majority Leader Harry Reid. Svinicki is one of five NRC commissioners, and her current term expires in June. During congressional hearings in December, Svinicki and three of her fellow commissioners accused Gregory Jaczko, current NRC chairman and former Reid policy aide, of bullying and berating senior women staff members.
Infrastructure. Read more on how upgrading the nation's aging network of roads, bridges, airports, railways, and water systems is essential to maintaining U.S. competitiveness.
Innovation
Tech Giants Face Hiring Antitrust Suit
Apple, Google, Intel, Pixar, and other tech stars will face a class-action lawsuit alleging collusion to reduce competition for employees (TechCrunch). A San Jose court ruled that the case can proceed to a June 2013 trial; the suit alleges that leading firms had "peace treaties," agreements not to poach the others' employees.  A victory for the plaintiffs could bring hundreds of millions of dollars to tens of thousands of Silicon Valley workers. The LA Times recounts how Steve Jobs pressured Google CEO Eric Schmidt to stop the recruiting of an Apple engineer.
Innovation. Read more on how the U.S. capacity to innovate could play a chief role in economic growth.
The Morning Brief is compiled by Renewing America contributor Steven J. Markovich.