Nigerian Art Continues to Make Waves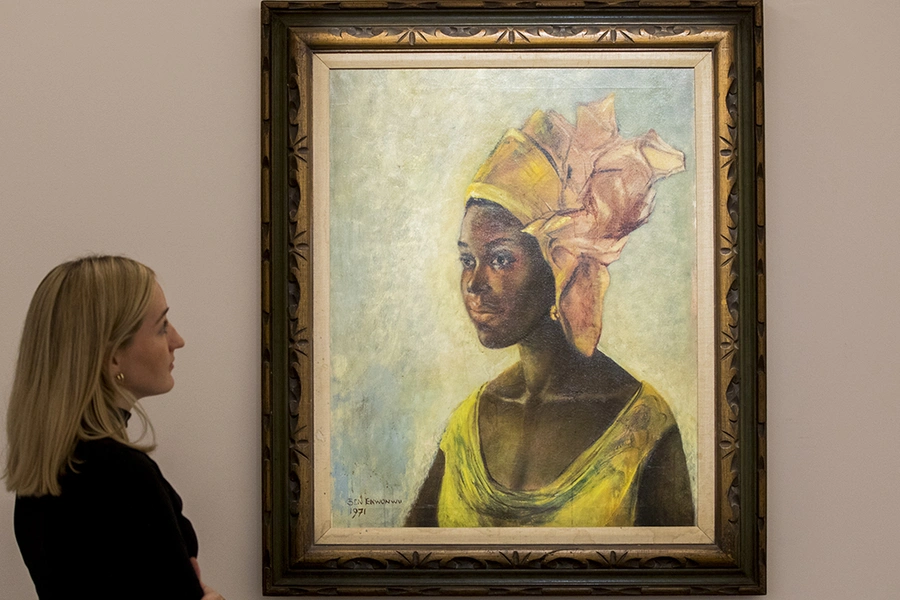 A work by the late Nigerian artist Ben Enwonwu fetched $1.4 million at a Sotheby's auction in London on October 15. The painting, "Christine," is a 1971 portrait of the Caribbean-origin American wife of a missionary. After her death, the portrait hung on the wall at her family's home. Unaware of the origin of the piece, a stepson eventually reached out to Sotheby's to see if it had any value. 
The piece was originally estimated to fetch up to $150,000 (though this and other figures are purposely underestimates). This is not the first time that the Nigerian artist's work has sold for over a million dollars. In March 2018, "Tutu," a portrait by Enwonwu of Nigerian princess Adetutu Ademiluyi, fetched $1.7 million at a sale of African contemporary art at Bonham's in London. Adetutu is a royal of Ife, an ancient Yoruba city, and reportedly lives in Lagos.
"Christine" is something a forerunner of "Tutu." The latter became an icon of national reconciliation in the aftermath of the 1967–70 civil war, in which between one and two million Nigerians died. According to Enwonwu's son, Oliver, Tutu "epitomized" black emancipation and the Negritude movement. To him, Christine symbolized a certain "national consciousness," it "brings our peoples together," and "promotes all things black and all things beautiful."
Ben Enwonwu was a celebrated African sculptor and artist during his career. He got his start working for the British officer in charge of art education in colonial Nigeria. Years later, Queen Elizabeth sat multiple times for him as he crafted a bronze statue of her. He would go on to attend the prestigious Slade School of Fine Art in London and the Ruskin School at Oxford University, and his black consciousness was heavily influence by the racism he encountered while in the United Kingdom. 
The high prices that Enwonwu's work commands reflects the growing interest in and market for African art. The Lagos fashion scene and the bevy of talented Nigerian authors reaches international audiences, while this summer, Netflix acquired the rights to at least three Nigerian films, which join a growing number already available on the U.S.-based streaming service.