North Korea's Fourth Nuclear Test: How to Respond?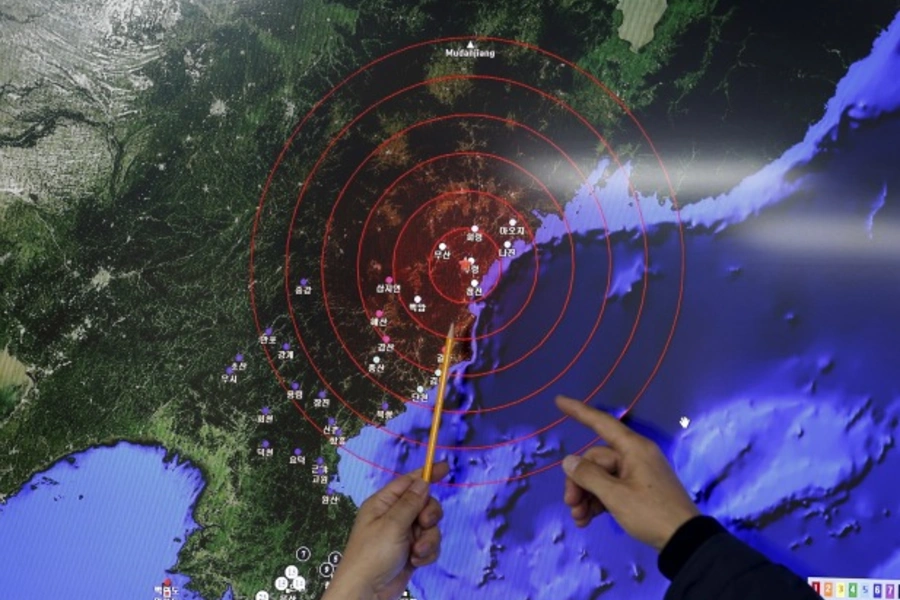 North Korea announced that it has conducted its fourth nuclear test on January 6, 2016, following reports of a 5.1 magnitude artificial earthquake near the site of North Korea's past nuclear tests. Regardless of whether or not the North's claims to have conducted a test of a "hydrogen bomb" are true, the test occurs in defiance of UN Security Council resolutions sanctioning North Korea for conducting three previous tests and despite repeated warnings by the leaders of the United States, South Korea, and China not to do so. South Korea's foreign minister stated in April of 2014 that North Korea's fourth nuclear test would be a "game changer," but this will only be the case if the United States, South Korea, and China can lead a response that imposes real costs on Pyongyang.
Moreover, the test comes two weeks following an apparent North Korean success in launching a potentially nuclear-capable missile from a submarine. By pursuing such a course of action, Kim Jong-un has issued a challenge to the international community and has underscored the magnitude of the danger posed by North Korea's increasing nuclear and missile capabilities despite past UN Security Council resolutions. Therefore, North Korea's fourth nuclear test could become a true test of the collective will of the global community to deal with a common security challenge.
However, the complex challenge facing the United States and the global community is how to impose costs on the reclusive state without opening a new front in a seeming contagion of global hot spots and instability. Escalation of a crisis with North Korea would likely open a Pandora's Box of difficult geopolitical, humanitarian, and potentially military challenges. Yet, efforts to defer these challenges will only guarantee that the problems on the Korean peninsula will grow more complex and costly in the future.
One wrinkle in the North Korean announcement is the seemingly desperate reach for prestige represented by the claim that the country had mastered the technology necessary to detonate a hydrogen bomb. Such a claim in the absence of conclusive corroborating evidence conveys desperation and weakness from a regime that has increasingly stood on claims to North Korea's nuclear status as a source of domestic legitimacy. North Korea's latest test suggests evidence of weakness rather than strength, but such a conclusion could also complicate an effective response, given that the main differences among North Korea's neighbors have to do with the risks of inducing North Korean instability despite unity in opposition to North Korea's nuclear development.
Another complication is that North Korea's fourth nuclear test may actually be an unintended consequence of an unprecedented convergence of opposition among China, the United States, and South Korea to North Korea's nuclear development. The main cause of simultaneous failures of North Korean diplomatic outreaches to South Korea and China in mid-December was Seoul and Beijing's opposition to Pyongyang's continued nuclear development: Kim Jong-un may have ordered the fourth nuclear test as an expression of frustration. Now that Kim has shown his pique, he has likely made it even more difficult to escape increasing international opposition to North Korea's nuclear development.
The United States, South Korea, and China have a vested interest in imposing a tangible cost on North Korea beyond rhetoric for its act of nuclear defiance, but the task of working together to agree on and impose such a cost is the true test of whether North Korea's fourth nuclear test is truly a "game changer."