Park's Impeachment, Duterte's Drug War in Photos, and More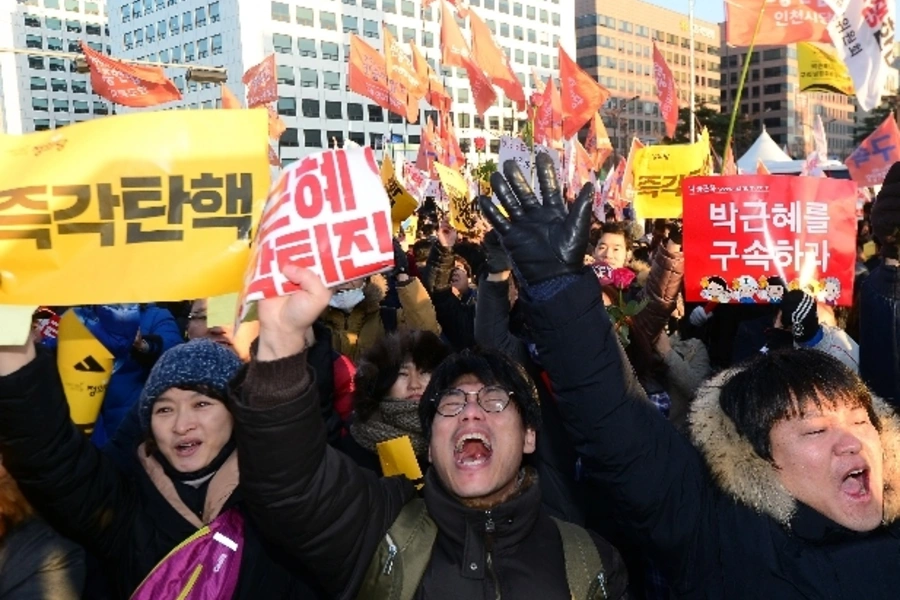 Rachel Brown, Sherry Cho, Gabriella Meltzer, David O'Connor, and Gabriel Walker look at five stories from Asia this week.
1. South Korea's National Assembly votes to impeach Park Geun-hye. On Friday, South Korea's 300-member National Assembly voted 234 to 56 to impeach President Park Geun-hye. The decisive vote, for which many members of Park's own Saenuri party joined opposition and independent assembly-members in a secret ballot to vote for her impeachment, follows months of escalating scandal centered on charges of influence-peddling. Continuing scandalous revelations about Choi Soon-sil, a longtime confidante and advisor of Park, and accusations that Park helped Choi extract money from chaebol conglomerates including Samsung, has incited mass protests of millions of South Koreans calling for Park's resignation. South Korea's conservative Constitutional Court now has six months to confirm the impeachment. If at least six of the nine judges uphold the parliamentary motion, Park will be permanently removed from office. Prime Minister Hwang Kyo-ahn will serve as South Korea's interim president until the court reaches a decision.
2. Duterte's drug war wreaks havoc in Filipino communities. A powerful photojournalistic account by Daniel Berehulak published by the New York Times vividly captures the tragedy and chaos surrounding President Rodrigo Duterte's controversial and brutal campaign to eradicate illicit drug usage and sales. The president's police forces and other vigilantes have carried out at least 4,500 homicides and 35,600 arrests since July alone, including some of high-ranking officials allegedly tied to the industry. Those who are not murdered in cold blood are held in overcrowded prisons, and 727,600 users and 56,500 dealers have surrendered since Duterte's election to the presidency. There is a sense of pride among officials by the volume of carnage, as Duterte has promised medals and cash rewards to those citizens who partake in the killings. Human rights groups condemn these practices, but Duterte sees human rights as "a Western obsession that keeps the Philippines from taking the action necessary to clean up the country." The campaign has been endorsed by President-elect Donald Trump, who believes Duterte is doing it "the right way." And Filipinos seem to agree too: Duterte's trust rating from an October poll was 86 percent.
3. In Myanmar, Kofi Annan voices concern for Rohingyas. Kofi Annan, selected to lead a commission formed in August to investigate "the security of the people of Rakhine," stated on Tuesday that he was "deeply concerned" by intensifying rights violations in Myanmar's westernmost state. Annan made the statement at the end of a week-long visit to Myanmar, which included a trip to Rakhine state's north, where the Myanmar army has been conducting an increasingly militant crackdown in response to the killing of nine police officers on October 9th by insurgents. The nine-person commission was created at the request of Myanmar's de facto leader, Daw Aung San Suu Kyi, weeks before the crackdown began in October. While the commission will make recommendations to the Myanmar government in late 2017 for alleviating ethnic strife in Rakhine state, the commission faces censure from multiple directions and concern from rights groups that it may be too little, too late for Myanmar's Rohingyas.
4. Russia and Japan eye improved relations. Russian President Vladimir Putin will meet with Japanese Prime Minister Shinzo Abe in Abe's home province next week, and the two leaders are expected to discuss both economic cooperation and a possible resolution to territorial disputes. Abe is pursuing a "new approach" to Russia-Japan relations and hopes to make progress on the unresolved status of the islands known as the South Kurils in Russia and Northern Territories in Japan. The islands were seized by Stalin at the end of World War II and a peace treaty between the two nations has still not been signed. Putin and Abe have already met fifteen times, but expectations for what the upcoming meeting will achieve remain low. While Abe hopes for the return of the smaller two islands to Japan and a plan for future talks on the other two, Russia may not be open to the possibility of later negotiations. Beyond territorial disputes, warmer relations are strategic for both sides, with Russia seeking new economic opportunities in Asia following Western sanctions and declining commodity prices, and Japan aiming to prevent overly cozy China-Russia ties. Although Japan is pursuing closer trade and financial ties with Russia, it intends to remain part of the G7 sanctions on Russia.
5. Debt problems heat up for Chinese banks. According to a tally by the Wall Street Journal published this week, Chinese banks are "hiding" more than $2 trillion in loans. Over the past five years, small- and medium-sized banks in particular have granted financing with what they label as "investment receivables" rather than as loans. This classification requires banks to maintain just a fraction—or none—of the capital to cover potential losses that would be required for loans. By massaging their balance sheets, banks can keep investments flowing while covering up their increasing exposure to risky assets. "Investment receivables" joins a laundry list of disconcerting features of the Chinese banking sector in recent years: repackaged wealth management products, non-performing loans, high leverage, and risky interbank loans. But banks are between a rock and a hard place: the Chinese government has been pushing them to boost lending to bolster the country's flagging growth.
Bonus: Father of General Tso's Chicken recipe passes away in Taipei. Peng Chang-kuei, a famed Hunanese chef, prepared "America's favorite" dish for the first time in the midst of the 1955 Taiwan Strait Crisis, when the Chairman of the Joint Chiefs of Staff visited the island. The name "General Tso's," originally improvised, proved more durable than the recipe, which Peng once said needed sugar to appeal to his non-Hunanese clientele in the United States. Peng was featured in the Netflix documentary The Search for General Tso, in which he called the modern American dish "crazy nonsense." He passed away last week at age 98.