The Political Fallout of the Petrobras Scandal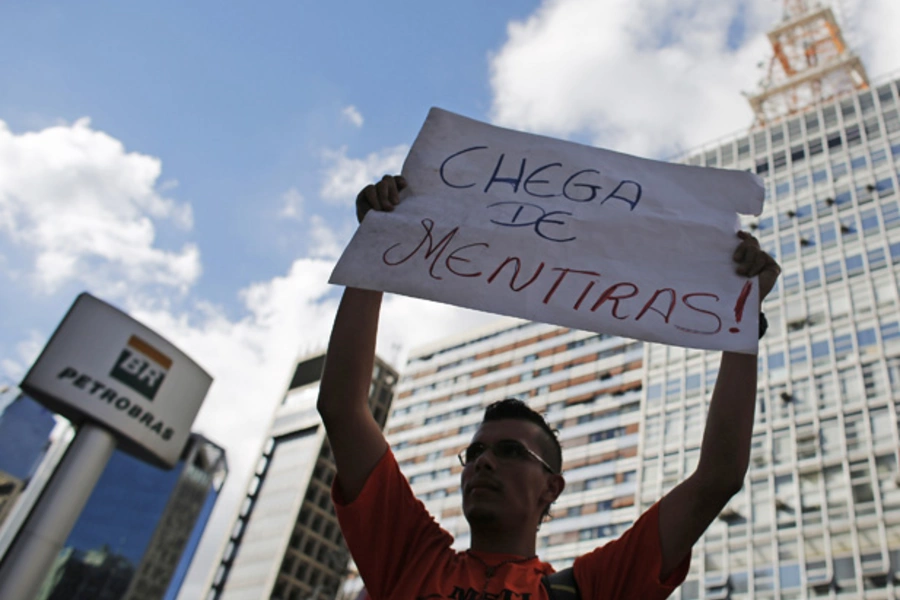 The Petrobras corruption investigation, known locally as Operation Lava Jato (Carwash), entered a new phase last week, when Rodrigo Janot, Brazil's general prosecutor, implicated 53 politicians from six different political parties. All but two come from President Dilma Rousseff's Workers' Party (PT) congressional coalition.
The accused include two of the legislature's most prominent politicians: Eduardo Cunha (PMDB), the president of the Chamber of Deputies, and Renan Calheiros (PMDB), the president of the Senate. Cunha is accused of taking a personal bribe; Calheiros is accused of trading political support for funds for the PMDB; both deny any wrongdoing.
Dilma's former Chief of Staff Gleisi Hoffman (PT) and former Energy Minister Edison Lobão (PMDB) were also accused of receiving illicit money for political campaigns – Hoffman for her own 2010 Senate run; Lobão to support Roseana Sarney's gubernatorial campaign in the northeastern state of Maranhão. Sarney – the daughter of former President Jose Sarney – was previously implicated in a scandal involving Amazon development funds.
Former president, now senator Fernando Collor de Mello (PTB) made the list for allegedly receiving bribes. This isn't his first scandal; he resigned from the presidency in 1992 rather than be impeached for corruption (he was later found guilty and barred from public service until 2000).
The opposition PSDB didn't emerge unscathed either. Antonio Anastasia, an influential senator and close ally of defeated presidential candidate Aecio Neves, allegedly received R$1 million to run his own gubernatorial campaign in the state of Minas Gerais.
These political revelations expand upon the already extensive investigations into Petrobras employees and numerous private sector firms, including construction firms OAS, with over one hundred thousand employees, and Andrade Gutierrez, with projects in more than 40 countries around the world, as well as the Brazilian conglomerate Camargo Correa, with operations in construction, energy, transport, and engineering. With estimates topping $4 billion in illegal kickbacks over the past decade, two high-level Petrobras executives and 24 private sector executives have been indicted so far. Twelve of the 26 have been taken into custody indefinitely, while fourteen remain under house arrest.
All this is happening at a difficult time for Brazil as a nation. When the 2005 Mensalão scandal hit, Brazil was growing rapidly and the country's president, Luiz Inácio Lula da Silva, was near his all-time highs in terms of popularity. By contrast, Dilma faces a stagnant economy, weak currency, and water shortages and electricity blackouts due to a record drought. In a recent poll, just 23 percent of people interviewed rated Dilma's performance as "excellent or good," down from 42 percent in December, and she is bracing for a wave of protests this Sunday.
The revelations may paralyze Brazil's government. But combined with general dissatisfaction, it also could create the incentive for real reform. Dilma's challenge is to not waste this crisis.