Priyanka Chaturvedi: India's Majoritarian Turn Hurts Its Democracy
India's many political parties represent the country's great diversity. But India's turn toward majoritarianism poses risks for its democracy.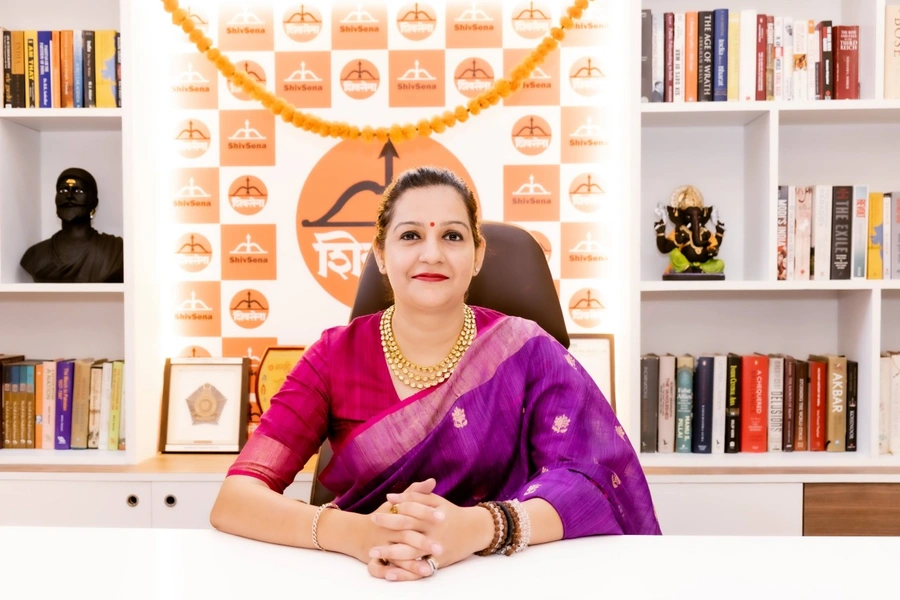 This interview with Priyanka Chaturvedi is part of the Asia program's Women's Voices From the Indo-Pacific Project, produced by Senior Fellow Manjari Chatterjee Miller and Research Associate Zoe Jordan, featuring influential women in India's political, economic, technological, and social fields whose work matters for the U.S.-India bilateral relationship and India's relationship with the world. 
Priyanka Chaturvedi is a politician and the Rajya Sabha Member of Parliament from the Shiv Sena party in the Indian state of Maharashtra. She is also the Deputy Leader and National Spokesperson of the Shiv Sena. She currently serves on the Standing Committee on Transport, Tourism and Culture, the Consultative Committee on External Affairs, and the Committee on Women Empowerment. She is a regular contributor on Indian television channels on Indian politics. She also serves on the advisory board of Femme First Foundation, a women's advocacy group, and the Kautilya School of Public Policy, in Hyderabad.
Ms. Chaturvedi, who began her political career in the Congress Party and switched to the Shiv Sena in 2019, has significant social media presence, and uses her clout to both, criticize the ruling Bharatiya Janata Party and push her opinions on political issues including, most recently, the status of Indian students in Ukraine. 
What do audiences in the United States commonly misunderstand about India's political system?
The Indian political system is an amalgamation of socio-cultural characteristics representing the diversity of our country. There are states with multiple languages and dialects, their own culture, and norms. Karnataka, for example, is very different from my state Maharashtra which again is different from Uttar Pradesh. So what this means is regional identity is very strong and diverse in India, and the aspirations and priorities of the states are equally different. I see India, which has many states that are equal in size to countries in Europe, as similar to the European Union, where multiple diverse states come together.
Instead of a two-party system, India has multiple parties reflecting the diversity of the union of states—just as we have multiple gods we pray to, we have multiple parties for voters to choose from!  Americans need to understand that identity plays a crucial role in India's politics and not everything is governed by the party sitting at the center. When a voter comes out to vote, they could very well vote for one political party at the center and a different regional party at the state level.
However, there are some challenges to democracy in India—there is a huge and growing disconnect between the central government in New Delhi, and state governments. On one hand, increasingly, many states are being run by regional parties that are strong in their political spaces. But, on the other, at the center they are unable to hold the central government accountable. So yes, these are turbulent times. The only way forward for India is to have an inclusive mindset because while we are united by the idea of India, we are also extremely diverse in how we practice identity, whether it's our language, religion, or culture.
What are the most consequential factors in national or local politics that you think will play a role in India's relationship with the United States or world in the next 3-5 years?
India and the United States share the most fundamental principle of governance: democratic values. One is looked as the biggest democracy in the world while the other is the oldest democracy in the world. India's diversity means there is no other way it can progress if it does not have a democracy which holds political parties to account. Democratic norms protect women, the youth, and minorities. The government today is, however, tilting toward majoritarianism, and undermining constitutional safeguards and democratic principles. But Indian civil society is pushing back. India has to continue to look within to improve, and that can happen through a strong opposition [party].
Given the turbulent times we live in, it is  important for India and the United States to form an alliance to promote the idea of democracy globally. This does not mean interfering in sovereign internal affairs but working to ensure democratic standards are met. I feel strongly about this because I see strong benefits that emerge from democracy—equity, inclusivity and freedoms.
I think conversation and collaboration between us on core issues—such as climate change, emerging technologies, defense and opportunities for the youth—should be the focus in the next 3-5 years. There are a lot of growing synergies between the United States and India, and historical hesitations should not stop us from taking a leap of faith and bettering our relationship with the United States.
What inspired you to pursue your career path? How does your personal background inform your work?
I was born and brought up in Mumbai, where I had a diverse set of neighbors—Guajarati, Marwari, Marathi, and others—and this contributed to my conception of what India is and how inclusive its story can be. We celebrate different festivals, call them by different names, but that diversity was central to my upbringing and outlook. 
My political turning point was the November 2008 terror attack in Mumbai. I could not stop thinking about those who lost their lives, the ones who were the sole breadwinners of the house. I witnessed the entire city stunned, silenced, and shocked, with families losing their loved ones. That is when a group of women bloggers came together to help affected families. I used to actively blog and I joined a group effort to help thirteen families.
During my initial years in politics, my family was worried about putting a significant amount of the productive years of my life into something so unpredictable. Starting this career path with young children was also a challenge. However, I persisted and with the support of my family, I continued on my political journey.
Can you speak to the status of women in the work that you do?
I believe that politics is a space that empowers women and makes them contribute towards nation building through their ideas for strengthening their nation. I think we have forgotten that when the Constitution was written, women were made equal citizens. Despite many barriers, I would say that there is no better time than now for women to enter the political system. Yes, I do face a tremendous amount of trolling, hate, sometimes threats doled out to me [on social media] on a regular basis.  But that is alright. I always tell women that to be heard and to have a political voice is extremely important. You don't just make your vote count, you have to make your opinion count. Women need to speak up as a collective voice to make substantial changes on the ground.
My firm belief in advancing the political representation of women led me to start an initiative called Project Pratham Ti, which aims to enable and empower young women to understand the nuances of Indian polity and policy.
When you look at the role of India in the world today what concerns you most or brings you hope? What are the most pressing priorities for you and your colleagues on the Consultative Committee on External Affairs?
As a member of a regional party, I see an increasingly majoritarian idea that everything in India should be the same—for example, we should be speaking the same language, or eating the same food, or the idea of one tax[1]—which is fast becoming a source of contention between center and the state and I think, this is not how India truly is. When Prime Minister Modi talks of Vasudhaiva Kutumbakan—a Sanskrit phrase meaning the world is one large family—this concept is not new to India, it is embedded in our very culture. But one family, a single family, could have five members with five different personalities and aspirations. Respecting those personalities rather than trying to tell them the only way to live as a family unit is our way, and the rest can take the highway, is not right.
India also has some national security challenges. India faces a problem with China and Pakistan. These two countries converging together to challenge India from the east and west is something that India worries about. India is also trying to avoid the kind of conflict we are seeing in Ukraine. As a country which talks about inclusiveness, peace, and nonviolence, India needs to remind global leaders with too much authority that their concerns need to be resolved through dialogue. This is a chance for India to take a stance.
On many critical transnational issues, India has been walking the talk. Despite being a developing country, we have been setting targets and creating models for other countries to pursue greener policies. I believe now more than ever, dialogues rather than denial on global issues such as climate change is paramount. Today, nations worldwide are interconnected, and thus any change in the status quo affects all.