Prospects for Japan-South Korea Cooperation Under Moon Jae-in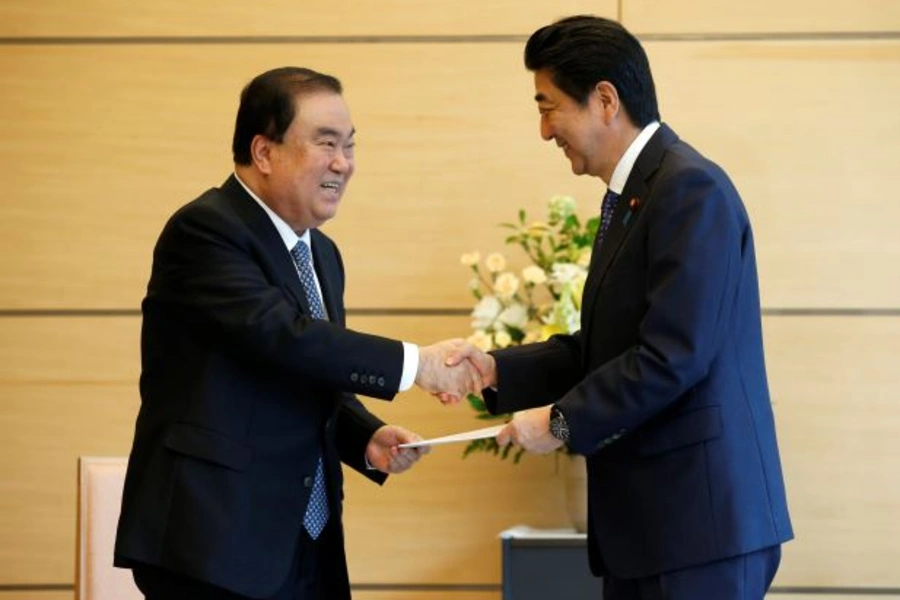 Scott Snyder ([email protected]), senior fellow for Korea studies at the Council on Foreign Relations, and Brad Glosserman ([email protected]), executive director of the Pacific Forum CSIS, are coauthors of The Japan-South Korea Identity Clash: East Asian Security and the United States (Columbia University Press, 2015).
South Korea's new president, Moon Jae-in, has a long list of priorities. Topping the list is restoring faith and credibility in his country's political system and getting the struggling economy on its feet. In foreign policy, chief concerns include ensuring that the alliance with the United States remains strong, getting China to ease up on its campaign of economic intimidation and ending the freeze in North-South relations and imparting momentum into diplomacy to reduce tensions and remove the North Korean nuclear threat.
Another critical issue Moon must manage is relations with Japan. That task will be complicated by his campaign platform pledges to unwind the December 2015 comfort woman agreement negotiated by his discredited predecessor, Park Geun-hye. In his first conversation with Japanese Prime Minister Shinzo Abe, Moon noted that his fellow South Koreans could not emotionally accept all the items in the agreement. At the same time, and to his credit, he also appears to have made space for Japan-South Korea relations, noting that they should not be contingent on the resolution of the comfort woman issue. This "two-track" formula could help him avoid the box that Park created for herself over the issue when she took office in 2013. President Moon is likely to find that a strong relationship with Tokyo will pay important dividends and help him deal with other grave geopolitical challenges.
Relations between South Korea and Japan have long been fraught: a tangled history, imperial conquest, territorial disputes, and the residues of Japanese occupation have poisoned the bilateral relationship for more than seventy years after the end of World War II. After several years of ambivalence, President Park tried to set a floor on the relationship by striking a deal on comfort women and approving a long-delayed agreement on information sharing between the militaries of Japan and South Korea. At U.S. prodding, Seoul, Tokyo, and Washington have moved forward on greater trilateral cooperation to address the North Korean threat.
Yet cooperation remains controversial and contingent. Worse, Park's impeachment has tainted the measures she adopted to improve relations. While Moon has said that the December 2015 comfort women agreement will not be the starting point for relations with Japan, he said during the campaign that "both the agreement and the negotiation process were wrong," and that the agreement "must be renegotiated [in accordance with] the will of the majority of the public." This approach risks stalemate with Japanese counterparts who negotiated with the Park administration in good faith.
Moon's top national security challenge is North Korea. To do that effectively, he needs the support of both China and the United States. Beijing offers Seoul important leverage in dealing with Pyongyang. But China's relations with the South have been troubled in recent months. The primary problem is Seoul's decision to ignore Beijing's objections and proceed with deployment of the Terminal High-Altitude Aerial Defense (THAAD) missile defense system that is intended to counter the North Korean missile threat. China is convinced that the system threatens its own nuclear deterrent and has responded to Seoul's indifference to Chinese concerns with fury, boycotting Korean cultural exports, shutting down Chinese tourism to Korea, and closing 90 percent of the Lotte stores in China (punished because it swapped the land the South Korean government is using for the THAAD deployment). China's 8.1 million visitors accounted for about half of South Korea's tourists last year, and 70 percent of duty-free operators' annual revenue of 8.6 trillion won ($7.59 billion) according to the Korea Tourism Organization (KTO); that number is estimated to plunge 50 percent in 2017. Korea Development Bank forecasts $20 billion in potential losses in trade with China, should the diplomatic spat continue, more than half of which are in the tourism and duty-free sectors.
For its part, the United States provides security guarantees to South Korea against the North Korean threat, and gives Seoul credibility in the eyes of Beijing. Astute South Korean policy-makers concede that China would not take them seriously if they did not have the United States behind them. In addition, Pyongyang ultimately wants a deal with Washington, and Moon needs a good relationship with the United States to prevent the North from negotiating behind his back.
In this context, a deal with Tokyo gives Moon breathing room. A strong relationship with Japan also gives South Korea more credibility with China; without a partner, South Korea is susceptible to the type of pressure that China has brought to bear in the wake of the THAAD controversy. While the United States should continue to provide that protection, there is greater uncertainty and less assurance in South Korea about U.S. positions in the Donald Trump administration. Regardless of whether the United States is encouraging good Japan-South Korea relations or appears more untrustworthy from the vantage point of Tokyo and Seoul, a stable Japan-South Korea relationship provides both governments with a measure of assurance in an increasingly volatile security environment. Moreover, a strong Japan-South Korea relationship would prevent Beijing and Tokyo from coming to agreement on interests in East Asia in ways that prejudice South Korean interests. In other words, a durable Japan-South Korea relationship is an insurance policy for Seoul.
Building that relationship will take time. It will be incremental. It could begin with Moon's personal affirmation of a future-oriented relationship, followed by outreach to Abe to construct a larger and more enduring bilateral relationship. Abe should respond with an offer of assistance (in the appropriate form) to mitigate the damage being done to South Korean economic interests by China. A resumption of the expired currency swap agreement would also be a nice gesture.
While the Japanese government is likely to resist formal renegotiation of the 2015 comfort woman agreement, it is undeniable that Japan-South Korea relations will be constrained without broader Korean public acceptance of Japan's efforts to address the past. Both leaders will have to do more to change the situation. The challenge for Moon is to show that South Korea's public grievances toward Japan can be satisfied, while Abe will need to make greater efforts to win over South Korean public support.
Over time, Japan-South Korea cooperation should evolve into a genuine framework of reconciliation. In many ways, Moon is the most appropriate leader for such a deal. The real tensions in the Japan-South Korea relationship are generated by the right in Japan and the left in South Korea, both of which are struggling with the political status quo in their own countries. Moon, a progressive, and Abe, a conservative, are the leaders best able to deliver the constituencies that would make reconciliation between the two countries meaningful. Both short- and long-term considerations should impel them to get started now.