Questions Remain as IEBC Declares Kenyatta Victor in Election Rerun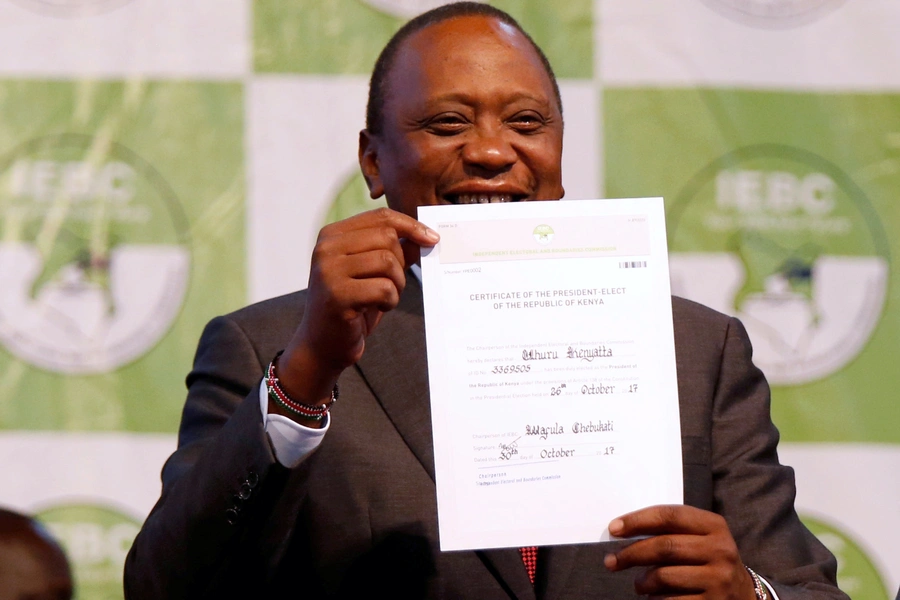 The Independent Electoral and Boundaries Commission (IEBC), the agency charged with conducting elections, on October 30 declared Kenyatta the victor in the second running of the 2017 presidential elections. It said that he had received about 7.5 million votes, 98 percent of the total ballots cast. Turnout appears to have been less than half of that of the August elections. (The October election was a rerun of the one in August, whose results were annulled by the Supreme Court because of unconstitutional procedural issues.) The leading opposition figure, Raila Odinga, claimed that the deficiencies of the August election had not been addressed, urging his supporters to stay away from the polls, which they largely did. This is likely the principal reason why the turnout was so low. Four counties in a region of Kenya that supports Odinga did not vote at all because of security issues. The electoral commission initially postponed the vote to the weekend, but has since cancelled, arguing that there could be no impact on the final results because Kenyatta's margin of victory was too great.
The elections were bloody, if not so much as those of 2007, when more than one thousand people were killed. According to human rights groups, the security services killed at least seventy Kenyans after the August polling. Western media quotes human rights groups as saying that at least another fourteen have died since the October election. 
Odinga has claimed that Kenyatta is attempting to establish a dictatorship, and, indeed, the latter has moved to curtail the involvement of the judiciary in future elections. In response, Odinga says that he is transforming his party into a "resistance movement." 
What happens now is unclear. Much depends on how Kenya's two "big men" choose to react. What does Odinga mean when he says that his party will be a "resistance movement" going forward? Will he challenge the results in the courts? For his part, will Kenyatta reach out to those Kenyans that are not Kikuyu or allied with them? Will he follow through on his attempts to limit the reach of the courts in election matters?  The answers are not clear, and the outlook is not promising. Thus far Kenyatta has resisted calls for dialogue with the opposition; Odinga has stopped short of urging his supporters to eschew violence. On the other hand, Kenya's new constitution appears to be popular, and the August elections below the presidential level appear to have gone well. 
These and other issues will be explored in a Council on Foreign Relations Expert's Brief that will be published shortly.