Remembering the Fallen on D-Day
More than two thousand five hundred Americans died on D-Day seventy-nine years ago today.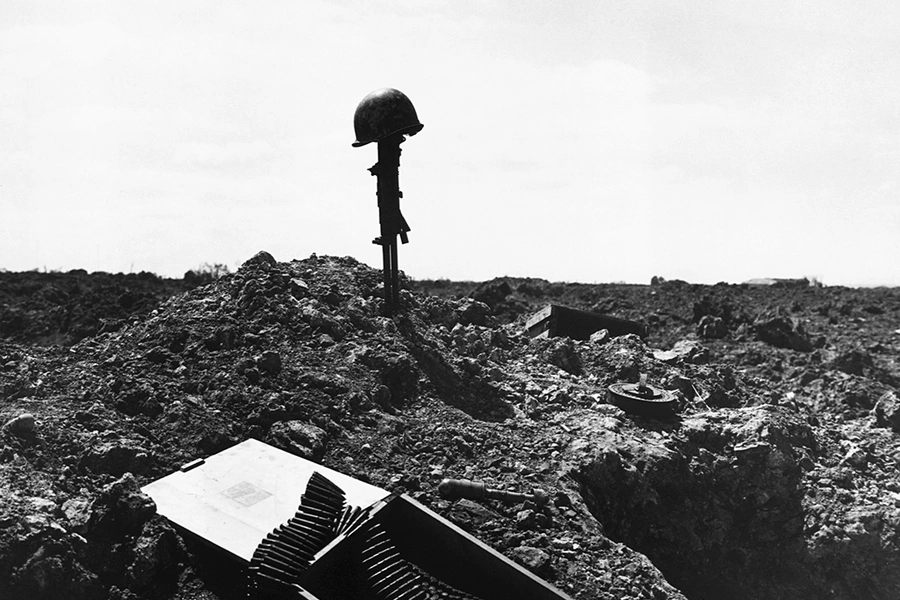 Today marks the seventy-ninth anniversary of Operation Overlord. Better known by its nickname "D-Day," it turned the tide in World War II. D-Day remains the largest amphibious military operation in history. The invasion involved 156,115 troops, 6,939 ships and landing craft, 10,440 aircraft, 450,000 tons of ammunition, and 17 million maps.
The invasion took more than two years to plan. U.S. President Franklin D. Roosevelt and British Prime Minister Winston Churchill first discussed a large-scale invasion of Europe shortly after the United States entered the war. Planning for the invasion took on urgency, however, only in December 1943 when Dwight D. Eisenhower was named Supreme Commander of the Allied Expeditionary Force. Four months later, the Allies rehearsed the invasion in Devon, England. "Operation Tiger" ended in disaster. More than seven hundred Allied servicemen were killed after German boats spotted and attacked their convoy. The disaster nonetheless taught Eisenhower and his staff important lessons.
The bravery and heroism that Allied forces displayed on D-Day storming the beaches of Normandy and scaling its cliffs remain the stuff of legend. Not surprisingly, Hollywood has tried to convey what those who fought at Normandy endured with films like The Longest Day, Overlord, and Saving Private Ryan, as well as in the TV series Band of Brothers.
The success of D-Day came at a high cost. Some four thousand Allied troops, including 2,502 Americans, didn't return home. They left behind mothers and fathers, aunts and uncles, brothers and sisters, wives and girlfriends, and sons and daughters. The temporary cemetery that the U.S. First Army created on June 8 is now the Normandy American Cemetery. To walk the paths of the cemetery amid row after row of graves is to gain a sense of just how much was given.
Thankfully, you can read the story of every American who fell on D-Day. Their stories are available because of the work of Don Milne, a retired bank employee from Louisville, Kentucky. He is leading a grassroots effort called Stories Behind the Stars to craft five-hundred-word obituaries for every one of the 421,000 U.S. military personnel who died in World War II. With nearly one thousand volunteers from all fifty states and more than a dozen countries, the project has so far penned the stories of more than thirty thousand service members, including all of those who died at Pearl Harbor. Stories Behind the Stars hopes to complete its task by September 2, 2025—the eightieth anniversary of the formal surrender of Japan onboard the battleship USS Missouri, which officially ended World War II.
If you would like to help write stories about the men and women who fell in World War II, please visit the Stories Behind the Stars volunteer page.