Roopa Kudva: Diverse Tech Start-Ups and Investors Are India's Future
India's entrepreneurs, investors, and philanthropists are increasingly representative of the country's diversity. They are playing a critical role in addressing India's problems.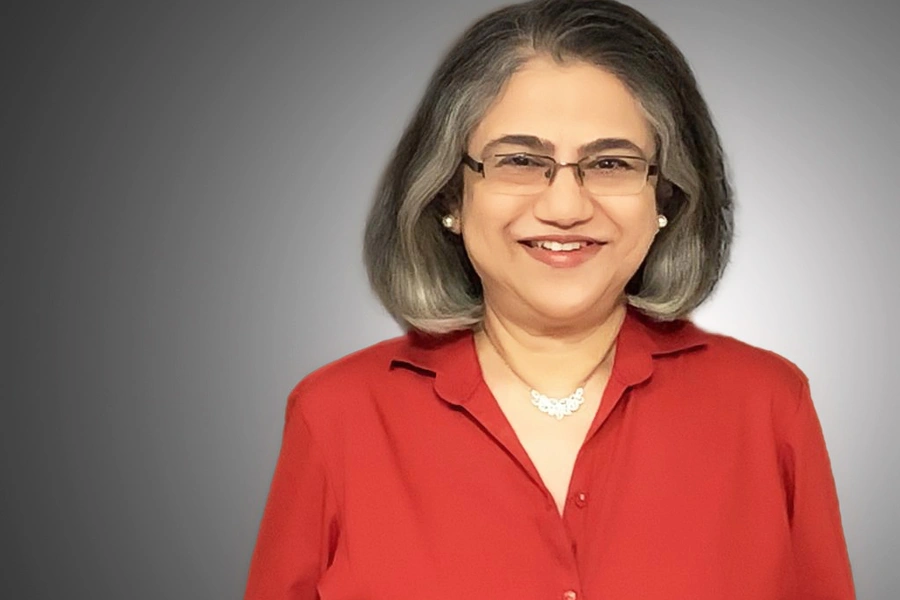 This interview with Roopa Kudva is part of the Asia program's Women You Should Know in India Project, produced by Senior Fellow Manjari Chatterjee Miller and Research Associate Zoe Jordan, featuring influential women in India's political, economic, technological, and social fields whose work matters for the U.S.-India bilateral relationship and India's relationship with the world. 
This interview was originally published on Asia Unbound.
Roopa Kudva leads Omidyar Network India (ONI), an investment firm focused on social impact. ONI invests in early-stage enterprises and provides grants to entrepreneurs in private, nonprofit, and public sectors. As Partner and Managing Director, Ms. Kudva is responsible for overall strategy, investments, operations, and portfolio development. During the COVID-19 pandemic, ONI initiated a Rapid Response Funding Initiative to enable many Indian organizations to bring relief to vulnerable populations. Prior to joining ONI, she worked at CRISIL, where she was Managing Director and CEO, and at Standard & Poor's (Paris) as Director. Her experience also includes serving as an independent director on several boards, including  Infosys, Nestle India and Tata AIA Life Insurance Company. She is a member of the Board of Governors of the Indian Institute of Management (IIM), Ahmedabad, from which she also holds a postgraduate diploma in management.
Ms. Kudva, who grew up in the Indian state of Assam, believes markets and market economies can be utilized to better the lives of people, and that investors and donors need to consciously weigh their social impact.
What do audiences in the United States commonly misunderstand about your fields of philanthropic investment and entrepreneurship in India? 
Despite being a "lower-middle income" country, India has the third-highest number of start-ups globally. India's innovators span the private, nonprofit, and government sectors. Additionally, India's experience particularly shows the crucial role that technology plays in social impact.
India's technology entrepreneurs demonstrate the potential of for-profit business models to serve lower and lower-middle income segments of society, particularly the five hundred million Indians who will come online for the first time by 2022, known as the Next Half Billion (NHB).
Tech-led start-ups are solving some of India's hardest problems. Agriculture-tech start-ups like Bijak are increasing farmer incomes by connecting them to buyers; education-tech start-ups like Doubtnut are building apps tailored to vernacular languages and local contexts; and geospatial analytic platforms like Transerve are addressing complex urban development problems like land records modernization.
India's NGOs too have adopted technology as seen in their response to COVID-19. We saw many frontline NGOs come up with data, apps, and other tech-led solutions such as deploying alternative methods of testing and contact-tracing.
Finally, India has made exceptional progress in innovating and building public digital infrastructure, enabling the government and businesses to reach the masses in ways not possible earlier. The digital infrastructure "India Stack" – which includes the Aadhar digital ID for every Indian and the Unified Payments Interface – as well as the expansion of banking services, has been the backbone of innovation. These platforms have allowed the Indian government to, for example, seamlessly send direct cash transfers to bank accounts during the pandemic.
What are the most consequential factors in your field that you think will play a role in India's relationship with the United States or the world over the next three to five years?  
Over the last decade or so, the impact investment industry has matured globally and become much more "mainstream." There is a growing trend among businesses—not just those in the "social sector" but also traditional corporations—to think about their social footprint more consciously. Mainstream venture capital funds are expanding beyond the upper- and upper middle-income segments of the population to fund entrepreneurs who serve the lower and lower middle-income segments.
The fundamental drivers behind this trend have been apparent for a while: stark inequalities in much of the world, looming transnational crises such as climate change and water wars, and a noticeable attitude shift among millennials who care deeply about their impact on society and the environment. The COVID-19 pandemic has undoubtedly accelerated these trends.
As this trend plays out, there is an incredible opportunity for foreign capital from the United States to participate in this next phase of India's development journey. Both return-seeking investments as well as philanthropic capital will have a role to play.
Over the next few years, I expect the formation of many new start-ups attempting to capitalize on the opportunity created by the NHB coming online. Importantly, tech platforms have the potential to make it easier to secure many basic rights for India's citizens, such as property titles and a safe and inclusive internet. Investors can support these platforms and push them to better serve their target audiences, scale innovative solutions, and address vital concerns such as inclusion, privacy, and agency.
What inspired you to pursue your career path? How does your personal background inform your work? 
I entered the workforce when India's economic liberalization process was getting underway. My own career, and that of my peers, benefitted tremendously from the rapid growth of the Indian economy and the opportunities it created for new organizations to innovate and grow. The last few decades have also generated unprecedented opportunities for women in the workforce.
I have now completed thirty-five years of my three-job career. I have had the opportunity to contribute to helping markets work better for people and have been lucky to lead two incredibly purpose-driven organizations. At CRISIL, our purpose was to make markets function better. At Omidyar Network India, it is to invest in bold entrepreneurs who help create a meaningful life for every Indian.
What is particularly inspiring about my current role is the opportunity to work with some of India's brightest minds who are working on the country's most difficult problems. They are at the cutting edge of issues that will determine India's future—from property rights to ed-tech, to digital health and data privacy. Today, the best minds are going into entrepreneurship, and their aspirations and ambitions are quite high. So I find this a really exciting space to be in.
Can you speak to the status of women in the work that you do?  
The representation of women in funding teams can be significantly increased. Since sourcing of investment opportunities is often through investors' networks, the choice of entrepreneurs and projects reflects the diversity (or lack thereof) of the investment teams themselves. Only 15 percent of senior investment teams in emerging economies like India are gender-balanced, and nearly 70 percent are all-male. It is important that these percentages improve, and rapidly. At my company, Omidyar Network India, approximately 45 percent of our overall team and 40 percent of our investment team members are women. But we are firmly committed to improving and have adopted a goal to reach at least 50 percent women in our investment teams.
While the "old-boy network" does still exist in the business community, there are plenty of examples of women leaders rising above that clique. There has also been an improvement in the representation of women in decision-making roles in business. At least in urban India, there is far greater support for working women professionals by their families today, and this is reflected in the gender composition of the workforce.
As a result, we have not only seen many women-centric business models emerge from India's start-up ecosystem, but also many that have been able to use a diverse customer base as a competitive advantage. For instance, Pratilipi, an online platform for self-publishing and reading content in many Indian languages, counts women as the majority of its twenty million monthly users. But women leaders also have to support other rising professional women. Through our work at Omidyar Network India, we meet and engage with many inspiring Indian women leaders.
But still there is some way to go towards making women equal "internet citizens." India's digital gender divide remains a harsh reality—nearly twice as many Indian men use mobile internet as compared to women. Women also use fewer features and services on mobile phones and are more constrained where they use mobile phones, for how long, and for what purpose. They often lack agency in making purchase decisions for smartphones. Removing these imbalances across genders represents an important imperative for the NHB to be able to fully leverage the power of the internet.
When you look at the state of investment, entrepreneurship and philanthropy what concerns you most or brings you hope? What are the most pressing priorities for you and your colleagues? 
The accelerating digital journey of the NHB in the aftermath of the COVID-19 pandemic will create opportunities for entrepreneurs and investors. At the same time, it will create opportunities for nonprofit entrepreneurs, particularly in ecosystem building efforts.
As I look ahead, one trend that particularly excites me is the changing face of the Indian entrepreneurs themselves in a changing India. They now represent the true diversity of India. They are increasingly from outside the metro cities, and even from rural areas, have been educated in "vernacular medium" institutions,[1] and are trying to solve problems that they themselves have lived through, such as lack of quality teachers or difficulties in accessing credit. Today's entrepreneurs truly epitomize the hustle of an aspirational India.
As far as the philanthropy ecosystem in India is concerned, it continues to make progress. Philanthropic contributions by corporations and high-net-worth individuals are increasing. However, there are still some challenges. Indian philanthropists donate a much smaller portion of their wealth relative to those in countries like the United States. There are also significant sectoral and regional concentrations. For instance, education and health care receive 75 percent of family-based giving in India. Critical sectors including environment, rural development, and citizen empowerment are underrepresented.
I am convinced that philanthropy can play an outsized role in the post-COVID recovery and reconstruction process. If funders are bold risk-takers, patient with their goals, foster trust with their investees, and able to be nimble (that is, keep in mind that things don't always go as planned), they can be truly catalytic.
[1] Editor's note: traditionally, education in English-medium schools rather than schools teaching in native Indian languages was considered to give a leg-up in securing employment.