Russia's Invasion of Ukraine May Drive a Wedge Between the West and Africa
The West needs to pay close attention to how they react to African countries' silence on the Russian invasion of Ukraine and avoid seeming patronizing and dismissive to neutral African nations.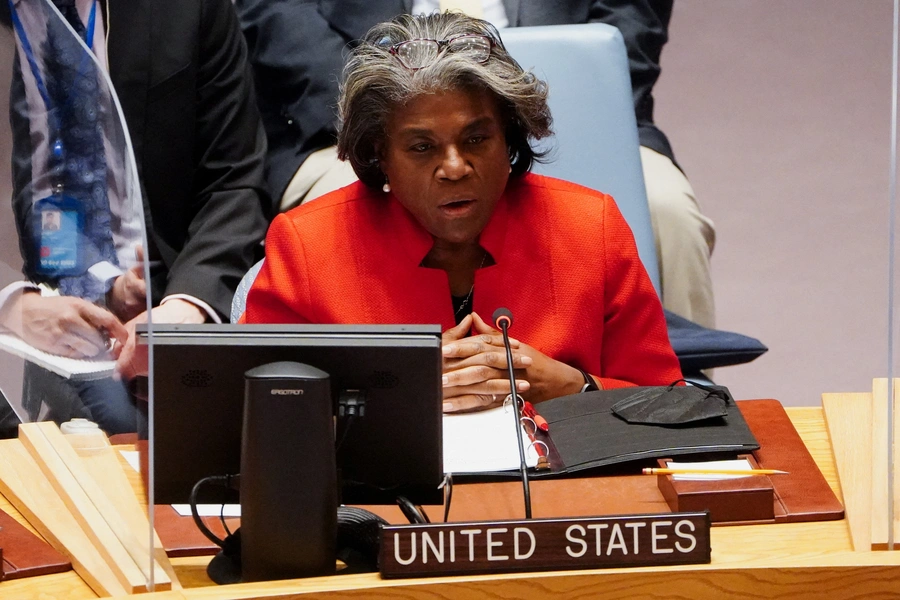 The apparent reluctance of many African countries to condemn Russia's invasion of Ukraine has caught many Western governments, diplomatic experts, and observers of Africa's international relations by surprise.
Although twenty-eight African countries voted in favor of the March 2, 2022, UN General Assembly (UNGA) resolution demanding that Russia "immediately, completely and unconditionally withdraw all of its military forces from the territory of Ukraine within its internationally recognized borders," notably, seventeen African nations abstained while no votes were recorded from another eight.
Unsurprisingly, Eritrea, whose leader Isaias Afwerki enjoys a close relationship with Russian President Vladimir Putin, and who has long staked out an anti-Western diplomatic stance, joined Belarus, North Korea, Russia, and Syria in voting against the resolution. In total, 141 (out of 194) UN member states endorsed the resolution.
Except for the speech by Kenya's Permanent Representative to the United Nations Martin Kimani vigorously affirming the sanctity of international borders and rejecting "irredentism and expansionism on any basis," African diplomats have largely maintained a studied silence, and, significantly, none of the twenty-eight supporters of the resolution, including regional powerhouse Nigeria, has come out to elaborate on its position. Nigeria only condemned the reported ill treatment of Nigerians and other African nationals seeking to leave Ukraine and promptly turned to arrangements for repatriating back home an estimated 5,000 Nigerian students caught up in the conflict.    
By contrast, most of the talking is being done by the leaders of countries which either opposed UN censure of Russia or abstained. Among the latter, President Yoweri Museveni of Uganda has alluded to Western "double standards" on the Ukraine conflict and spoken of his personal preference for Chinese diplomacy, which, he claims, steers clear of others' domestic affairs. Museveni has also spoken out in the past against Western interference in Africa.  
Museveni's son and heir apparent Lt. General Muhoozi Kainerugaba, who also leads the country's elite Special Forces Command, was less diplomatic, tweeting:
The majority of mankind (that are non-white) support Russia's stand in Ukraine. Putin is absolutely right! When the USSR parked nuclear armed missiles in Cuba in 1962 the West was ready to blow up the world over it. Now when NATO does the same they expect Russia to do differently?
Last year, following a complaint to the International Criminal Court (ICC) by lawyers acting on behalf of victims, the European Union (EU) Parliament recommended "sanctions against individuals and organizations responsible for human rights violations in Uganda." Kainerugaba and other senior Ugandan military commanders were named in the ICC complaint.
Museveni, who has held power for thirty-six years after toppling Tito Okello in 1986 and was re-elected for an unprecedented sixth term in January 2021, recently signed a $10 billion oil extraction and pipeline deal with France's TotalEnergies and the China National Offshore Oil Corporation.
Ploughing the same furrow, South African President Cyril Ramaphosa has criticized NATO's expansion into Ukraine and continues to echo Russian official position that it perceived "a national existential threat" from NATO.  
While South Africa is less economically dependent on Russia than other African countries, the South African political class perhaps feels indebted to Russia because of the former Soviet Union's support for the African National Congress during the Apartheid era.
Clearly caught off guard by the African response (African countries accounted for roughly half of the thirty-five abstentions), both the United States and EU countries have scrambled to engage with a cross section of the dissenting countries.
Given the considerable risk of confirming the very prejudices that those countries have been pointing to, how the West goes about it is extremely important.
Addressing the media last week, US Representative to the United Nations Ambassador Linda Thomas-Greenfield appeared to suggest that there is no room for neutrality on the Russian invasion of Ukraine. Responding to a question on the surprisingly large number of African abstentions, Thomas-Greenfield said:
I think what I make of it is that we have to do additional work to help these countries to understand the impact of Russia's war of aggression on Ukraine, and I think that we have done some of that work already in terms of engaging with those countries. I think many of them saw an abstention as being neutral, and there is no neutral ground here. There is no question. […] You cannot stand on the sidelines and watch the aggression that we see taking place in Ukraine and say you're going to be neutral about it.    
Thomas-Greenfield is indeed correct about the brightness of the moral line regarding Ukraine. It is wrong to invade the territory of a sovereign country, and an international system in which wars of aggression by powerful countries are condoned is dangerous for all, most especially relatively weak African countries.  
Yet, even in stating the obvious, tone and phrasing are key; given longstanding perception that powerful Western countries, and the United States in particular, do not always live up to their own moral rhetoric, the temper and manner of articulation become essential. In insisting on no neutrality, Thomas-Greenfield appeared to convey that African countries are not free to choose their own paths, even if those paths are morally execrable. Clearly, that was not her intention, but that she did not do enough to eliminate that inference is precisely the problem. In saying casually that "there is no question" in a context teeming with questions, Thomas-Greenfield came across as dismissive. Finally, indicating that the United States has to "do additional work to help these countries to understand the impact of Russia's war of aggression on Ukraine" not only smacks of hubris, it paints a picture of African countries as moral adolescents who require Western supervision in order to understand and do what is right.
That the United States and EU offer greater economic advantage to African countries goes without saying. As Thomas-Greenfield notes, while "Russia's bilateral trade with sub-Saharan Africa is about $7 billion dollars in 2021, […] what they are getting in terms of trade between the United States and Europe is somewhere around $44 billion."
That many African countries still opted to abstain despite this suggests that what is at stake for them goes beyond economic calculations.
Setting aside their understandable frustration, it is important that the United States and EU countries appreciate the contours of a changing geopolitical and African diplomatic landscape in which the reaction of African countries to international events can no longer be taken for granted. In this dynamic environment, whether in nurturing old alliances or cultivating new ones, the United States and EU must learn to sound less imperious, realizing that the emergence of new powers on the international stage means that African countries now have more diplomatic options than before.     
In doing so, the West ought to take comfort from the fact that in many of the abstaining countries, majority of the young people continue to be broadly sympathetic toward the West and western values. In Nigeria, at least 115 young men apparently responding to Ukrainian President Volodymyr Zelensky's call urging people around the world to join Ukrainians in repelling Russian invasion fight showed up at the Ukraine Embassy in Abuja to enlist.
At the same time, the West should not relent in exposing the apparent hypocrisy and opportunism of African leaders who use the argument of Western interference in others' domestic affairs as a smokescreen to perpetuate themselves and members of their families in power. Here, alliances with local, regional, and transnational civil society organizations, pro-democracy groups and social movements are key.
The apparent rift between Africa and the West on the war in Ukraine is neither inevitable nor irreparable. The West just needs to learn that it is no longer business as usual.