A Scorecard for Dr. Tedros as the WHO's Director-General
Tedros's first year as Director-General of the WHO demonstrated his vision, leadership, and ability to seize an opportunity for action. However, concerns remain regarding his willingness to balance public health with governance and human rights challenges.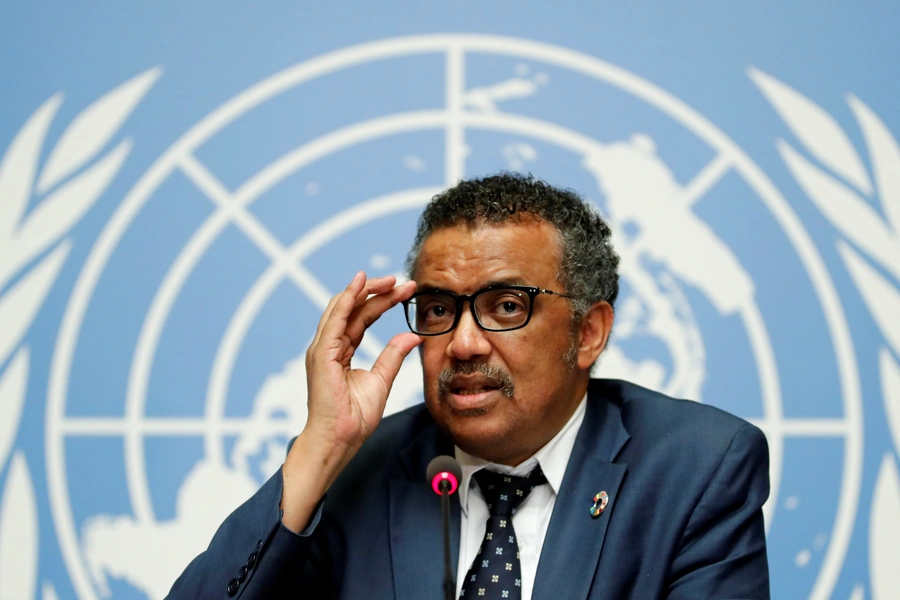 The following is a guest post by Yanzhong Huang, adjunct senior fellow for global health at the Council on Foreign Relations.
One year ago, at the seventieth World Health Assembly (WHA), Dr. Tedros Adhanom Ghebreyesus was elected the director-general of the World Health Organization (WHO). Tedros's election made history not simply because he was the first African to lead the WHO. He assumed the top post of the international health agency through a direct vote by all member states, which bestowed him with a clear mandate to implement his policy priorities. On May 21, 2018, the day the seventy-first WHA kicked off, the Council on Foreign Relations' global health program hosted a roundtable event on the WHO and WHA. In addition to examining this year's WHA agenda, the meeting sought to address the following questions: What has Tedros achieved in the past year? Are there any things he could do differently? What kind of global leadership is Tedros's WHO providing in light of the sustained global health security challenges and the rollout of the sustainable development goals?
In his inaugural address last year, Tedros confirmed four policy priorities: universal health coverage (UHC); health emergencies; health for women, children, and adolescents; and the health effects of climate and environmental change. He was not just paying lip service. They are now elaborated on in a new strategy called the Thirteenth General Programme of Work for 2019–2023 (GPW-13), which will guide the WHO agenda for the next four years. GPW-13 centers on the "triple billion" targets: one billion more people benefiting from UHC, one billion more people better protected from health emergencies, and one billion more people enjoying better health and well-being. The new initiative demonstrates his vision and ability to seize opportunities for WHO leadership when "a new world health era" is taking shape with growing demand for social protection and transformation toward the progressive realization of UHC.
Under Tedros, the WHO has also improved its handling of public health emergencies. According to a new report, WHO's newly created health emergencies response structure is now aligned across the three levels of WHO (headquarters, regional offices, and country offices), while new tools have been introduced to help WHO decision-makers to better coordinate responses. Compared to his predecessors, Tedros appears to be more on top of emergency situations. On May 13, he visited Bikoro (the town in the north-west of the Democratic Republic of the Congo) to assess the response to the ongoing Ebola outbreak. This, according to global health watcher Laurie Garrett, was the first time a WHO DG went into the midst of an active and fatal epidemic. 
With both public health and diplomatic experience, Tedros has also demonstrated his ability to reach out to different parties and build partnerships. Recently, Tedros recruited Dr. Sania Nishtar, one of his opponents in the DG election, to chair a high-level WHO commission on non-communicable diseases. Tedros and World Bank President Jim Yong Kim co-led the creation of the Global Preparedness Monitoring Board, a new mechanism to strengthen global health security through stringent independent monitoring and regular reporting of preparedness to tackle public health emergencies. He has also been more skilled than his predecessor has in using social media to communicate with various parties. Since September 2010, he has tweeted 17,000 messages—about six a day—and is followed by 329,000 people and organizations. In doing so, he has built a reputation as a good listener. When Women in Global Health, an international NGO, expressed concern on August 26, 2017, that there were no women on his senior team, he immediately acknowledged it was a problem, and in October announced a new leadership team in which more than 60 percent are women.    
WHO internal governance reform, which is crucial for WHO efficiency, transparency, and accountability, however, is absent from this year's WHA agenda. Tedros talks about "transforming the WHO," but he seems to have quietly abandoned Margaret Chan's reform agenda. Tedros's reform agenda, if any, focus on improving WHO emergency response capacities only, despite tremendous problems in WHO's internal management (e.g., a balance of staff skills, accountability) and funding structure. Tedros indicated that reform in these areas was not necessary, saying in his inaugural address that "I do not believe in perpetual reform and I think WHO staff are reformed out."
Other developments also raised concerns about Tedros's willingness to balance public health on the one hand, and governance and human rights, on the other. Last October, in a move that shocked governments and global health observers, he personally announced the appointment of Zimbabwe strongman Robert Mugabe as a WHO Goodwill Ambassador for Health. Amidst widespread international outcry, Tedros quickly rescinded his decision. This might just be an example of bad judgment. However, what has transpired more recently might confirm his critics' suspicion regarding his lack of interest in governance or human rights in pursuing the WHO agenda. For the second year in a row, the WHO Secretariat—apparently under pressure from mainland China—did not invite Taiwan to observe this year's WHA. In addition, on the opening day of the WHO, Rwandan President Paul Kagame touted his efforts in achieving UHC as an example to other African countries, although he is also accused of using the success of his healthcare policy to shadow his authoritarian rule and widespread human rights abuses.
To be fair, what Tedros did with authoritarian leaders was not unusual. Former WHO DG Margaret Chan once said that North Korea's health system would be the envy of many developing countries because it had no shortage of medical staff. After all, the WHO decision-making is a member state-driven process, which may have constrained his freedom in changing the way WHO does business. Nevertheless, let us hope Tedros is not going to face a steep learning curve in his capacity as WHO chief in the coming four (if not nine) years.