Sharone Tobias: Why Did China Release an Israeli-Palestinian Peace Plan?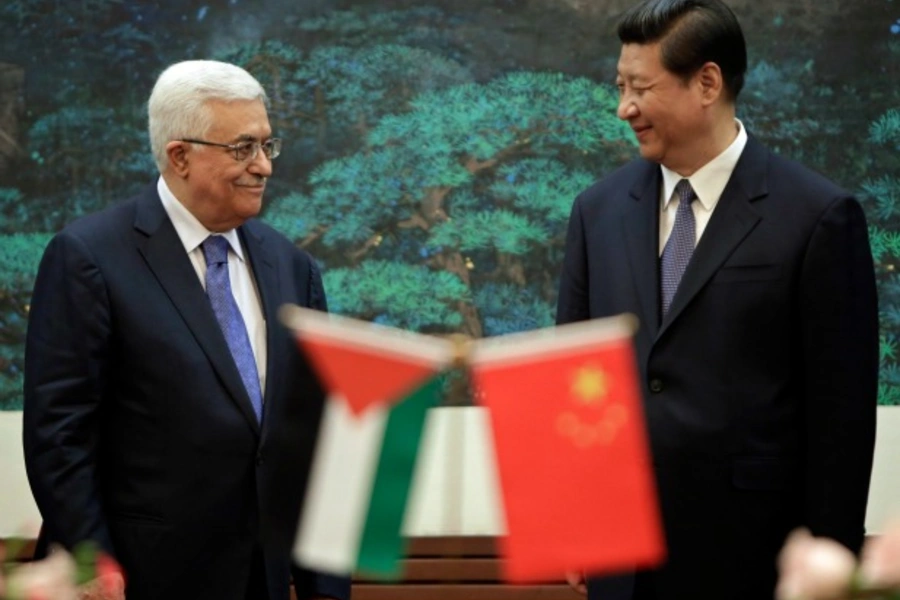 Sharone Tobias is a Research Associate for Asia Studies at the Council on Foreign Relations.
Beijing traditionally has been wary of involving itself in affairs that do not directly relate to its own security. It has taken a non-interventionalist stand on most international issues, from Iranian nuclear proliferation to genocide in Darfur to the Arab Spring, much to the dissatisfaction of the West. Even when Beijing has engaged in international conflict negotiation--for example, releasing a four-point plan for the Syrian conflict last year--it has been half-hearted and under international pressure. But last week, when both Palestinian President Mahmoud Abbas and Israeli Prime Minister Benjamin Netanyahu (separately) visited China, Xi Jinping surprised everyone by releasing a four-point peace plan for the Israeli-Palestinian conflict. The plan received much fanfare in the Chinese press, even though it is conservative and unimaginative--it calls for an independent Palestine built along 1967 borders, as most peace plans do. The plan is more notable for its context rather than its content.
There are several reasons why China might want to engage in the peace process now. First, there has been a relative power vacuum in the Middle East. The Obama administration has been markedly less involved in the Israeli-Palestinian peace conflict than George W. Bush. The main reason for this is the obvious distrust between Obama and Netanyahu; however, America's pivot to Asia also plays a role, as it has put Israel lower on the list of foreign policy priorities. Beijing might see this vacuum as an opportunity to become more involved in a region of vital importance to its energy security.
Second, Chinese relations with many of its neighbors have soured, and international diplomatic initiatives may help China regain some of its international appeal. Only a few years ago, pundits were discussing China's trade incentives, cultural exchanges, and no-strings-attached aid as part of a "charm offensive;" today, the phrase is all but forgotten, replaced by "belligerence." As Chinese relations with Japan, South Korea, Southeast Asia, and the United States worsen, it is well worth their while to get involved in a low-stakes diplomatic effort to charm countries further from home. In particular, Beijing might be interested in bettering relations with Persian Gulf countries, at a time when China is ever-more dependent on Middle Eastern oil. Supporting a freeze on Israel's settlements in the West Bank and an independent Palestinian state is beneficial to China's image with the public as well as the ruling elite in that region. As the United States moves towards greater energy independence, China now imports nearly half its oil from the Persian Gulf, a number that is likely to rise in the next decade.
Finally, and most importantly, Beijing may be ready at last to give up its national image as the underdog. China has historically viewed itself as a victim of international colonialism and oppression, stemming from what it calls the "one hundred years of humiliation" at the hands of Japan and the West, beginning with the Opium Wars and continuing through the end of World War II. As a pro-Palestine opinion article in the state-run Global Times asserted, "China is no longer a weak country to be bullied by imperialist powers as it was more than a century ago, but an economic and military power capable of claiming what is rightly China's. This is justice, and China wants to see justice served in the international arena." Supporting a peace deal could be part of China's "coming out" as an international power, ready to stand on the world stage alongside the United States as a major diplomatic force. China released its four-point plan on Syria under great international pressure and without much conviction. But this time, China took initiative, with Xi personally announcing the plan, and seemed genuine in its offer to facilitate a meeting between Netanyahu and Abbas on Chinese soil.
The Chinese peace plan is unlikely to take root in any future Israeli-Palestinian negotiations. Abbas thanked Xi for his plan but did not engage further. Netanyahu politely shrugged off the plan in favor of discussing trade issues and Iran; the Israeli government has no incentive to include yet another party in the moribund peace talks, especially one with a history of supporting Palestinian independence groups. But Beijing's peace plan is still of symbolic significance, representing a shift from victimhood to a country that wants to place a leadership role in issues of global importance far beyond its periphery.