Singapore Summit: The Meeting Is The Message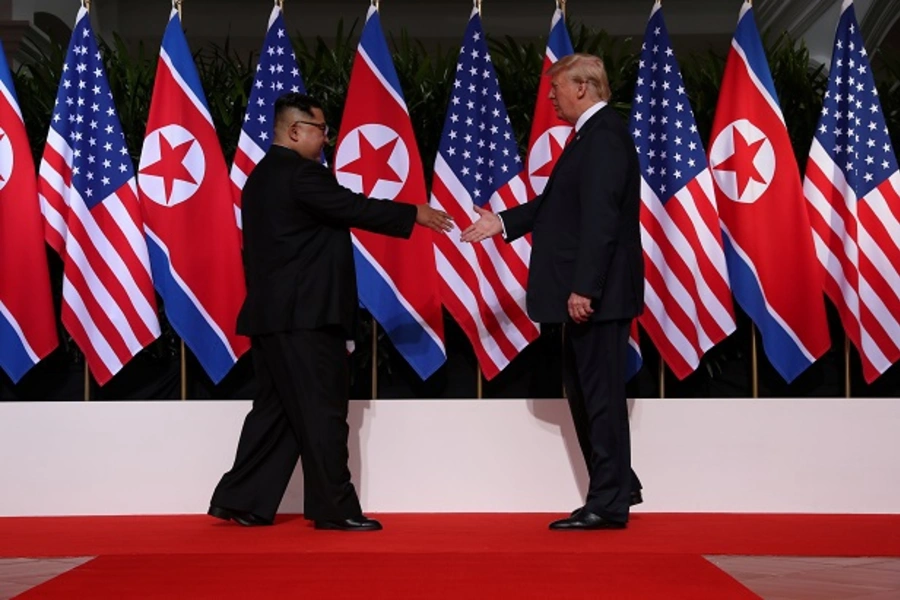 Donald J. Trump and Kim Jong Un changed the trajectory of the U.S.-North Korea relationship from confrontation toward cooperation and provided dramatic images of reconciliation with their well-hyped June 12, 2018 summit meeting in Singapore. This meeting has bought time to address North Korea's nuclear threat and reduced the risk of near-term military conflict. But the four points of the joint statement signed by the two leaders underscored the magnitude and difficulty of the work remaining to be done.
The document signed by the two leaders for the first time envisioned a normal relationship between the United States and North Korea and reiterated Kim Jong Un's commitment first made to South Korean President Moon Jae-in in the April 27, 2018 inter-Korean Panmunjom declaration to "complete denuclearization," and pledged to renew joint work toward prisoners of war/missing-in-action (POW/MIA) recovery of remains from the Korean War. It also authorized a process of follow-on negotiations to be led by Secretary of State Mike Pompeo and a North Korean counterpart.
By normalizing Kim Jong Un as an actor on the world stage, by pledging efforts to establish "new U.S.-DPRK relations," and by pledging to curtail U.S.-South Korea joint military exercises, Trump has moved dramatically in the direction of meeting longstanding North Korean demands to end the "hostile relationship" between Washington and Pyongyang and offering security guarantees as a requirement for denuclearization.
But Kim Jong Un does not appear to have reciprocated U.S. concessions. This is concerning given North Korea's track record of pocketing concessions rather than delivering quid pro quos. North Korea reiterated an aspiration to achieve "complete denuclearization" and pledged to destroy a missile engine test site, but the timeline and scope of such a process are not clear. In this respect, the United States appears to have given more than expected, while there are no concrete North Korean actions envisioned that might validate Kim Jong Un's seriousness of purpose to denuclearize. Meanwhile, Kim Jong Un is being normalized on the international stage despite North Korea's status as an illegal nuclear weapons state.
The joint statement did not directly address North Korea's missile development, chemical and biological weapons programs, or human rights situation, underscoring the limited time and progress made during technical negotiations. Likewise, U.S. and UN sanctions will stay in place pending tangible progress toward complete denuclearization, although no additional U.S. sanctions will be added. But the symbolism of the meeting ensures that the maximum pressure campaign has peaked and that, in practice, China and South Korea will push for relaxation of economic pressure on North Korea.
Nor did the U.S.-North Korea joint statement provide any sense of linkage to the processes between peace and denuclearization or to inter-Korean commitments outlined in the April 27, 2018 Panmunjom declaration. All these issues must go onto the agenda of the Pompeo-led process to come, but the likelihood of rapid progress is not high given the apparent vagueness of the commitments contained in the joint statement between the two leaders.
Despite the drama and historic nature of the meeting, the outcome did not live up to the hype. As a result, Trump faces a huge challenge in selling a turn in U.S.-North Korea relations as an historic accomplishment. The best way to do that will be for Pompeo and his team to roll up their sleeves and get back to work, together with our allies, to make a real peace on the Korean peninsula.