South Asia Reads: Coronavirus Edition
Welcome back to South Asia Reads. This week, we've prepared an update on developments in each South Asian country, from Afghanistan to Sri Lanka, regarding the coronavirus pandemic (COVID-19).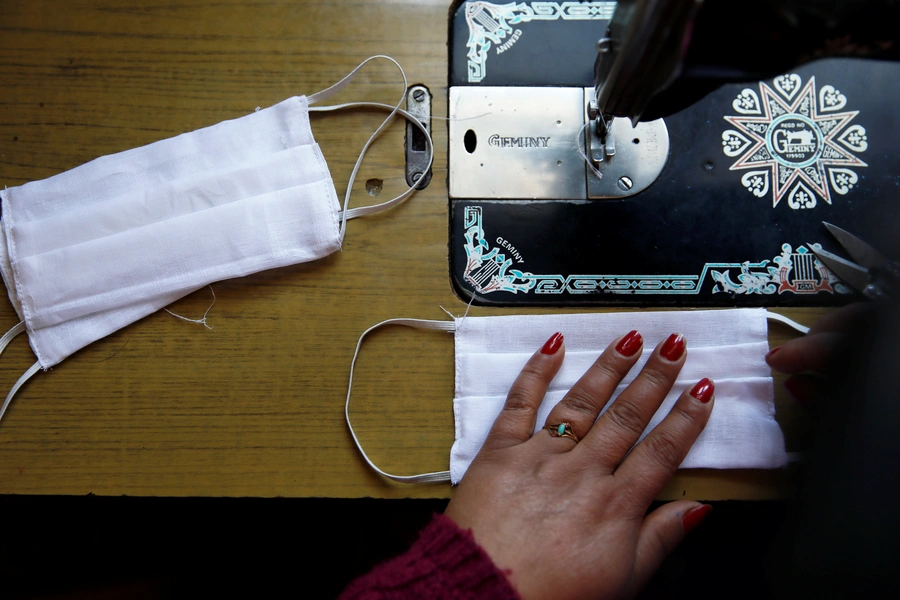 Read the latest here: "Coronavirus in South Asia, April 15, 2020: India, Pakistan, and Others Extend Lockdowns; Surge in Bangladesh."
South Asian leaders meet virtually, discuss coronavirus: Seven heads of government in South Asia, plus a senior Pakistani health official, discussed a joint regional response to coronavirus via video conference on March 15, the first meeting of the eight-member South Asian Association for Regional Cooperation (SAARC) in six years. Indian Prime Minister Narendra Modi proposed the videoconference and offered $10 million to start a voluntary emergency fund and share disease surveillance software for use in other member states. Bangladeshi Prime Minister Sheikh Hasina offered to host a regional public health institution. Many public health experts fear that overburdened healthcare systems in South Asia will not be able to cope with a major outbreak.
India closes most border crossings: India's health ministry announced 137 cases as of 5pm on March 17; 113 are Indian citizens and 24 are foreign nationals. A third COVID-19 death occurred on March 17 in Mumbai. On March 15, U.S. Secretary of State Mike Pompeo discussed U.S.-India cooperation on a response to coronavirus with his counterpart, External Affairs Minister S. Jaishankar, by telephone. The Indian government announced March 14 that it would funnel land border entry through just twenty checkpoints with medical screening facilities on its borders with Bangladesh, Nepal, Bhutan, Myanmar, and Pakistan. Only Indian, Bhutanese, and Nepali citizens will be allowed to enter; with a handful of exceptions, nearly all visas to enter India—by land, air, or sea—were suspended from March 13 to April 15. Furthermore, on March 16 India prohibited all passengers, including Indian passport holders, residing in the European Union, United Kingdom, and Turkey from boarding India-bound flights.
On March 13, India declared it would regulate the production, distribution, and prices of masks and hand sanitizers. In early March a government directive limited the export of some pharmaceutical ingredients, notable because of India's role as a global producer of generic drugs. How this will affect global supplies of antibiotics and other pharmaceuticals remains unclear. Under India's federal system, state governments have broad authority to take independent measures, and many have closed movie theaters, schools, and stores.
India evacuated nearly four hundred of its citizens from Iran between March 10 and 15, and has evacuated hundreds of others from Italy and China. India has also provided assistance to other countries in South Asia and the Indian Ocean region by including foreign citizens in its evacuations, and by sending a medical team and supplies to countries like the Maldives.
Severe outbreak in Pakistan: The number of cases in Pakistan is at least 212, the highest number in South Asia, and rising quickly. The vast majority appear to be in the southeast province of Sindh. Sindh is home to many Shia Muslims who had recently returned from Qom, an Iranian pilgrimage site and epicenter of the outbreak in that country. To better screen the virus, on March 13 Pakistan announced all incoming international flights would be routed through Karachi, Lahore, and Islamabad, sealed off its land borders, and banned large public gatherings such as weddings and cricket match audiences. Dawn is keeping track of Pakistan's actions to tackle the outbreak here.
U.S. assistance for Bangladesh: USAID has pledged $2.5 million to the World Health Organization, nonprofits, and an American university to fund and support Bangladesh's response to coronavirus, announced the U.S. embassy in Dhaka on March 12. USAID is also funding efforts in Pakistan, Afghanistan, and Nepal. On March 16, aviation authorities allowed a plane carrying 304 Bangladeshis, including almost one hundred from Italy and Germany, to land in Dhaka despite government restrictions against entries from Europe. The government recently announced a mandatory two-week quarantine for all Bangladeshis returning from abroad. Bangladesh has five confirmed cases.
Afghans return from Iran: Afghanistan has at least twenty-two cases of coronavirus—likely many times higher given the lack of testing—and the war-torn country is at serious risk. Tens of thousands of Afghans are returning to the province of Herat from neighboring Iran, which has been hit particularly hard by the virus, despite requests to Iran to stop the influx of people. RFE/RL reports that Iran is home to more than three million Afghan students, migrant workers, and refugees. Afghan hospitals do not have the capacity to hold, let alone treat, thousands of cases in the likely event of an outbreak—and there is only one laboratory that can test for the virus. Afghanistan's public health ministry plans to acquire fifty thousand testing kits and its government has promised $25 million to respond to the virus, but equipment is running low. Meanwhile, hundreds of U.S. soldiers returning from Afghanistan are being quarantined in Fort Bragg, North Carolina.
Tourism in Nepal takes a blow: Nepal's economy faces rocky weeks ahead because of the collapse in tourism. Regional and global disruptions to tourism have a disproportionate impact on Nepal, where the tourism sector contributes 7.9% of the nation's GDP and 6.7% of total employment, according to the World Travel and Tourism Council. India's visa suspensions have dissuaded many tourists from around the world from visiting its neighbor in the Himalayas, and the government of Nepal stopped issuing on-arrival tourist visas on March 13 and suspended all mountain climbing trips, including on Mount Everest, for the rest of the season. Nepal has identified one case of coronavirus so far, but in mid-February evacuated 175 citizens (mostly students) from Wuhan.
Public holiday in Sri Lanka: Sri Lankan authorities announced that there are forty-three confirmed cases of coronavirus in the country, up from nineteen cases the day before. The health ministry is also observing dozens more suspected cases in hospitals. In an attempt to slow the spread of the virus, the Sri Lankan government banned all incoming international flights for two weeks, starting March 17. The government announced a public holiday on March 16, closing businesses and stores, and extended the holiday until March 19. Schools and universities across the island are closed for weeks.
Back to zero in Bhutan: Bhutan has had only one case of coronavirus, an American man who tested positive on March 5 and was evacuated to the United States on March 16. Bhutanese authorities have indefinitely suspended tourist entries and all travelers entering Bhutan must spend two weeks at a designated quarantine center. Prime Minister Lotay Tshering said the country has enough medical equipment to handle forty cases of coronavirus, and five thousand testing kits.
Strong measures in the Maldives: On March 12, the Maldives declared a state of public health emergency for thirty days. The archipelago nation of just half a million people reports thirteen cases of coronavirus as of March 17. The Maldives converted one abandoned luxury resort, Villivaru, into a quarantine zone. The Maldives has taken strong recent measures to counteract the virus, including banning people from entering public grounds and parks in the Male region, suspending all travel between resort islands and inhabited islands for two weeks, and ending hotel check-ins for new guests. These restrictions are a tremendous sacrifice, as nearly one-quarter of the nation's GDP comes from foreign tourism, especially from China and Europe.