The Strategic Implications of Malaysia's Election Stunner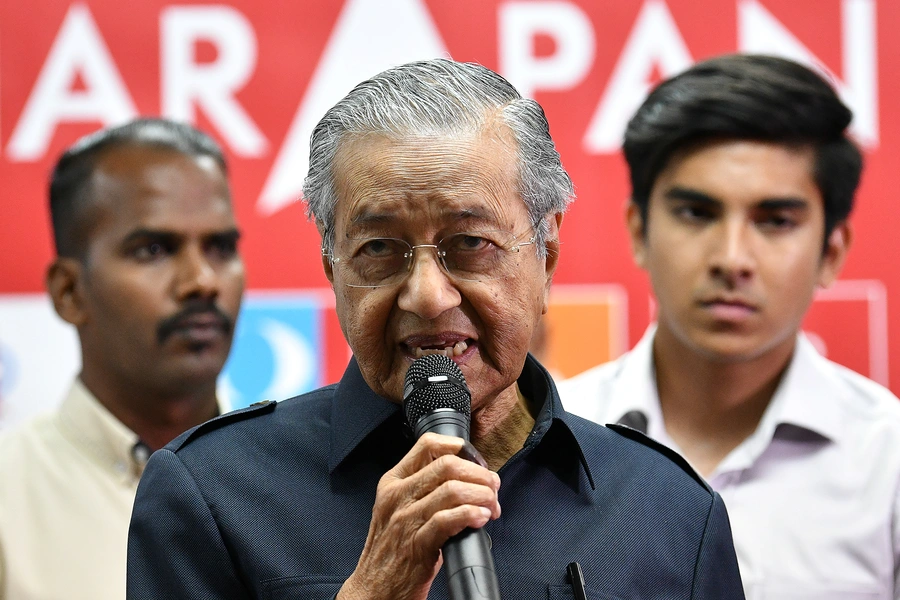 By Richard Javad Heydarian

Malaysia's recent national election was a stunner for many reasons. Not only did the election return a nonagenarian to power, but it also ended the six-decades-long one-party hegemony of Barisan Nasional (BN). For the first time in Malaysia's post-independence history, the opposition is in power. Crucially, long-time opposition leader and democracy activist Anwar Ibrahim has been pardoned and released from prison, enabling him to eventually take the helm of the Malaysian state, paving the way for deep political reforms.

Yet Mahathir Mohamad's return to power is not only potentially transformative for Malaysian domestic politics. It also has far-reaching strategic implications. First of all, Malaysia may revisit its increasingly cordial, if not acquiescent, bilateral ties with Beijing, which heavily invested in upgrading relations with the previous Najib Razak administration.

Similar to the case of the Philippines during the Benigno Aquino III administration, domestic anticorruption initiatives in Malaysia could have a significant impact on external relations with China. Former President Aquino III's good governance reforms primarily targeted Beijing-backed projects launched under the Gloria Macapagal-Arroyo administration. These anticorruption efforts against China-backed projects, along with Aquino III's tough South China Sea policy, led to an overall deterioration in Philippine-China bilateral ties, which reached its apotheosis in 2016 as the Philippines won a decision at an international tribunal in The Hague against Beijing's claims to an expansive "nine-dash line" of territory in the South China Sea.

Malaysia under Mahathir may quickly implement anticorruption reforms; he has already apparently barred Najib from leaving the country, and vowed that the government will reopen investigations into the 1MDB state fund scandal. A major issue driving the Mahathir-led Pakatan Harapan coalition victory was the nationwide uproar against the 1MDB corruption scandal.
The former prime minister and his associates have been accused of embezzling as much as $1 billion from the state fund. The 1MDB debacle also sparked international investigations into the Najib government, as the United States, Singapore, and Switzerland, among other countries, froze accounts and launched investigations against Malaysia's investment fund body.

But as Western governments began threatening criminal probes against top Malaysian officials, Najib began to fortify strategic and economic relations with China, which became a key source of investments for Malaysia. And the former prime minister was unapologetic about it.

As the new Mahathir government moves towards potentially prosecuting Najib after placing him under a travel ban, greater scrutiny of Chinese investments could be coming. Before the election, Mahathir complained about the potential for rising housing costs for Malaysians triggered by an expansion in real estate projects by Chinese companies, and a potential influx of Chinese property buyers. "Here we gain nothing from the [Chinese] investment… [W]e don't welcome that," he recently lamented. Mahathir also has repeatedly expressed concerns about over-reliance on Chinese technology, engineering and labor for Malaysian infrastructure projects. Among China-led projects that could be reconsidered is the $13 billion East Coast Rail Link (ECRL) railway, connecting Kuala Lumpur with less developed eastern regions. Mahathir has indicated that he may scrap the whole project. He has also warned about the threat of a debt trap, citing the case of Sri Lanka, which was forced into humiliating debt-for-equity deals with China due to its inability to repay ballooning debts to Chinese state firms.

Secondly, Mahathir likely will take a stronger stance against China's growing strategic assertiveness across Southeast Asia. Under the Najib administration, Malaysia remained reticent to openly highlight Beijing's behavior in the South China Sea, eager to maintain booming economic ties with China.

Under Mahathir, Malaysia's policy of strategic acquiescence toward Beijing could change. Unlike Najib, Mahathir seemingly views China as a potential strategic threat. He has described the Xi administration as "inclined towards totalitarianism" and increasingly belligerent, a government that "like[s] to flex [its] muscles" and "increase [its] influence over many countries in Southeast Asia" in a "very worrisome" manner. Mahathir further has warned against growing militarization of the South China Sea, where Malaysia is one of the four Southeast Asian claimant states.

Malaysia is currently occupying multiple land features, including the Swallow Reef, a reclaimed island with its own naval base. Historically, China has been less assertive within Malaysia's exclusive economic zone in the South China Sea than it has been in the economic zones of the Philippines and Vietnam, due to cordial bilateral relations with Malaysia. In recent years, however, Chinese navy and coast guard have been more active within Malaysia's exclusive economic zone in the area. Nonetheless, the Najib administration adopted a softer tone than other Southeast Asian states such as Vietnam and the Philippines, which filed an arbitration case against China.

Finally, Mahathir could place his country, once again, at the center of Southeast Asian affairs, where senior, high-profile figures tend to play an outsized role in setting the regional agenda.
In fact, the Association of Southeast Asian Nations (ASEAN) regional organization largely owes its existence as well as peaceful evolution over time to the efforts of powerful, often domineering regional leaders like former Singapore Prime Minster Lee Kuan Yew as well as Mahathir during his previous two-decades-long stint as Malaysian prime minister from the 1980s to early 2000s Mahathir shaped ASEAN's relations with great powers, including China, and its response to regional economic and strategic crises, especially the 1997 Asian Financial Crisis.

Mahathir's return to the center of power in Malaysia could also provide leadership and foster internal coherence within ASEAN, which has increasingly lost its way in recent years due to in-fighting among member states and the growing influence of China in Southeast Asia.

Mahathir is expected to build on the efforts of his predecessors, who managed to improve historically tense relations with neighboring Singapore, the current chairman of the ASEAN, over the past two decades. His personal gravitas, as a regional elder statesman, could also mean greater deference among his significantly more junior colleagues in the regional body.

In recent years, Philippine President Rodrigo Duterte has a dominant figure within ASEAN. Yet Duterte has been mired in controversy, coming under fire for his human rights record and, especially, too cozy relations with China. Last year, with the Philippines holding the organization's rotating annual chairmanship, ASEAN kept largely silent over South China Sea disputes as well as the Rohingya crisis in Myanmar, probably the two largest regional challenges. As a result, ASEAN often appeared irrelevant in shaping regional affairs.

Notwithstanding his age (ninety-two years old) and his need to focus on domestic political challenges including the 1MDB scandal, rising inequality, and rebuilding political institutions, Mahathir's return to the stage could give more purpose and substance to the ASEAN. Throughout the decades, Mahathir has been a constant fixture in regional meetings, seen as a regional bigwig and an indispensable source of strategic wisdom across Southeast Asia. Indeed, it is likely that Malaysia's prime minister will once again try to leverage his influence within ASEAN to advance not only his country's interests, but also make the regional body a more relevant player in addressing key challenges, including in the South China Sea. Mahathir's unlikely and stunning return could be not only a game changer domestically, but for the whole Southeast Asian region.

Richard Javad Heydarian is a nonresident fellow at ADR-Stratbase Institute, Manila, and the author of The Rise of Dutere.