Taiwan Confronts A Serious Vaccine Shortage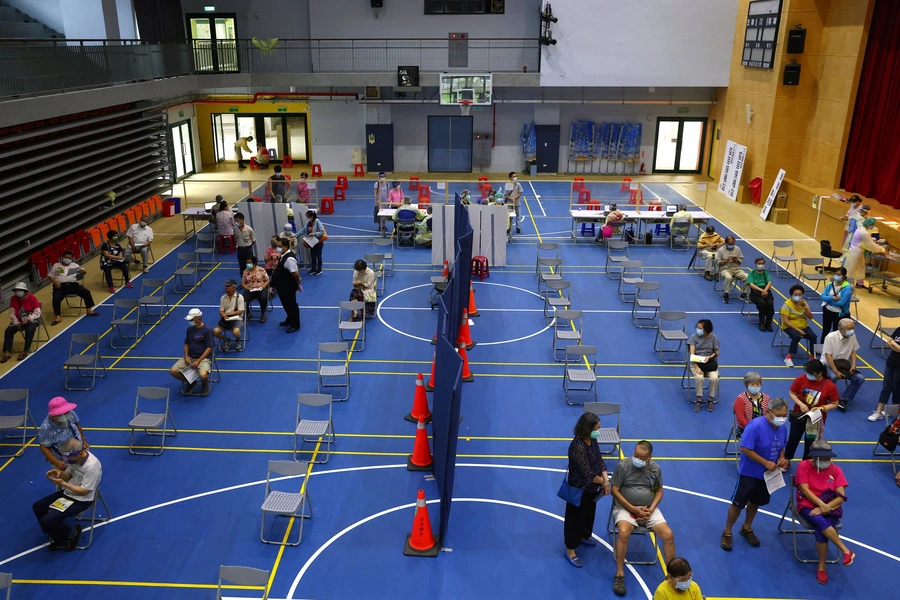 Roman Shemakov is currently a Henry Luce Scholar in Taiwan and coauthor of The Digital Transformation of Property in Greater China: Finance, 5G, AI, and Blockchain.
In a matter of a month, the stability that separated Taiwan from the global tumult of the past year has been brought to an end. A deadly train crash that killed forty-nine, the worst drought in four decades, and intermittent power outages that would normally dominate Taiwan's headlines for much of the year have taken a back seat to the biggest outbreak of COVID-19 infections in Taiwan since the pandemic started. Only a mass vaccination campaign can fully resolve the ongoing pandemic. For the past month, Taiwan's quest to purchase vaccines has been supported by the United States and Japan, and impeded by China and divisive local politics.
For the past year and a half, Taiwan successfully prevented mass community spread of COVID-19 and had been touted as a global success story. Despite widespread lockdowns across the world, Taiwan became one of the few places to remain open, with its economy still growing by 3 percent in 2020. In addition, the island lent tens of millions of shipments of critical personal protective equipment to countries across the world.
The eighteen months of relative normalcy in Taiwan ended due to general complacency. Cross contamination at a quarantine hotel for local pilots led to three weeks of unnoticed community spread. Unprepared hospitals lacked the proper space for infected patients. Lack of testing infrastructure caused diagnosis delays and week-long backlogs of cases. As a result, some Taiwanese victims have been found dead in their homes or offices—only then to be diagnosed with COVID-19. Taiwan's fourteen thousand confirmed cases in almost two years still pale in comparison to most international outbreaks. Australia, with a comparable population of twety-five million people, has had twice as many infections. Over the course of the pandemic, the United States' infection rate per 100,000 is more than 166 times that of Taiwan.
The current downward trend of new infections is a positive sign that the prevention measures taken in May and June were a success, but the outbreak is far from over.
Delays in the regional production of AstraZeneca vaccines destined for Taiwan, pressure from China, and domestic political squabbling together have significantly delayed Taipei's campaign to purchase enough vaccines to inoculate twenty-three million Taiwanese. Taiwan still has not received the ten million AstraZeneca vaccines it ordered between September 2020 and February 2021 due to EU regulations tightening vaccine exports and production problems with the British company's vaccine manufacturing partner in Asia. Siam Bioscience, AstraZeneca's partner and a first-time vaccine manufacturer, has been delayed by months due to "production problems." The manufacturing issues have also delayed vaccine deliveries to Malaysia and Philippines. While Taiwan has pre-ordered ten million doses of its domestically-developed vaccines, they are expected to complete clinical trials only in July. With only 7 percent of the population vaccinated to date, it is unlikely that Taiwan will reach its vaccination target of 50 percent of the population by year's end.
During the ongoing outbreak, cross-Strait relations have reached one of the lowest points in recent memory. In January, Taiwan agreed to purchase five million doses of BioNTech-Pfizer vaccines directly from BioNTech. The German company requested that the word "country" be dropped from the announcement of the purchase. Despite Taiwan's agreement to not use the word "country" in the announcement, the deal has remained unfulfilled. Taiwanese media reported that a senior Chinese executive at BioNTech's U.S. headquarters played a role in the delays.
President Tsai Ing-Wen, who handily won re-election last year, has accused China of interfering with Taiwan's vaccine procurement to purposely cause delays. China has denied claims of interference, while continuing to offer donations of Chinese-made vaccines to Taiwan. China's Fosun Pharma owns the distribution rights of the BioNTech-Pfizer vaccine for mainland China, Hong Kong, Macau, and Taiwan. Taiwan is legally unable to purchase vaccines from Fosun Pharma because of a law banning all Chinese medical imports. Additionally, Tsai Ing-Wen has stated she will not negotiate with any Chinese entity as long as China continues to interfere in Taiwan's vaccine affairs. As a result, Taiwan has only placed orders for AstraZeneca and Moderna vaccines, neither of which are expected to be entirely fulfilled until the end of the summer. To date, 60 percent of the vaccines in Taiwan are donations from the governments of Japan (1.24 million doses) and the United States (2.5 million doses).
The recent donations to Taiwan are a sign of increased coordination between the United States and Japan on cross-Strait issues. In April, U.S. President Joe Biden hosted Japanese Prime Minister Yoshihide Suga at the White House, and for the first time in half a century leaders of the two countries directly mentioned Taiwan in a joint statement, supporting "stability across the Taiwan Strait." The draft of a Japanese defense ministry report released a month later mentioned that the security of Taiwan is vital for the security of Japan and the international community. When the Japanese government decided to donate 1.24 million doses of the AstraZeneca vaccine to Taiwan, American representatives were reportedly present during the talks to facilitate the vaccine's successful arrival.
The United States has similarly increased its public support of Taiwan. A few days after Japan's donation, three U.S. senators visited Taiwan in a show of solidarity during the outbreak and promised to donate another 750,000 vaccines. The high-profile visit came amidst a string of supportive U.S. policies. In January 2021, the Trump administration lifted all restrictions on U.S. government contacts with Taiwanese officials. The Biden administration has kept the relaxed contact guidelines in place and the State Department has reiterated unequivocal support for Taiwan. Last month, Secretary of State Antony Blinken condemned China for making it difficult for Taipei to receive vaccines. In June, the G-7 emphasized in its official communique the "the importance of peace and stability across the Taiwan Strait," the first mention of Taiwan since the organization's founding in 1973. Additionally, the joint statement between South Korean President Moon Jae-In and Joe Biden made a similar reference to Taiwan.
While Taiwan has received generous support from the United States and Japan, its own domestic politics are undermining its response to COVID-19. The opposition KMT is attempting to turn worsening relations with China, the pandemic response, and the difficulties in obtaining vaccines into election issues to win back its waning support. As a result, domestic disinformation campaigns have become more widespread and damaging. Erroneous claims that Taiwan refused additional vaccine donations from Japan, domestic vaccines are unable to complete necessary trials, or that the president is secretly sick with COVID-19 have spread like wildfire on social media. Since May 2020, Tsai Ing-Wen's approval rating has fallen from an all-time high of 71 percent to less than 40 percent today. The ongoing domestic tensions signal a bitter struggle for the presidency in 2024.
The issues with Taiwan's vaccine procurement are making a rebound in cross-Strait relations more difficult. Over the past few years, Taiwan's public trust in China and support of unification has continued to fall. It is likely that China's interference in vaccine procurement, increased military drills in Taiwan's airspace, and aggressive diplomacy will only further alienate Taiwanese citizens.